Fall is officially arriving and to help us pull all of our looks together, comes a capsule collaboration that we are quite excited about. Curvy Boss, Nadia Aboulhosn and must-shop plus size brand, Fashion to Figure have teamed up to make sure we accessorize to maximize this fall! Especially with the neverending hunt for wide calf boots! The Nadia x FTF Collection serves up confidence, sass, and attitude with their accessories!
The NADIA x FTF limited-edition capsule includes wide width thigh-high boots in the bold fall style we crave and need. This collaboration is a perfect match as the pieces shown perfectly highlight Nadia's edgy aesthetic and streetwear style that she is known for!
"I'm so excited for this collection with FTF. Thigh-high boots have been a huge staple for me, but it hasn't always been easy to find ones that are sexy and fit thick legs," stated Nadia.
Not only are the pieces bold and fun, the imagery is equally as bold and impressive! So for this collaboration, Fashion to Figure marries their brand mission "to celebrate plus-size curves and offer styles at accessible prices without compromising fashion" with looks we need and love.
"In designing this capsule, it was my mission to create the styles that are seen on the runways but aren't offered in plus sizes. Fashion to Figure truly cares about redefining what fashion means to our community — and this collection is a void we're both passionate about filling."

Alright now, Nadia! We are here for this!
Are you ready to take a peek at all the looks?
The Nadia x FTF Shoes & Accessory Collection You Need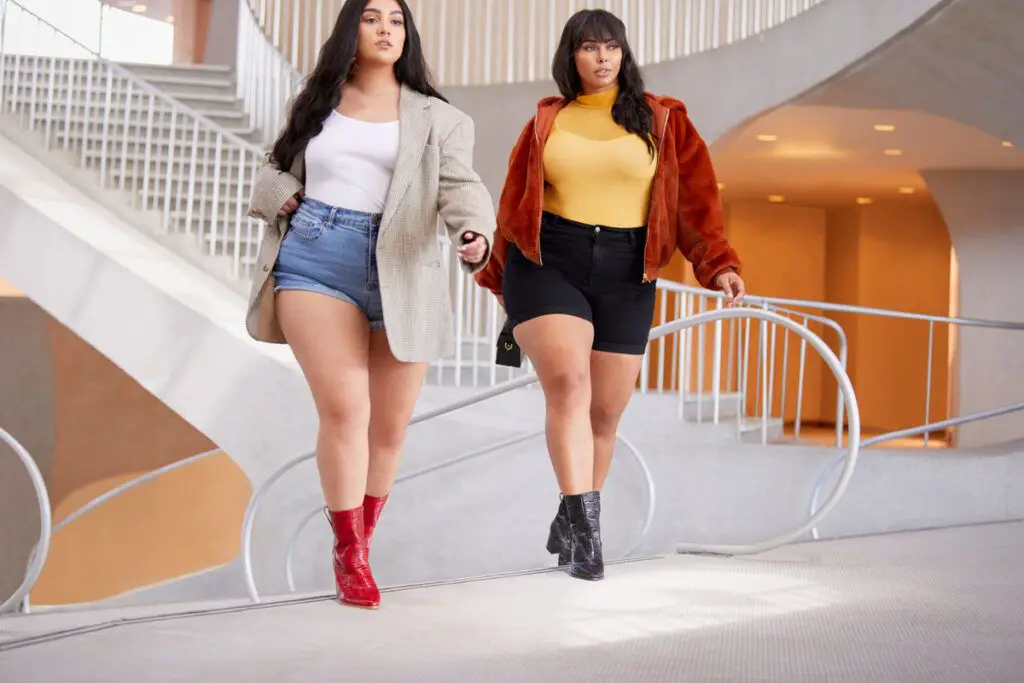 Girl. Amazing… right? I already know that I need 4 pairs of the shoes that are shown in these images.
Featuring plus size models Tabria Majors and fresh face, Lovisa Lager, Nadia and her fly and fashionable crew are giving all the fall fashion attitude we have been searching for with this Nadia x FTF collection!
What about you? But did you see those wide width thigh high snakeskin boots? How many times do we get options like these to play in? Really play in?
The lace up thigh high boots? With the open pointed toe? But even more on trend, the red and black cowboy boots?! Yes. All of which perfectly pair Nadia's style with the Fashion to Figure aesthetic.
"We admire Nadia's design philosophy and approach to creating footwear and accessories for trendsetters who embrace their unique style.

This collection amplifies what FTF has always done best — which is bring fashion-forward style to a category that's not readily available.

This time it's wide-width boots and tomorrow it will be another category, but as always, we're staying true to our brand DNA — giving equal importance to fit and fashion." Fashion to Figure President and Co-Founder, Nick Kaplan
You can shop the collection now, at FashiontoFigure.com!
Exciting!!! This 18-piece capsule collaboration gives us wide width boots, shoes, handbags and hairclips.
Pieces that will perfectly finish off any of your fall looks. Are you ready for this? The shoes are available in sizes 7W to 12W, with the collection ranging from $10.95 – $129.00.
What do you think about this Nadia x FTF range and collection? DO you have a few new favorites for the fall season? Let's talk!