In very curious news that dropped last week (scooped over at The Fat Girl of Fashion), Khloe Kardashian announced the name of her denim line, the date it'll drop, and where to get it. But what was naturally curious to me? That she will be fashioning Good American up through a size 24, from the beginning- not adding plus later.
SO I went digging to learn a bit more about this new collection, and what we could expect to see!
"Some call it a new silhouette; we just think of it as embracing the body you were given." Khloe Kardashian
Now, I am serious about my jeans, so I am curious to see what she is going to give us. I am hoping for a mid-level premium denim option.
Fingers crossed.
I think this brand will give PZI a run for their money, as this line caters to the gap in the back- you know who you are… just like they do, but with the name and brand power that the Kardashians possess, this shall be interesting.
"I'm so excited to announce my new denim brand @goodamerican!!! This has been such an incredible journey and I feel so blessed to be able to bring this line to women everywhere of ALL shapes and sizes. I can't wait to show you!!"

Doing a bit more digging, I landed on the Nordstrom site, where asides from GoodAmerican.com, is the only place you can snatch up this collection, and I found this:
"Inspired by their belief that every body deserves to be shown off, friends and collaborators Khloé Kardashian and Emma Grede cofounded Good American, a line of premium denim for sizes 0 to 24.

Contour waistbands, stitching details and special fabrications give each pair a precise fit designed to flatter every curve. A new definition of sexy."
Okay Khloe! I see you.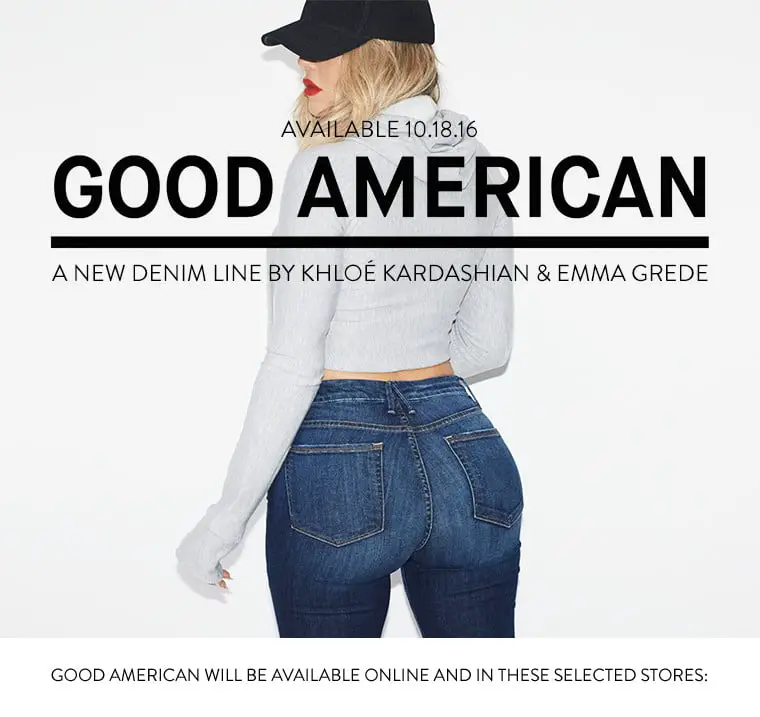 Over on snapchat, she teased her collection at press day. Not only will Good American feature denim, the collection will serve up true Kardashian style with sportswear options to include bodysuits, t-shirts, and sweatshirts.
I do hope that these other items are cut in plus too. WWD shared that Good American will come in three silhouettes: Good Legs (skinny), Good Cuts (boyfriend) and Good Waist (high-waisted).
Also? I do hope that she uses and includes plus size models like Nakitende Esther, Fluvia Lacerda, Olivia Campbell, Alex Delarosa, Jessica Milagros, Essie Golden, or even Denise Mercedes- these girls? Got curves for dayyyyyyyyyyyys. ( 😉 you can bill me later)
To get the latest info on this launch, you can sign up for the list (like I did) over on Nordstrom.com!
I am soooooo curious about this collection and tip my hat to her for including plus IN the launch. Listen, I would be lying if I said I was not interested… denim and plus sizes? I am always curious.
What do we think ladies? Are you curious? Want to rock a pair of these jeans? Let's discuss…