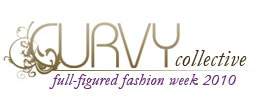 Listening to the news, articles circulating through the internet, the media would have you believe that the plus size woman is a burden to society, with no fashionable options, a second-class citizen, and one who should be ashamed to exist. If you were to buy into the news, all the progress we have made in the last ten years in fashion, community pride, and confidence would all be in vain.
As society would try to regain control of the plus sized confidence and community built, shaming us out of existence or into a "healthy" lifestyle, what does a full figured curvy, confident, and chic woman do?
We talk about it.
This year, in conjunction with the Second Annual Full Figured Fashion Week, The Curvy Collective hosts a panel discussion, "The State of the Curvy Community." Perfectly timed, in the midst of current news in the media, this panel discussion addresses the current state of the plus-size community and the significance of Full Figured Fashion Week, through the eyes of the industry's leaders, bringing different perspectives from various experiences and points of view.
Hosted by the Curvy Collective, Sharon Quinn, The Original Runway Diva, will moderate the panel discussion. Joining her and sharing a valuable perspective are:
Sponsored by the Fuller Woman Expo and Life Size Radio, the "State of the Curvy Community" panel discussion will take place:
Date: Thursday, June 18th
Location: Hotel Penn
Time: 4-6pm
This panel discussion is your chance to engage the community and some of its pioneers who consistently challenge the status quo. You can get your tickets to this panel discussion for only $11! Seats are on a first come, first serve basis and you can reserve your spot here!
Will we see you there?
Marie Denee
I am the Editor in Chic of The Curvy Fashionista. Often goofy. Forever emo. Always a Virgo. You can find me somewhere grooving to 90s R&B.