For those who know me and know me well, you know that I have a love/hate relationship with my boobs, but you also know that I absolutely hate bras! I can let you all know now, 90% of the time you've ever interacted with me in person, I was not wearing a bra.
But, I was curious to see if the Brassybra would be a happy medium between the freedom of going braless and the lift and support of a traditional bra.
If bras became extinct today, I would truly not bat an eye. And if you really know me, know me, then you also know that I rarely wear bras, and I reserve a VIP membership in the "No Bra Committee." I mean, I personally think I should be bumped up to President or at least VP, but that's just my opinion.
Now, with all this said and done, even though I don't want my breast oppressed in bras anymore, I do want them to still sit up, look good, and really fill out my clothes and give what it's supposed to have given. This brings me to….*drum roll* The Brassybra!
I Try Out The Brassybra Tape And Share My First Impressions
As someone who has been rebelling against bras for the past 4-5 years now, I have been on the deepest trip and journey to find the best boob tape to secure my twins, especially when I'm wearing things that are strapless, halter, etc. and since I'm an international hot girl, this is quite often. And I'm not going to lie to you; it's been hard.
As someone with pretty small breasts (a C cup), and for my journey to finding secure and high functioning boob tape, I can't even begin to fathom what my bigger breasted sisters and siblings are doing and the search you've undergone for the right boob tape.
I've tried some from my local drug store, I've tried duct tape, I've tried ordering 3 different brands from Amazon…no luck.
I found out about BrassyBra, a female-owned and ethically produced luxury boob adhesive, about two years ago on Instagram by a variety of plus size influencers at the time that were promoting their brand and I kept saying to myself, "Toni we NEED to order and try these" but I just never got around to it.
So when TCF asked me to do the review for BrassyBra, I had to jump at it.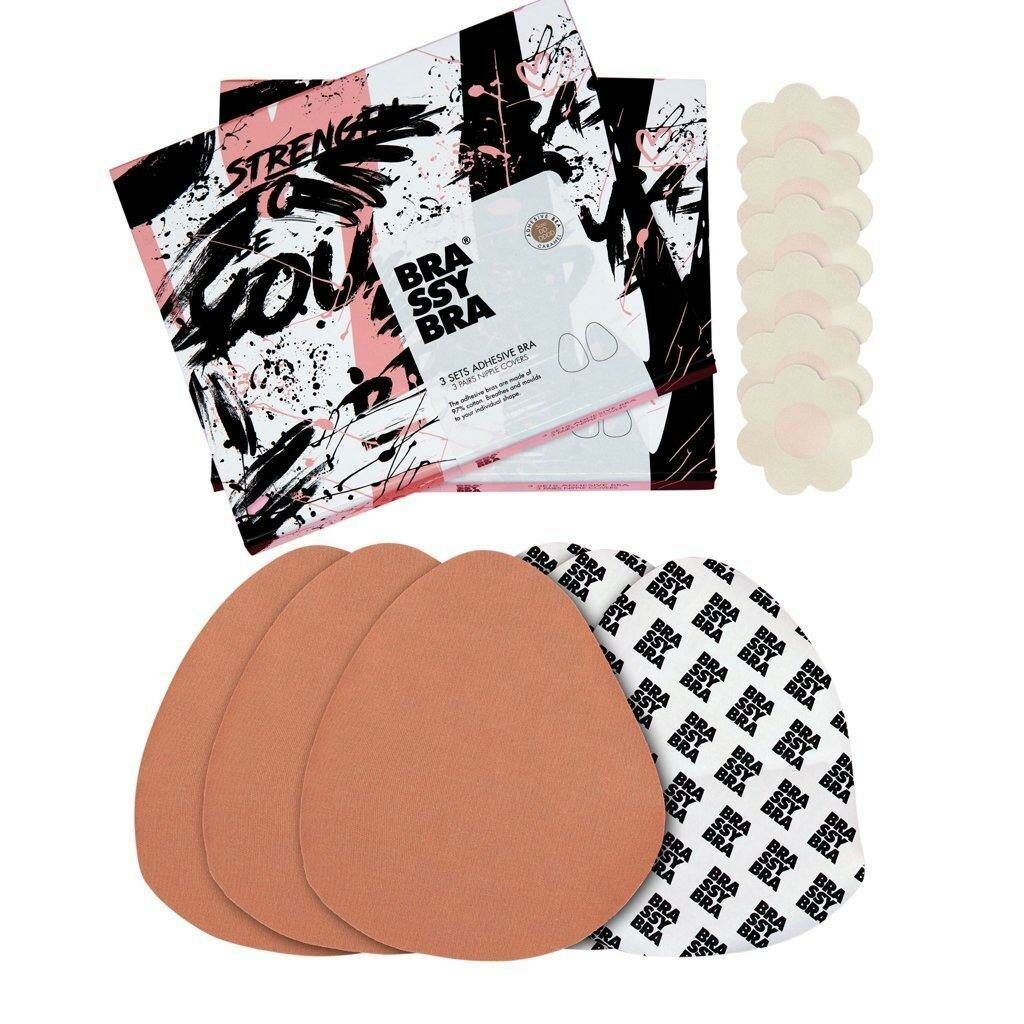 First, let me say for my Black women and women of color, BrassyBra comes in a variety of skin tones which is a plus for me. They offer shades ranging from Chocolate to Cocoa to Licorice and Caramel. You can match your skin and you don't have to walk around with ugly gray or white tape on your breast which just doesn't blend at all and can be really tacky.
Brassybra adhesives are made from cotton which is super helpful because it's soft and still feels like a bra even though it's not.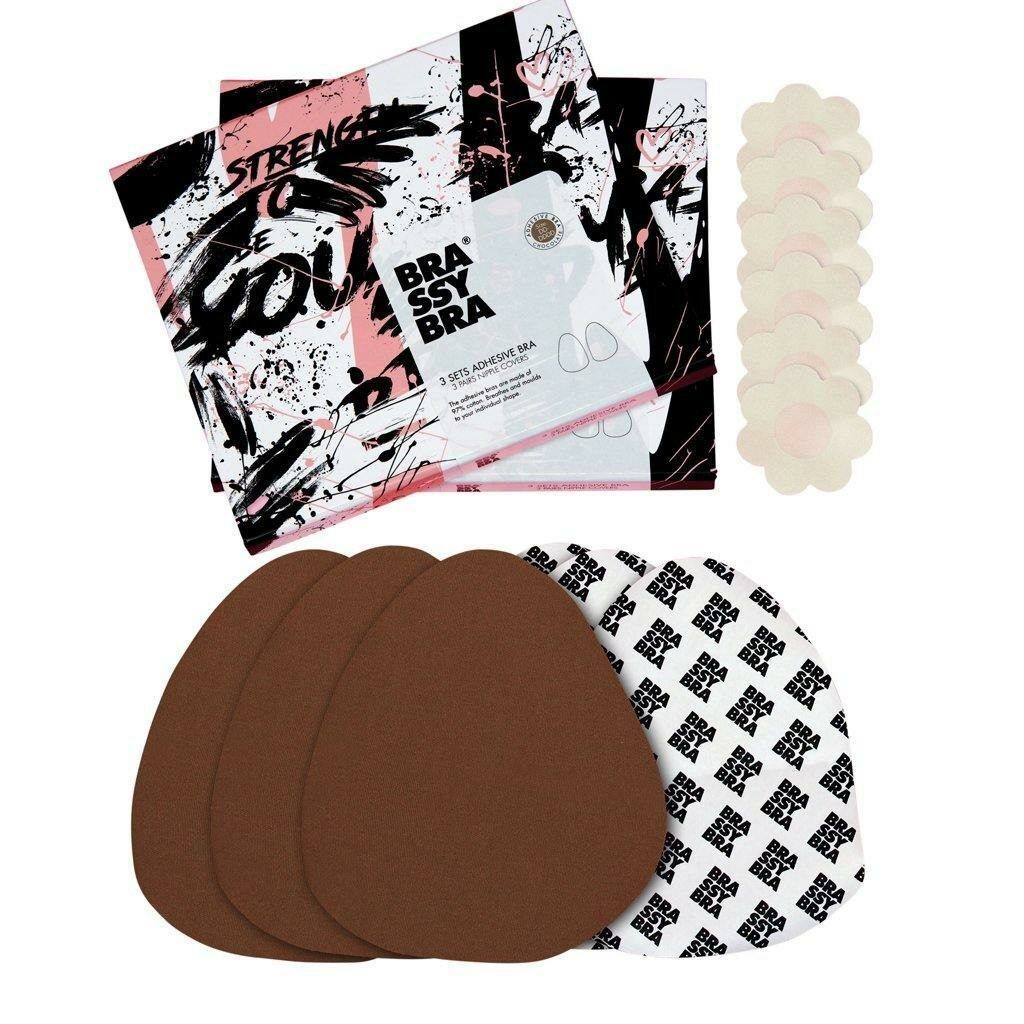 When I first took it out of the package and felt how soft it was, I couldn't wait to try it even more. You won't have to deal with that irritable rash skin feeling that you might get from other boob tapes that actually feel like tape (no Bueno)! When I first unboxed them, I found the steps on the back of the box to be super helpful.
I would say be careful with your placement because I did notice once you apply it to your skin, it's best to place it exactly where you want it (how high you want your breast to sit) because the tacky and sticky side loses its stickiness after it's applied to the skin.
I had a pretty easy time applying them, and as I said, my breasts are pretty small, so the tape worked really well for me. For folks with bigger breasts (over a DD), I would suggest ordering 2 sets and possible extras to really keep you secured and up.
BrassyBra supports over a size DDD+ offering from sizes A-G.
I wore my tape out on a date, so it was a super low-stakes event. There really wasn't any promise of sweat, getting it wet, or really testing the durability of the tape but what I will say is that I had it on for a while (about 7 hours throughout the day) during a warmer spring day and they held up.
When I took them off, they were still in place and doing what needed to be done. I do think this tape is worn best with tops or dresses that have thicker straps since in order for it to be really supportive, the higher you have to pull it up. You can cut them to alter and tailor-fit your outfit needs as well.
All in all, I think BrassyBra is worth a try and has absolutely provided me some of the no bra magic I needed in my life. Because let's be honest yall, it's a waxed, vaxxed, and titties relaxed kinda summer.
Have you tried BrassyBra? What were your first impressions? Let me know in the comments!