Let's be honest — A great bra can be a bit of a life-changer. Your attitude changes, your posture get a bit of a life and your confidence get a boost of sex appeal and badassery. The right bra gives you something extra and you know how much we love being "extra!" And while we believe all women are created equal, we know all bras are not… Right?
Whether you need a bra for working out, getting down to business or getting down to business — yes, I said it twice and you know they're two very different things — the proper bra for the proper occasion is a must-have for every plus size woman. That is why we decided to break down the Five Styles of Bras You Need and Where to get them.
You Need These 5 Styles of Plus Size Bras
The Sports Bra
Whether you're a avid gym-goer, starting out app-user, a runner, a yogi bae, a hiker or a SoulCycle pro, your girls need an extra level of support. And thanks to technology, innovation, and design, we have more than a few fly options to choose from that are so stylish, you'll never want to put a shirt over it!
A few plus size sports bras we have our eye on: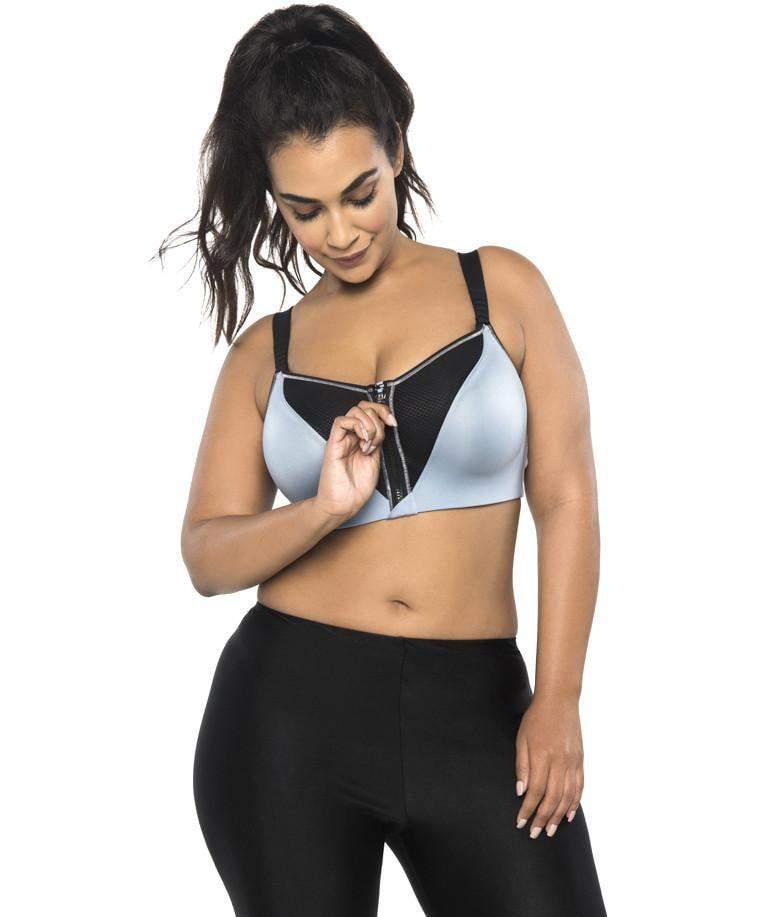 Zip Fit Underwire Sports Bra at CurvyCouture.com
Select styles available up through a 44H
No-Bounce Cami Sport Bra at Glamorise.com
Available up through a 50G
Puma Plus Exclusive To Asos Zip Up Bra Top at Asos.com
Available up through a 5XL
The Everyday Bra
This is the bra you wear for everyday life. This lightweight, breathable piece has just enough padding to keep give you a smooth finish to enhance your natural shape and comfortable features to keep you sane during the day. Think T-Shirt Bras, Full Coverage Bras, Wireless Bras, all day comfort and support is key here!
Here are a few Everyday Plus Size Bras:
The Elila Leopard Lace Soft Full Cup at LiviRaeLingerie.com
Available up through a 46K
Available up through a 46F
Available up through a 44G
The Sexy Bra
I don't think I have to explain why you need this, just know, YOU NEED THIS! Thank me later… Hehe. There is nothing wrong with having something bold and sexy in your boudoir. Sometimes you need a little pick me up, sometimes you need something to make you feel as amazing as you look… You and your partner won't be upset.
Just a few fun finds:
Lace High-Neck Unlined Balconette Bra at LaneBryant.com
Available up through a 44D
Lotus Noir Bra Curve at Playfulpromises.com
Available up through a 42G
The Convertible Bra
With the seasons filled with off the shoulder, cold shoulder, extreme cold shoulder and so on, you may need a bra that will put in that work, to keep you supported. And if you intend to wear any of the trends this year, you'll need a convertible bra that gives you options and versatility.
Now, the best plan is to get the most bang for your buck and invest in an amaaaaazing convertible bra. This multi-functional style can do the work of at least three other bras!
LaneBryant.com
Convertible Butterfly Bra at AshleyStewart.com
Available up through a 46H
The Bralette
Seriously, what would our summer wardrobe be without a flirty bralette? The bralette is the perfect hybrid of a crop top and flirty lingerie. Whether you choose to rock it with a pair of high waist jeans or under a sheer top; you really can't go wrong here! Think of it as strategic layering…
Also? Not all bralettes are created equally. Some are made to rock by itself while others are fashioned to be worn over a bra!
Here are some of our favorite plus size bralettes:
Coral Lace Racerback Bralette at Torrid.com
Déesse Twisted Bralette at AdditionElle.com
Available up through a 4X
Whether you choose to go with a tried-and-true everyday bra or get your sexy back in the perfect workout bra, the right bra will keep you looking great and flawless. And really this all that matters.
Now, while you are looking for the perfect bra, make sure you also check out a few of our bra shopping tips posts!
How often do you shop for bras?
Which one do you need in your boudoir essentials? Let's talk in the comments below!