A recognition of the mainstream retailers, designers, bloggers, and experts playing to the plus size community
2010 has marked unprecedented strides for plus size fashion: Full Figured Fashion Week, One Stop Plus debuting at New York Fashion Week, the Lane Bryant Commercial controversy, the Young, Fat, And Fabulous Conference, and so many more strides; these moments have left many crossing their fingers hoping for a staid acceptance and integration of plus size and fashion to respectfully exist. We have asked ourselves if this attention on plus size fashion is just a trend- hoping that these past year and a half of attention is more than just "a moment."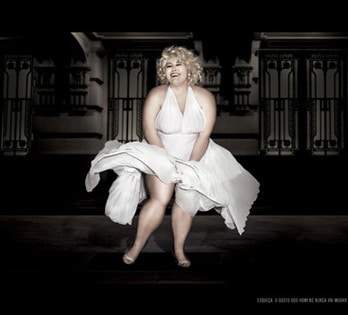 As much as I am "the cup is half full" and would love to sing Kumbaya, I am cautiously optimistic about the acceptance and the continued attention. What I find very interesting are the players who are now toiling with plus size fashion, whether giving advice, telling us the "don'ts" of plus size fashion, or are finally entering the plus size fashion game.
To the blogs, experts, buyers, retailers, and designers:
WE. SEE. YOU.
Maybe it's the business woman in me, maybe it's my years working in retail, or maybe it's my understanding of the game. Whatever it is, this has me watching and carefully analyzing each move made. Moves made by both mainstream AND the new entrants into the plus size fashion world- including blogs and magazines.
While these players see and recognize the huge financial opportunity that the plus-size community is ripe for, their INTENTION, SINCERITY, and MOTIVATION are what have me paying close attention. The randomness of the attention and the hypocrisy, I find very amusing. Retailers refusing to carry plus, then making a gigantic splashes in fashion. Websites celebrating plus size fashion "only to feel over a size 14 promotes obesity," stores advertising plus- yet fashion are modeled on size 6 models, influencers who publicly celebrate plus size models, yet scoffing at the idea of a model beyond a size 16- all of this I do not understand.
However, as a business person, I get it.
At the end of the day, "it's all about the dollar" a harsh truism I learned in my MBA studies, HOWEVER, rather than the half-stepping, guilty patronage of , looking down at the plus-size community, without any shame of taking our dollars, why not get to KNOW, RESPECT, and UNDERSTAND us? If making plan, a full-price sell through, repeat customers, a profit, staying power, and MONEY is your goal, how about understanding the nuances, tapping into the psyche, respecting the woman; and subsequently catering to her needs? That will ensure the above happens.
I am really excited for the attention, intrigue, and interest with the discerning plus size woman. It is pertinent to know that plus size woman are not cookie cutter. There are different types of women within plus size fashion as here are in straight size fashion. The sophisticated woman, the Fashionista, and the Bargainista, all exist here. We love fashion options, we are not all ashamed of our curves, lumps and/or bumps. We are now more vocal about our wants, likes, and dislikes.
Ultimately, with pioneers in plus size fashion, the attention, the innovations, the plus size woman has awakened. She has found her voice. We celebrate the newness, challenge the questionable actions, and support our advocates; we KNOW we are not a FAD.
The questions for the buyers, bloggers, designers, and retailers who tepidly step into plus size fashion:
Do you KNOW who we (the plus size women) are? Or are we dollar signs to you? Do you honestly care about this burgeoning market? Do you know that plus size women are not going to disappear?! Especially if you ignore or selectively cater to the sub-niches within this niche market? DO you know that we are just as savvy as the straight size consumer?
If you can honestly say yes and you get it, then let us talk plus size fashion…