Whether your state has relaxed restrictions or not, we've all become accustomed to spending more time in our homes, so why not make it the next date spot location? We thought it would be fun to talk about a few at home date night ideas and the outfits to match them…
There are a number of reasons why your house is the perfect spot for a date night that doesn't include just quarantine. First and foremost, you will save a load of money by saving on transportation, food and especially alcohol.
Goodbye $15 glasses of wine and hellllo $15 bottles!
We value our plus size fashion in and out of the house. From the lounge wear to wear to work top options… hell, even the wide calf socks we play or slide in. So we've rounded up our favorite fashionable plus size date night outfits with activities to match.
At Home Date Night Ideas and What To Wear While Having Fun!
Make your Own Pizza Night in your Plus Size Apron!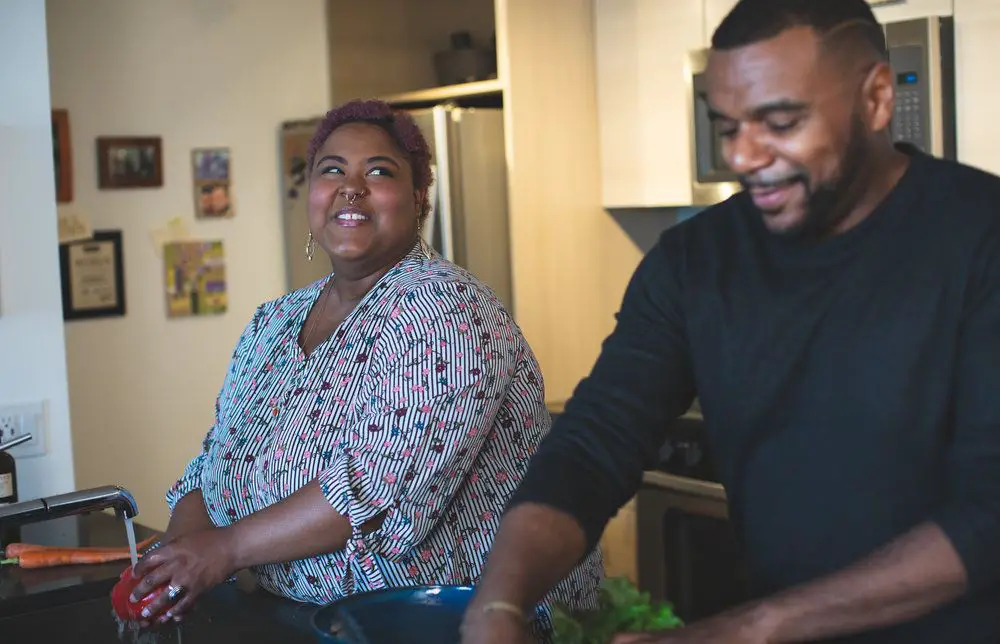 Who doesn't love a homemade pizza?! It always tastes phenomenal and it is a fun activity to do with a new flame or a longtime partner.
Whether you're in New York City, California, or anywhere in between, you can blast Frank Sinatra's New York, New York while making your New York style pizza and transport your date to the city that doesn't sleep.
The Pizza:
We've linked a pizza recipe here. (Hint: prepare the dough the day before for the best results!)
Once you have the dough all prepped and ready, you can set out your toppings in cute bowls so you're not just getting a pizza out of this, but a great Instagram story too!
The Outfit: The Vermont Apron Company Plus Size Apron
Alright, now that we've got the activity covered, what are we wearing? Well since we're dancing to Frank Sinatra and preparing this lavish meal, we're envisioning the 50s housewife look in a plus size apron – how fun!
The Vermont Apron Company sells a variety of aprons in different patterns and colors, including plus size because we know more than anyone, one size does not fit all. We've linked The Wrap Apron in Navy and White, which is a gingham printed plus size apron that ranges in sizes XS-5X.
You can easily pair this apron with plus size jeans a white tee to keep it simple since the apron is such a fun print.
Plus, no need to worry about staining your top with tomato sauce!
Game Night in your Plus Size Overalls or Jumpsuit
Game nights are the age-old date night for a reason! They are a fun way to see a different side of your date or friends – if you're competitive like us, that may or may not be a good thing…
Game nights are more fun with others as well, so make this one a family thing – if it's allowed!
The Game: Catch Phrase
There are too many options to pick just one, but if we may be bold and suggest the best game night game is Catch Phrase. If you've never played, it is the easiest game to catch onto, literally!
There are over 5,000 words/phrases in the system that you need to describe to your teammates before passing it along. You will guess as fast as you can because you don't want the buzzer to go off on you.
Think charades with speed and switching off playing against a timer.
Trust us, it will get intense.
The Outfit: Chambray Blue Shortall from Torrid
When it comes to Catch Phrase, or pretty much any game, it is easy to get competitive! If you get fired up easily during games, you will need an outfit that is easy to jump around in when you get too into the game.
These plus size overalls from Torrid are the perfect outfit that you can move around in comfort, but look stunning in! Throw on a white tee or a sweater underneath to compensate for the open neckline and your outfit is complete!
DIY Margaritas in Party Pants
Forget $20 cocktails because you are the hottest new bartender on the scene! While cocktails may be intimidating, we have you sorted with our favorite margarita recipe that is perfect for any date night!
The Drink: The Easy-Peasy Lime Squeezy Margarita (Serves 8)
1.5 C

ups silver tequila

1

Cup Triple Sec (orange liqueur)

3/4 Cup

freshly-squeezed lime juice

This is key! The best margaritas have freshly squeezed lime juice

1/8 Cup agave nectar or simple syrup – can add more if desired
Ice
Salt and lime for garnish
Optional: sprinkle cayenne pepper in to spice it up!
Combine all of your ingredients (except the garnish) in a cocktail shaker or any container you can properly close such as Tupperware or a large glass bottle. Once combined, SHAKE IT OUT! Make sure you get into it because the more you shake, the better it'll taste!
Want a salt rim? Line the top of your glass with lime and pat the top of it in a salt mound or sprinkle it around.
Once you've shook your butt off to the newest Katy Perry song Daisies, pour out the liquid, but not the ice using either a strainer or the lid to stop the ice. Pour it over more ice in a cup and cheers!
The Outfit: Fernanda Sequined Joggers from Anthropologie Plus
Now that you're properly hydrated, let's move onto your outfit.
Since you're up on your feet creating the cocktails, you want to be comfortable! Nothing screams comfort and fashion more than plus size party pants. The Fernanda Sequined Joggers from Anthropologie Plus can be paired with a silk blouse to dress it up, or a plain white tee to let the pants be the main statement.
You can also easily wear these pants in the daytime with a jean jacket to dress it down a bit with your favorite white sneakers.
Wine/Beer Tasting in your Favorite Dress
Are you missing romantic date nights? Us too! This option is perfect for when you want to have a more relaxed and intimate night. Whether you're a wine buff or a beer lover, you can pick either and make it an activity!
The Activity: Wine/Beer Tasting
A fun way to do a tasting, whether it is wine or beer, is to do a blind price guessing game.
You will need to purchase one cheap, one mid-range and one expensive bottle of wine or beers.
Take out a glass for each of the different types per person and mark with a post-it note on the bottom which one it is (1 = cheap, 2 = mid, 3 = expensive).
Pour the wines or beers into the corresponding glasses
Make sure the post-it note is face down so you cannot see which number it is and mix them around until you are confused enough
Each person tastes, describes and prices each wine or beer
Reveal the results at the end!
The Outfit: Convertible Off-The-Shoulder Maxi Dress
Time to get sexy!
Throw on this off-the-shoulder maxi plus size dress from Lane Bryant to show some skin and accentuate your body. The dots will draw the perfect amount of attention to get the night rolling.
Movie Night in your Adorable Lounge Wear
You can't have a list of at home date nights without including a movie night. There is just something about making it a movie night and getting ready in your adorable plus size lounge wear that is 10x better than just accidentally having a movie night.
Not sure if that makes sense to everyone, but we're saying if you make it an official movie night, it's going to be more fun!
Make sure you have a couple options in mind so you have it all set up, rented online (if required), and ready to go because we all know picking out the movie sometimes takes longer than the actual film.
Next step, make sure you have plenty of popcorn to last you all night long as well as your beverage of choice. No need for overpriced movie theater popcorn and snacks, stock up at home and spend the night munching away!
The Outfit: Such As A Matching Cozy Set from Pretty Little Thing
Comfort, style and on-trend! Matching lounge wear sets are all the rage right now and we don't see them going anywhere.
This Grey Marl Bardot Knit Set from Pretty Little Thing is the perfect outfit to look and feel your best. The marled texture is extra soft while looking fabulous.
The best way to style up a lounge wear look is to throw your hair into a sleek pony and pop on some gold hoop earrings. While you feel like you're in your pajamas, you're actually a trendy fatshionista!
We hope you try one of these at home date night ideas because it is always fun to spice up an evening at home!
Let us know in the comments if you have a different date idea so we can add it to our personal list.