Hollywood is in the midst of reckoning from all sides and nobody is being exempt. However, racism and rape culture aren't the only policies being perpetrated. There are many plus size actresses being overlooked, undermined, and underappreciated. You know, the Black plus size leading ladies who ALWAYS steal the scene.
It isn't fair to still solely cast curvier women as the funny best friend with no backstory OR the "lead" who gets a date once the guy realizes the slimmer woman is actually a terrible person. *cough* See Just Wright.
We're still pissed about how dirty they did the Queen, but we digress.
While we know about some rotating favorites by Hollywood's standards. You know, the likes of Rebel Wilson, Melissa McCarthy,and their adjacents.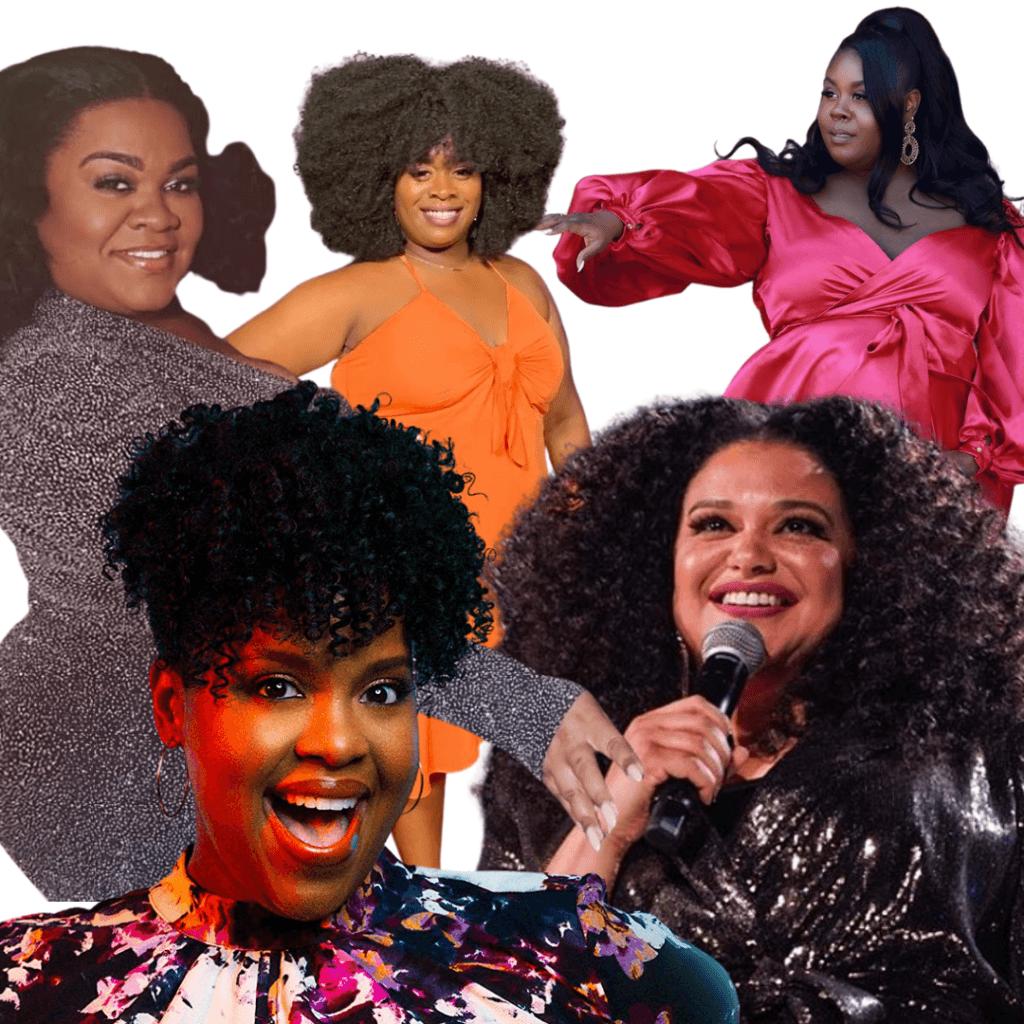 But TODAY?! We're here to post the digital billboard and list our personal favorite melanated ladies. Those who need to be front-and-center on every screen in the near future.
5 Black Plus Size Leading Ladies Casting Directors Need To Keep Booked & Busy
Bria Samone Henderson
https://www.instagram.com/p/CCPeUFzh79d/
Bria may be new to mainstream Hollywood, but it's evident that she's here to stay. Currently, Bria portrays Margaret Sloan on Hulu's Mrs. America and she's truly an actress who takes her craft seriously.
She went the extra mile to really learn who Magaret Sloan was. Knowing she was queer, a mother, poet, feminist, and activist, Bria found herself at a crossroads because it seemed further information on Sloan just didn't exist.
Yet, she lucked up when she found archived audio recordings of conversations that Sloan had with Gloria Steinem. Hearing her voice and mannerisms, Bria became that more drawn to her and thus, her character.
Her level of thought and intention lightly mirrors Angela Bassett/Regina King-esque range, and we're absolutely here for a rising powerhouse!
Da'Vine Joy Randolph
https://www.instagram.com/p/B6onps3pgHQ/
Many actresses can be on screen, but it takes a certain skill set to be on the stage and command it as your own. We love the theater over here and when we say, 'get you a star who can do both,' Da'Vine is one to watch!
Hailing from the prestigious Yale School of Drama, she began her career in 2012 as Oda Mae Brown in Ghost: The Musical, which she garnered her a Tony nomination. She, then, took her talents to the small screen with roles like Cookie Lyon's cellmate Poundcake on Empire, Lady Reed in Dolemite Is My Name whom many have stated was the "heart of the film."
Most recently, she played Zoe Kravitz's best friend, Cherise on High Fidelity and will be playing Roslyn, best friend to Billie Holiday, in the forthcoming film, The United States vs. Billie Holiday.
For the right story (and the right coin), she might even take her talents back to Broadway. For now, it's safe to place your bets on Da'Vine because she is definitely IT.
Michelle Buteau
https://www.instagram.com/p/B6vqzNnBxm9/
We loved Michelle in the hilarious Netflix rom-com, Always Be My Maybe and Something Great. Not to mention, she also has insanely funny stand-up specials.
Michelle's cutting wit and underrated sarcasm are more of a reason why we need more of her. We simply relate and it truly doesn't get much better than that.
Luckily for you, she has a book, Survival of the Thickest set for release this December, and pretty much has Netflix on lock with several projects currently streaming or in the works.
Raven Goodwin
https://www.instagram.com/p/CC_RMdVpee_/
We first came to know Raven Goodwin as Tangie on Just Jordan, but she stepped into her grown woman bag as Niecy on the critically-acclaimed drama, Being Mary Jane.
Earlier this year, she starred as Denise Clark-Bradford in Lifetime's biopic on the Clark sisters, widely known as the "First Ladies of Gospel."
In light of COVID, the annual BlackStar Film Festival went digital and Raven starred in In Sudden Darkness as Erica Moore. Here, she was a partner and mother of two, simply trying to survive during the treacherous 2003 blackout, along with her family in New York City.
Her portrayal as a doting mother and realistic lover really made us want to see more of her on the big screen, especially being loved properly.
Natasha Rothwell
https://www.instagram.com/p/BzmTEEknY3l/
First things first, let's give it up for Natasha and her role as Kelli on HBO's hit show, Insecure—arguably, the greatest character on the show. Debate yourselves.
We're not sure how similar Natasha is to her character IRL. But! What we will say that not only can she act with impeccable comedic timing— she also can write.
Y'all remember that utterly amazing episode on this past season that featured the Issa/Lawrence reunion our hearts have been craving for? (We know we are not alone.) Well, Natasha penned that masterpiece!
With the energy she gives off as Kelli, combined with her range of skills, we want her to have her Queen Latifah moment. She deserves to be chased in the rain by a man ready to pour his heart out (without the bitter taste of wrongdoing on his lips).

What do you think of this list of these Black plus size leading ladies? The ones that we need to see more of? Do you think that the casting directors are missing out?
Who else would you like to see more of that we've missed?
We need to keep these plus size actresses booked & busy, right?