I got a lot of requests from you, asking about hosiery and tights and thigh highs! Interestingly enough, when I shared my older post from January on facebook, ya'll went in on it!
You loved it and QUITE a few of you asked to add more to the list and I thought, why don't I do an updated post?
So why I wanted to do was share with you a few more places to find and shop for plus size tights, in addition to the list above! Are you ready to go?
Another 10 Places to shop for Plus Size Hosiery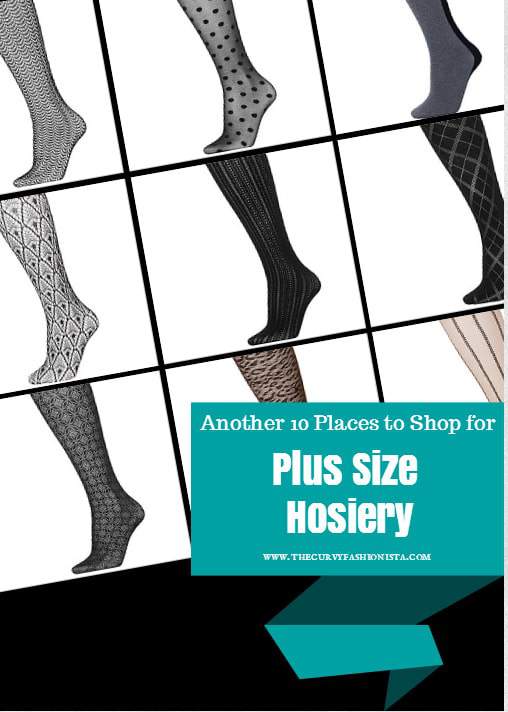 SONSEE (Up to an US 24)
New Australian plus size hosiery company fashions Italian hosiery with their latest technology based around fit, form, and function, with a debut range of classic styles and hues. Def worth a look!
Torrid (Up to a 5X)
Playful, bold, sexy, and daring… this is what you will find with Torrid's offerings here… Back seamed fishnets? Yes. Pinstripe? Chevron? You will this and more here…
Great quality, textures, prints, and hues, Lane Bryant brings you variety and options (especially online as well) in the hosiery department. You are guaranteed to find something that fits your needs.
Spanx (Up to a 26-28)
One of the most known for its shapewear and hosiery double duty in fashion and function, SPANX is one of those investments that will GIVE YOU its money's worth- FOR REAL.
Just My Size (Up to a 6X)
Looking for a few great classics? Check out Just my Size for tried and true basics, from sheers to opaque options, you can find a great fit here.
Addition Elle (Up to a 4X)
What are you looking for? Trouser socks? Tights? Patterned Hosiery? There are a few options to play with here, at Addition Elle.
City Chic (up to a 24)
Classic opaque tights in playful hues, you can inject a few playful colors into your outfit here!
I JUST scored my fleece teggings here. Teggings? You know, a cross between tights and leggings. They have various hues AND a few other styles to play in. Those teggings saved my life for my trip to Mississippi!
You can find your classic shapes, fits, and silhouettes here at Walmart. Sheers, opaque, tights, and a few more, if classics are your thing, you have a few options here.
Offers playful patterns, faux suspender looks, opaques and sheer offerings!
Did I miss a favorite of yours? Make sure you check out part 1- the first post on plus size hosiery and then let us know if you know of others!