There is a new collection on the horizon, that will include plus sizes. Over the years, we have seen bloggers and actresses launch their own collections and collaborations. But an interesting one to watch? Are the plus size models who have been doing it. Ashley Graham with clothing, lingerie and swim, Precious Lee with lingerie, Denise Mercedes with Swim, and now Hunter McGrady adds to her fashion empire, after her swim collab, with her own clothing line, All Worthy.
So, when we heard about this clothing line about to drop April 22nd, we were curious! Especially since Hunter McGrady is teaming up with QVC to launch this collection.
If you do not know who she is, Hunter McGrady made her mark as the one of the plus size models featured within the Sports Illustrated Swim Issue. And get this! She will ALSO grace the pages in 2020 for the 4th year in a row!
Hunter also broke barriers once again when she appeared on The Knot's Fall Fashion 2019 cover as the first ever curve bride to grace the cover of a print magazine.
Heather has been on a roll!
About All Worthy by Hunter McGrady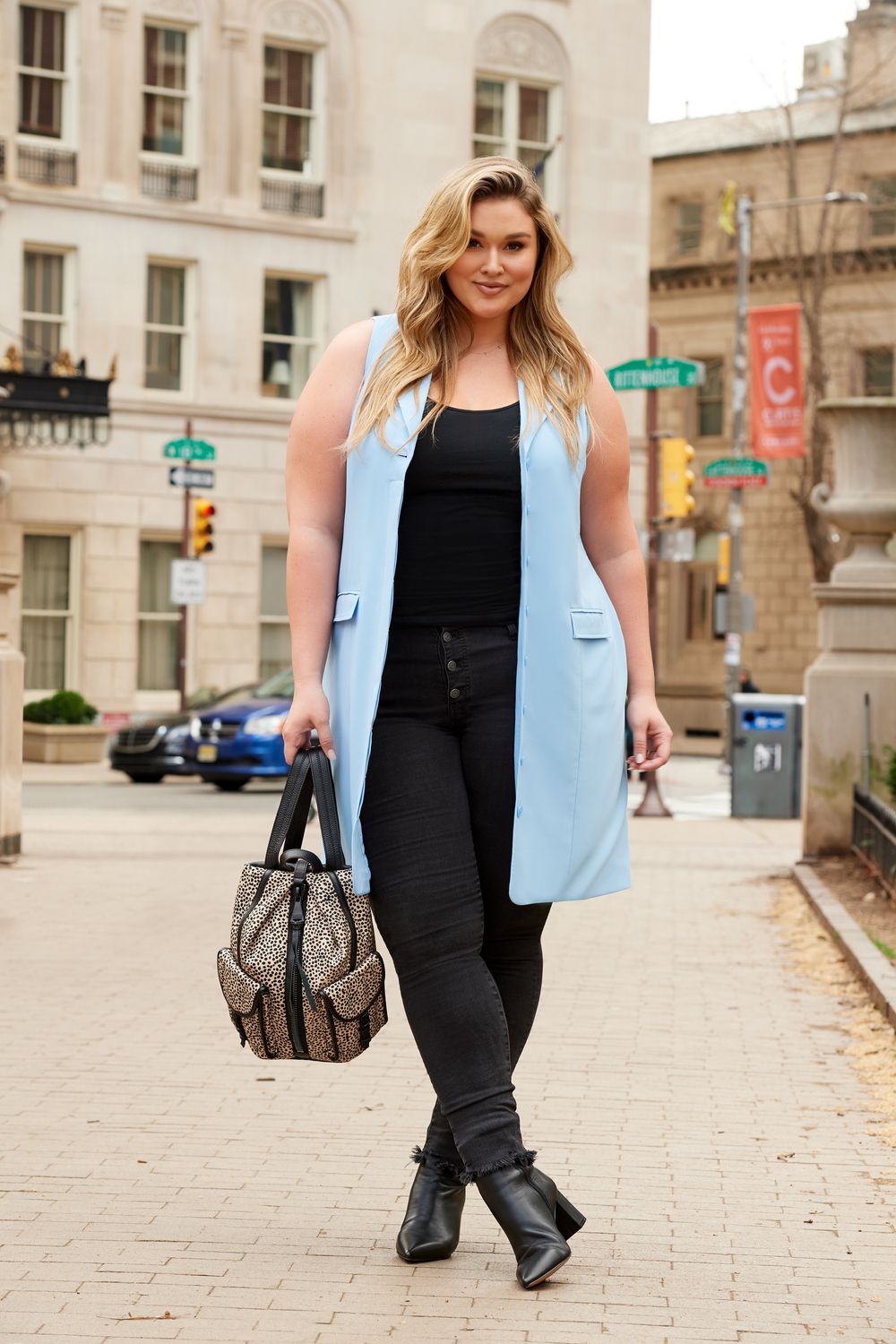 With her first collection, All Worthy, Hunter will debut her collection on the 22nd of April with QVC. And because it is QVC, we are getting an inclusive collection, available up through sizes 36/5X! Yes, a size 36 or a 5X.
Talk about sizing options right out the gate!
"Women want to wear styles that make us feel good, no matter what size we are. We want to enjoy shopping with our friends, in places where each of us can easily find items that were designed with us in mind.

QVC gets it – they offer a full range of sizes on virtually every fashion item they sell.

So, when I decided to launch a collection, it was only natural to work with QVC." says Hunter McGrady
Even better?
To bring All Worthy to fruition, Hunter collaborated with QVC's Design, Development, and Global Sourcing team. All fashion options will be cut in the same style. No watered-down options *just because* it is also in plus.
How about that!
This collection gives us a few more everyday options to play in. If you are looking for wardrobe essentials, fun tees, classic silhouettes, you will want to check this collection out.
There are a few hero pieces in the collection, like this snakeskin skirt and the updated Little Black Dress for the summer season.
Having a few more brands and collections that speak to the myriad plus size lifestyle options is a good thing. No. A great thing.
On the mission of All Worthy, Hunter McGrady shares:
What does "WORTHY" mean?
We are all ALL WORTHY of GREATNESS. In a world where we are told to change who we are, or to be everything you're not, I want #AllWorthy to be your place to feel INSPIRED, BEAUTIFUL, RESPECTED, HEARD.

YOU are Worthy. We are ALL WORTHY. It's your safe place, it's our brand, it's the movement, and most importantly, it is a lifestyle.
Shop All Worthy by Hunter McGrady on April 22nd at QVC.com
The collection will be available to shop on April 22nd! With sizes 0-36 and 5X, with prices ranging from $29 to $119, if you are looking for a few lifestyle pieces to add to your collection, make sure you support!
What do you think about this plus size news?
Do you see a few pieces that intrigue you? Are you a fan of what is to come with Hunter's line, All Worthy?
Lets discuss!