Last week, I shared with you my theme for the New Year: WALK IN IT, not just for myself but the blog, brand, and everything that I hold dear! So with this, we have our latest video and I am beyond hyped to share it with you!
I took a twist on my "5 Things I Love" and highlighted five things that I wanted to try and do more of for this year, following my Walk In It theme! You know, five things that you want to try to do more of, fears you want to face, or things you want to accomplish for yourself? Yes, this is where I am at and with this, I share a few looks and goals within this theme!
Try New Body Conscious Styles
Girl! Did you know that Nicki Minaj's clothing line at Kmart includes plus size fashion? I had no idea. While shopping with my family this holiday season, I found out that she does indeed carry plus sizes, in just about everything this collection has! Fancy That!
So I saw this dress, this burgundy number that I was very curious about. It is segzy, bold, and confident. Normally I would buy it, swoon over it, but then NOT wear it… only to have it chill in my closet until it is purging time.
I am trying to tell myself, no more and have some fun… Marie of college days would slip this on without a second guess and I liked that Marie a lot!
She was a lot of fun and I am trying to bring her out more often, so why not? I guess it's time to Walk In It!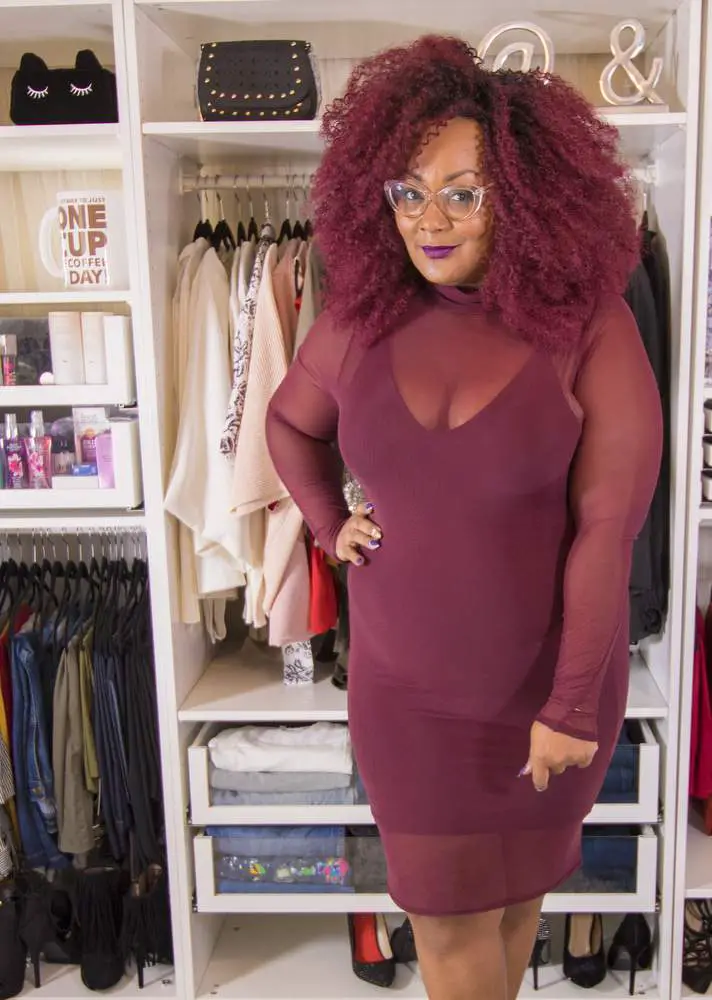 Add to the fact that this is a timeless silhouette and hue, so I can keep pulling her out each year!
Basically, confidence is an action. And if I want to hone this feeling, I have to keep pushing myself out of my comfort zone to own it!
Get this dress here: Nicki Minaj Women's Plus Sheer Turtleneck Dress at KMART.com
Try More Separates (Mainly Bodysuits)
I do loooooove the look of a bodysuit. Clean lines, body conscious fits, and a playful sexiness that come from this. It reminds me of my first experiences with Newport News and Victoria Secret's catalogs and these options I had seen but always thought too grown for me. Well, here I am, grown.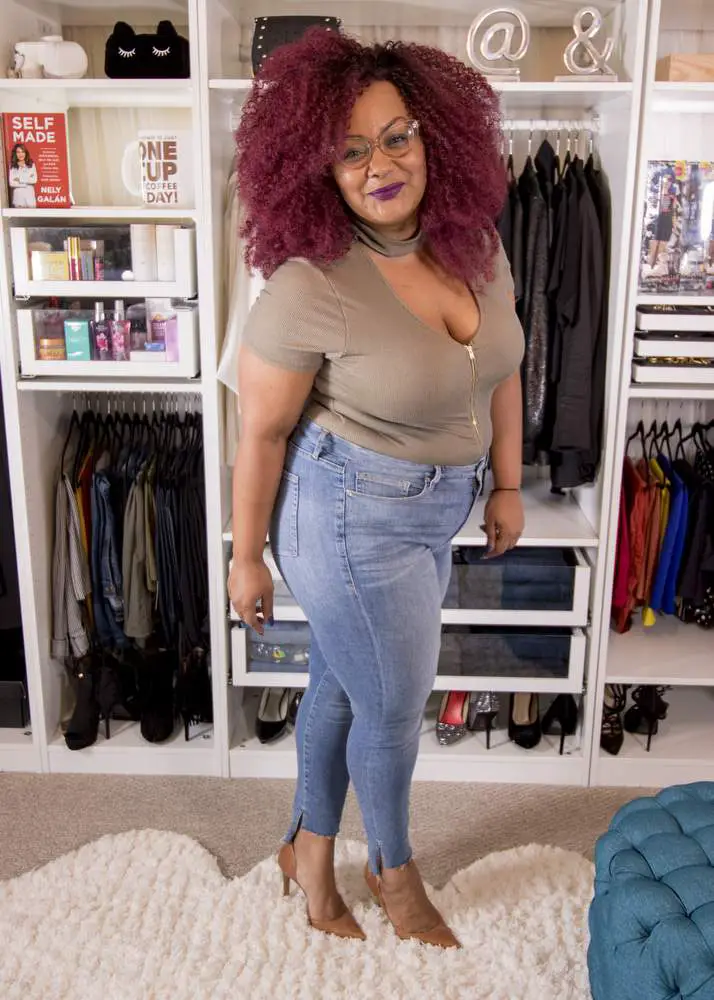 I have about 5 or so bodysuits that I have yet to wear! Well, this has to stop. I need to step it up and indulge in my curiosity a bit! Who knows?! I may find my new must have staple for myself… it can happen!
Score this bodysuit here: Plus Size Zip Front Bodysuit at CurvySense.com paired with my Good Legs Raw Stagger Hem at GoodAmerican.com!
Try New Silhouettes
Man. How many times have you seen something on the hanger and thought… meh, not it. Well, as I was at NikkiFree's Closet Sale and Sip & Shop event (this woman has clothes for daaaaaaaaaaaays), my eye caught this unique and fun maxi dress. One that kept calling to me, as if it knew it was supposed to go home with me!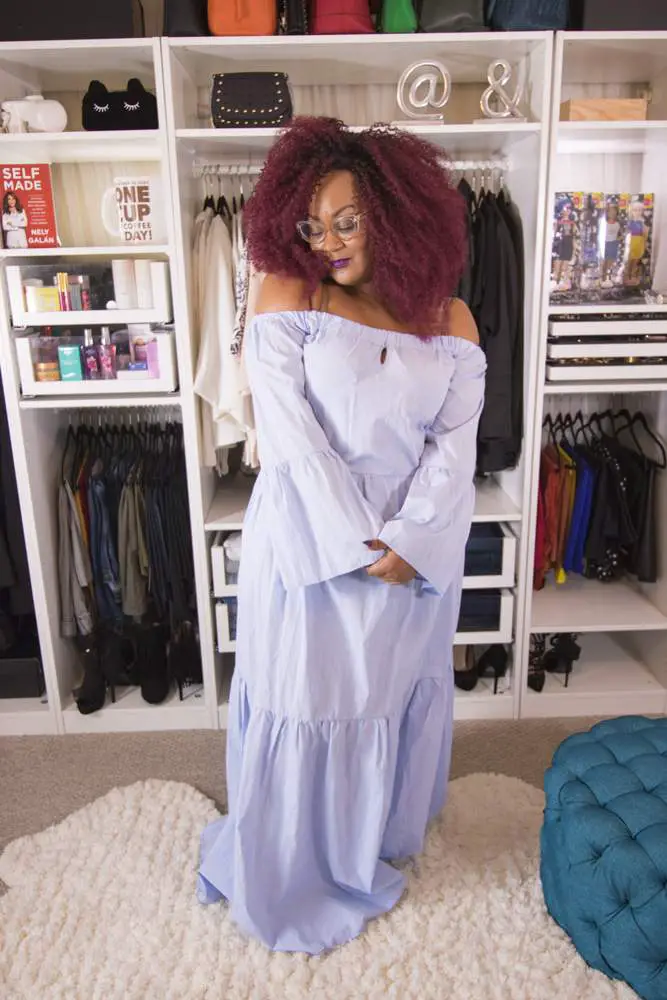 And I am sooo happy that it did! Girl, I tried her on and twirled for my life. This to me, is the perfect summer festival dress, this cotton letting the curves breathe amazingly! An off the shoulder detail, that allows for a demure playfulness to come out, heyyyy boo!
Girl, never judge a dress by it's hanger appeal, you may be pleasantly surprised!
Get the dress here: Long Sleeved Maxi Dress by etsy.com/shop/CherryBlossomDress
Play In More Accessories (Outside Of Rings)
I do loooove my rings. I do! But, because I cannot do necklaces (I am allergic to the metals on my chest) I have to step it up with how I pull it all together! From playful and bold shoes to the clutches and accessories I pair back to my looks.
In my head, I am fancy, but then my mood (or my need for comfort) tends to take it down a few notches. I need to find a new happy medium here! Oh, and wigs count here too! I do love my big and wild red hair, but sometimes I have the urge to play with new textures, colors, and styles!
Instead of thinking too much and ending up stuck, I need to just dive in!
Get my clutch and shoes here: Clutches at Cameodebore.com and Rose Gold Sole Diva Pumps from SimplyBe.com
Read More Books To Inspire And Motivate
Last year, I bought a lot of books. A lot of them. From Blue Ocean Strategy to Girl Boss, to I'm Judging You, last year had to be one of the years where I bought a lot but stalled at reading them all. I allowed myself to get caught up in the need to be busy, without investing in and pouring back into myself…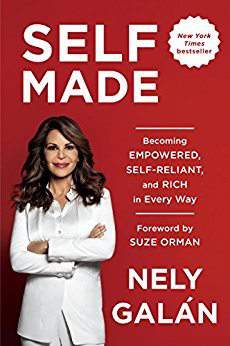 When I happened to meet and listen to Nely Galan speak at Blogalicious last year, she spoke to me at a time and a place where I was the most receptive. Her words gut punched me and inspired me to GET MY LIFE. So, immediately, I bought her book "Self Made," and have started on an intentional walk or taking time out for me to make it work!
Get the book here: Self Made by Nely Galan at Amazon.com
So now, I ask you…
What steps are you taking to be your best you?
How are you facing fears? Are you?
What changes are you making to live a fuller life?
And to reiterate what I learned last week, that was told to me:
Confidence, Is an Action
Oh and my outfit in the video was another score from NIkki Free's event! The outfit is by ZelieforShe.com
Do you agree? If love is an action, why can't the road to confidence or being confident be a series of actions? Do you think these choices support my theme for the year to Walk In It?
Let's discuss!