Hey, it's Whitney Nic again! So remember how we were talking about plus size one pieces? Well today, I want to share 5 plus size two piece swimsuits that I'm swooning over! I definitely need to start thinking about which one to purchase because it's about that time to start hitting the pools and beaches! And you know the best thing about these two pieces? The prices are all under $50….YES! You know I'm a thrifty chick so, these price points have me smiling from ear to ear. Let's check them out!
1. Simple Black Bikini, H&M. If you want to keep things simple and classy this summer, head to H&M for this black bikini. The price for the top and bottom is around $48.00. Can't beat that and the sizes range from 14-24. If their swimsuits are fut anything like their clothes, I'd suggest sizing up.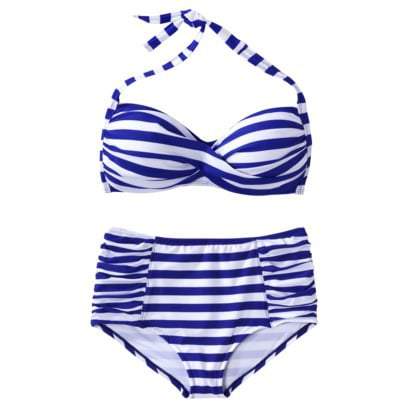 2. Mix and Match Collection in Cobalt Blue, Target . Look, Target has not been the friendliest to the plus size shopper, but I think that this Mix and Match collection will do! Three colorways with an IMPRESSIVE selection, you are able to put together your IDEAL swim suit at right under $50!
3. Boho High Waist Bikini, Swimsuitsforall. It's high waisted and floral; need I say more?! I'm such a fan of florals and boho prints like this one. At $43.50, this two piece is a definite must have for any upcoming summer pool or beach activities!
4. Bikini in Ombre, Asos. I'm all about this purple and black ombre set. Both pieces are approximately $43.00 and the sizes seem to be going quick. Be sure to hop over to Asos and grab this set before all the sizes are gone!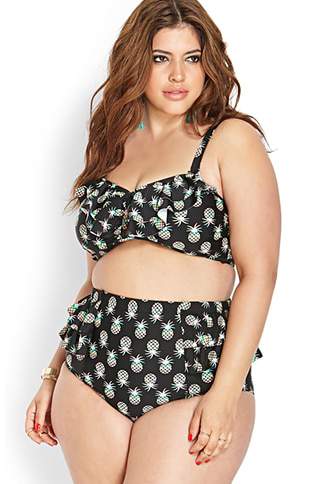 5. Pinapple Dream, Forever 21. This baby is so flirty and fun. I mean how can it not be…don't you see those cute pineapples? For $29.80 I'd gladly prance around the pool in this two piece! So, are you going to embrace those curves this summer and flaunt your stuff in a two piece? Which  one is your fave? If you're like me, it's WAY too hard to pick just one. Cheers to fun in the sun and looking fabulous in out two pieces!
So tell me, are you going to flaunt your curves this summer in one of these two piece swimsuits? Which one is your favorite? If you're like me, you probably can't pick just one. Let me know! Cheers to a great summer and to looking fabulous!