So, I decided to change it up a bit, having fun in my newfound (or rather long lost) play in weave world…
This day, this California heat is killing me slowly I barely had energy to write this, but I was so excited to get up another outfit post and show you my new hair and sweet dress!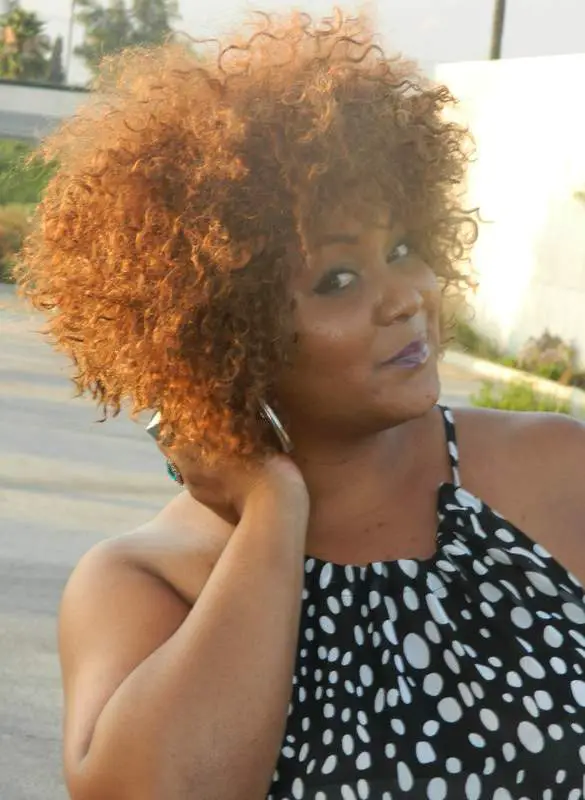 Thanks to Perfect Locks who sent me this Kinky Curl Indian Remy, steamed in a #8 which is pretty much blonde to me, I am having a little fun… Extremely soft and lighter (in weight) than any other hair I've used and (I used to be addicted to the weave) felt, I am already loving the wear of my hair! I can have it really curly or I can have it brushed out in a fro. Not as tangled nor does it shed as frequently as my last do… SIGNIFCANTLY! I am getting adjusted to the color again!
Ok, let's talk clothes! I have been a fan of Tracy's Domino Dollhouse since she launched the collection, but this last collection? Urban Mermaids?  YES ma'am. I never thought I would be the one to rock a polka dot dress head to toe, but then again, I never thought I's see myself blond again! LOL
This dress length is perfection, with me being 5'8"! Even in 2 ½ inch wedges, this dress grazes the floor perfectly! You know me and my love for maxis; I will add this into heavy rotation… I already have rocked it twice! Adding the color-blocked teal highlight in my favorite color, yes, I was happy! She cuts her looks up to a 3x with quite a few available in a 4x too!
You can view the entire Domino Dollhouse Collection in my latest post, and then head over to DominoDollhouse.com to shop the first TWO parts of the Urban Mermaids collection! Don't forget to give them a follow on Facebook and Twitter!
If you want to know more about Perfect Locks, as some of you have already asked, you can shop their offerings here, follow them on Facebook and twitter too!
SOOOO, what do you think? Loving the color and texture of my new do? Does this dress make you smile as well? Sound off, I want to know!