Alright, curvy besties, it is officially crunch time! We are days away from Christmas, and hopefully, you've completed all your Christmas shopping. Now, if you are like me and everyone's gifts are still in the store (until the last minute, of course), no need to freak out. We have put together a list of 12 plus-size fashion gift ideas!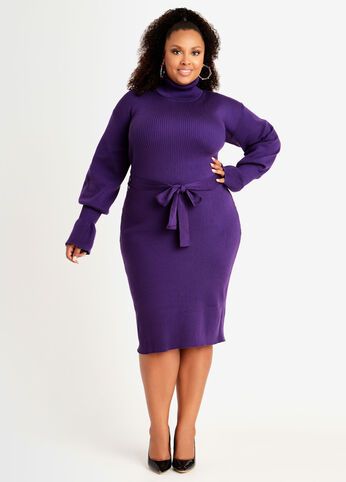 Last-minute gift ideas are enough struggle…and although fashion is moving forward, sometimes it's hard to find last-minute gifts for a plus girl like myself. Prop up your bunny slippers, and let's take a look.
12 Plus-Size Fashion Gift Ideas
Photo Credit: www.fashiontofigure.com
With an edgy combat boot look but a comfy pull-on style, this bootie will quickly become your favorite go-to shoe this season. Featuring a 2-inch square heel and cute lug sole, you'll step out in style. FTF boots are now available in sizes 13 and 14, all wide widths! Yes! So make sure you cop these in both colors before they sell out.
Photo Credit: www.ashleystewart.com
Minimalist and chic plus size sweater dress defined by a tie waist and romantic flared cuff.
Photo Credit: www.humansbeforehandles.com
The Bawd Earrings in Gold are an HBH staple! This minimalist gold contour design is perfect for any time you're feeling like a bold, empowered human. Pair these with a classy black dress and thigh-high boots for a chic look on a night out!
Photo Credit: www.nastygal.com
Swing by sometime. This skirt comes in satin and features a high-waisted, relaxed, mini silhouette, wrap design, and bow tie closure. Throw on with a relaxed graphic t-shirt, block heel boots, and hoop earrings for that Hinge date you've agreed to.
Photo Credit: www.asos.com
Nothing like a perfect R&R day in a cozy, warm robe. Your next best friend is the ASOS super soft fleece midi robe in gray. Grab your cup of hot chocolate and relax, queen!
Photo Credit: www.eloquii.com
Leather is in! And every girl needs a pair of leather pants. Eloquii has just what you're looking for. Dress up or down, and it will surely be a hit!
Photo Credit: www.simmi.com
These mules are everything! Featuring a square toe and a stiletto mid-heel. Wear yours with a top/short co-ord and oversized blazer.
Photo Credit: www.womanwithin.com
It is a proven fact that you need at least one pair of boyfriend jeans in your wardrobe! Woman Within's signature boyfriend jeans are that perfect piece with front and back pockets.
Photo Credit: us.boohoo.com
After that last-minute finishing touch? This plus-size accessory could be it. Remember, little details = big impact. Whether it's layered necklaces, chains, and chokers or a next-level fanny pack to store all your stuff, we've got all the plus-size fashion accessories you need to dazzle. There are many ways to mix and match these and give your outfit a smooth finish to bring your unique vibe to life.
Photo Credit: www.torrid.com
A blazer gives you endless outfit possibilities and can be worn year-round. Think about it as your wardrobe's secret weapon. The Longline Blazer in crepe pink from Torrid will look great with a pair of jeans and the right accessories.
Photo Credit: ocioleisure.com
Relaxed and roomy, this is an oversized sweatshirt that still manages to flatter. How does she do it?
Photo Credit: www.target.com
This long-sleeve women's puffer jacket's shorter length will make it a cozy staple in your outerwear closet. Styled for a casual fit, it features a sherpa-lined hooded neck for extra coverage and warmth.
See, I told you we had you! These are just several plus-size fashion gift ideas to give for Christmas. And for anyone curious, Fashion to Figure's Callie Lug Sole Booties are super comfortable and so damn cute!
Now, if you're looking for something a little more tailored to a specific individual, then check out some of our other gift guides. You name it; we got it! We took care of your friend who needs extra self-care, holiday glam gifts under $10, and more. And the best thing about holiday shopping is the SALES! So make sure that you rack up on all the offers when you're doing your online shopping.
Which item could you see yourself gifting to someone? Comment below!