Every once in a while, I find a dress that makes me feel… AMAZEBALLS. No extra-ness needed. A great classic heel, minimal accessories, just because the dress is that much fun.
I am usually not the girly girl type (more boho and relaxed), but something about this dress- maybe because it was strapless, or short, or floral, or maybe the slit. I dunno. I can say that this ASOS Curve Smudge Print Floral Tulip dress definitely fashioned one of those dresses (at least for me) that made me feel…
FOXY.
And so this was me, feeling foxy and playful on a day running around town running errands- all dressed up, just because! Please pardon the self portrait of a picture, as I was out and about, I only last minute-ly realized I wanted a pic! LOL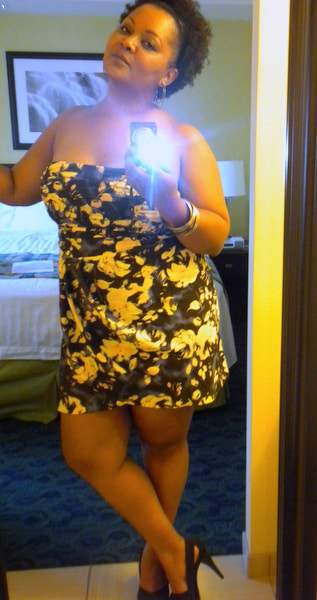 DO you have a dress that falls outside your normal fashion personality?
A floral one when you best opt for blacks and neutrals, a body conscious dress when you'd rather prance in a flowy frock? One that fancies your gams although you'd max it out in a chic maxi? A dress that once you put on, you feel like you can conquer the world?
TELL ME!
I think this is my dress.
Thank you ASOS for a clearance sale that brought me and this dress together.