10 Tips for Plus Size Shopping Online
Jibri, Monif C., Igigi, Qristyl Frazier, SKORCH, Alight, S.W.A.K., E-bay, MSN Shopping, AOL shopping, Full Figure Plus, Black Cat Plus, Plus Model Mag, the list goes on, and literally for about 25+ Google pages for plus size fashion. Google  size 18/20 in red, and you get over 47,000 entries.   With all these pages and resources on the internet, how does a curvy fashionista start her search in the profundity of information? Don't worry,we have tips for plus size shopping online.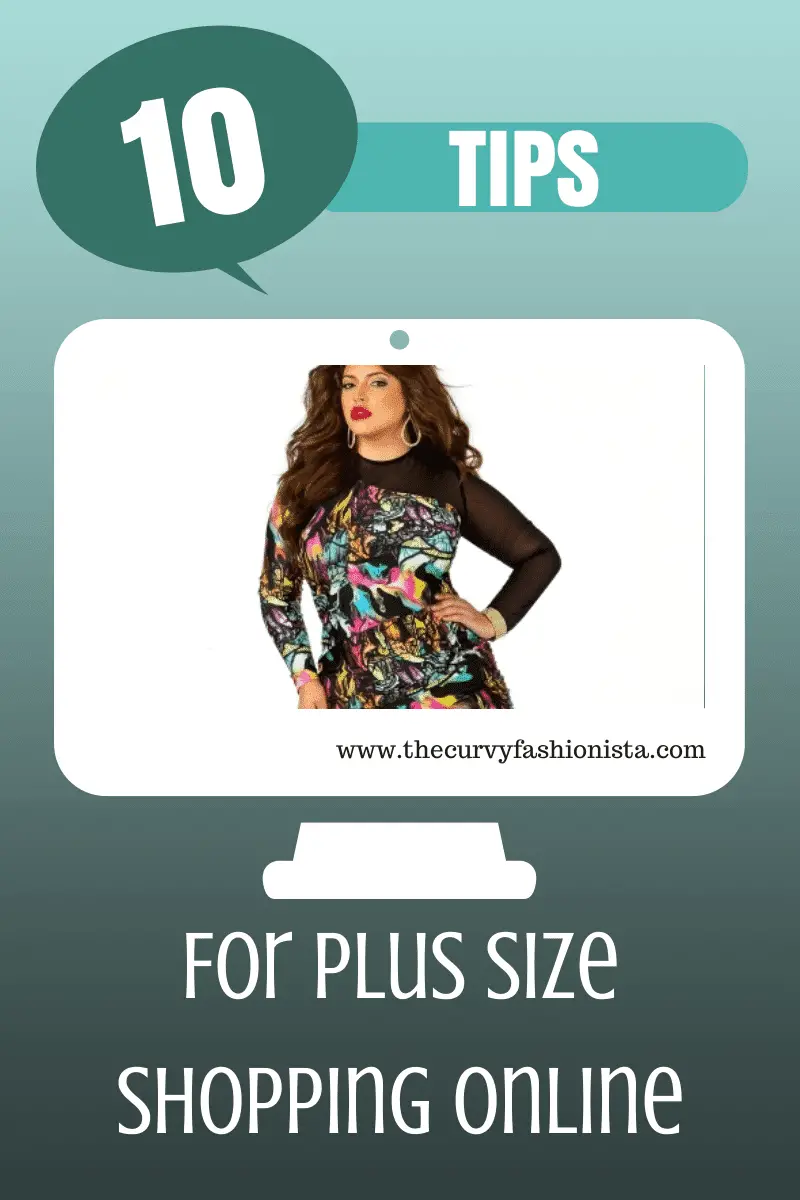 10 Tips for Plus Size Shopping Online
Breathe.
Emerging designers, retailers, and boutiques that are sourcing and bringing to you the newest in plus size fashion online.  On the other hand, there are blogs, communities, directories, and magazines that provide you with multiple directives for a path into fashion land.
Before you start on your yellow brick road to fashion, know these following tips to ease you on down that road:
Know that all designers are NOT sized equal
Designers do not always cut from the same cloth- size speaking. This bodes well in plus size fashion. Although a constant frustration amongst plus size women, this is the case as more designers become available.  Like the designers in straight sized fashion, each designer fashions their garments with a specific aesthetic, meaning that they design with a specific silhouette in mind.
Before you purchase any garment, it is always important to review size charts and fit guides if available. If not, do not hesitate to pick up the phone or send an email to contact your retailer.
Optimism is key
Shopping as a curvy woman is daunting enough- but shopping online can be even scarier, not being able to try the merchandise on or hold the fabric in your hand. However, shopping online can be fun- no really, it can!  Shopping with "the glass half full" mentality heightens the opportunity to score that rare pearl in the sea.
If you get frustrated, step away from the computer and unwind!  It may be frustrating, but with a renewed perspective, you will be able to score that perfect fit!
Patience with your search

Just like shopping in and throughout the mall, you visit a few shops; try on half the store, only to leave with nothing. On the other hand, you may be looking for that ONE dress, which you are fashionably dying for, but come up empty-handed!
Shopping online is no different, but the fabulous exception here is that you are not limited to traditional shopping hours, or cities.
Quality over Quantity
You will find that there are a plethora of designers, retailers, manufacturers, wholesalers, E-bay stores, etc. catering to plus size fashion. You will find merchandise at multiple price points, but what to do?
Do you buy five items that will last a wash or one fabulous frock that will give you at least a two- year run? Invest in quality over quantity- but how do you do this? Check for fabric content, brand awareness, return policies, and customer service!
Experiment with color and shape
As you find the newest and latest in plus size fashions, you will find there are new shapes, colors, fits that no longer hide your curves under a tent, but unearth your curvaceous frame with astounding curve appeal.
While you may have a predisposed notion as to what works well with your frame, do not be afraid to step out of the box- you will never know what treasures can come from it!  If the store has a forgiving return policy, take advantage of experimenting!
Ask for assistance
If you find you are still hesitant about clicking the "buy now" button, click the live chat, email us, or pick up the phone! Any company that puts you first should be more than willing to answer your questions and concerns!
Do not be afraid to ask!
Friendly Return Policy
You have to love technology! Nowadays, you find many online retailers that have some of the most astounding shipping and return policies! Any retailer, who understands and relates to your needs, will have an enticing or fair return policy to give you a sound piece of mind!
From a customer service point of view, review the retailer's customer service policies to know what you are investing with!
Research, research, research
There are many designers out there, but just as many resources for you to utilize to help navigate you through it all! Whether it be a plus size magazine, curvy blog, or online community, the resources are plentiful.
What is even better, the immediacy of feedback and testimonials are endless. Social media sites like Twitter, Facebook, and so on, give you an instant contact with someone who can guide you to what you are looking for and even at times, a direct connect with the designer or retailer themselves!
Have Fun
Shopping should always be a pleasant experience, even when scouring the Internet for the perfect figure flattering, curve enhancing, jaw dropping outfit for that special occasion.  With a lighthearted perspective and proper resources, shopping online can be fruitful and pleasant experience.
Give Feedback
Whichever channel you can find, sharing your experiences with the retailer only enhances the level of service, maximizes the proper assortment, and brings attention to any flaws or defects in the shopping process!
In addition, your feedback helps not only the retailer, but you and your prospective Curvy girlfriends! Pay it forward!!