Well hello, fashionistas!! Today, I'm so excited to pull from my YEARS of experience as a plus size blogger going to Pride to share my TOP tips for attending YOUR first Pride!
Or maybe your second, third, fourth, etc ,Pride. We all love some tips!
Tips for Attending Pride the First Time
Hey there! My name is Brianne (she/her), and I'm the plus size LGBT blogger behind The Huntswoman! Marie (EIC and founder of The Curvy Fashionista) invited me to write some posts for Pride month this year, and I'm so excited to share mine!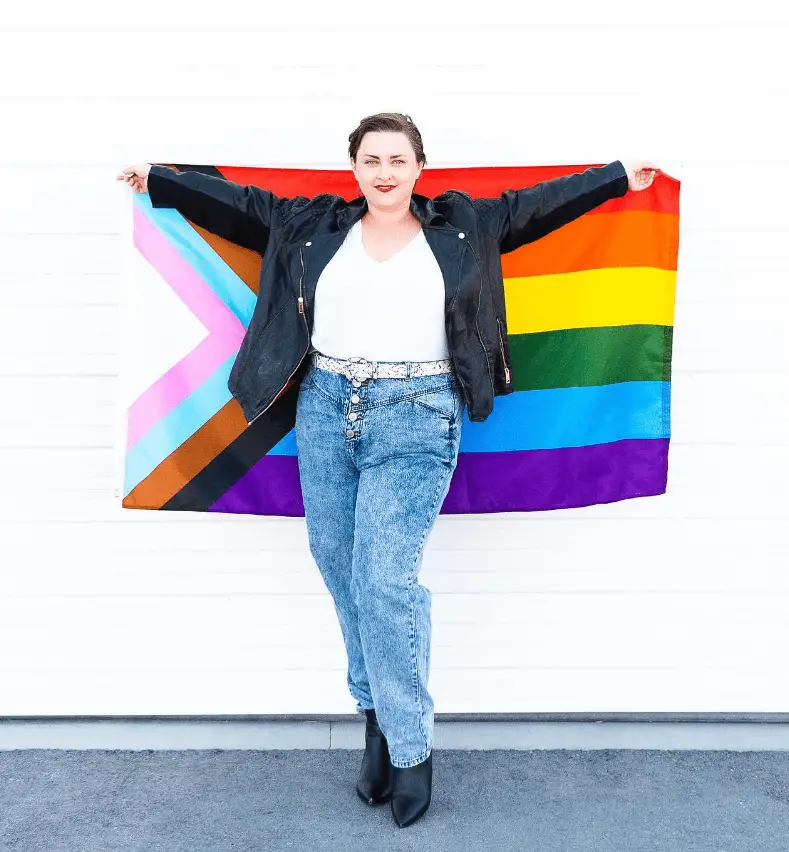 Below, I've shared ALL my newbie tips that I wish I had had! Whether you're attending your local Pride, SF Pride, ATL Pride, NYC Pride, etc, I know my tips will be helpful!
You ready?! Let's GOOOOOO!!!
Pre-Work: Set Expectations with Friends
Whenever I've had a bad experience at Pride, it's usually because I didn't set expectations with my crew. Before going with a group, be sure to discuss:
Bandwidth: How much time does everyone see themselves being at Pride?
Priorities: What is the #1 thing each friend in the group wants to do? (From checking out local LGBT vendors to performers onstage to clubbing — what do folks want to DO?)
Peeling Off: What are the rules/expectations around someone frolicking off by themselves? Do they plan to check-in? Do you all expect to leave Pride (or a club, etc) together? No need to shame anyone, just be real about checking in. I've had to track down a tipsy friend or two during Pride, and I WISH I had had those conversations!
#1 Tip for First Pride: Share Your Location!
Ok, I know not everyone has an iPhone, so this first tip might not apply to everyone. When it comes to attending Pride with your besties, I recommend that you all hit the "Share Location,"' so it's easier to find each other. Pride can be crowded!! I would also learn the "Drop a Pin" feature so that it's easier to find each other! These iPhone features are a LIFSAVER for attending pride.
Also! I have not-so-jokingly told my friends I want to give everyone an Apple Air Tag next year, lol.
#2 Tip for First Pride: Be Aware of Protesters – Have a Safety Plan
While I wish this wasn't the case, I would be doing you a disservice if I wasn't honest about the safety component around Pride.
I remember going to my first Pride and being kind of shocked at the number of protesters. This, coupled with the current political climate, has prompted me to share the following:
Never walk back to your car or home alone
Watch any and all drinks
Review emergency exits upon arrival
Don't be shy about telling someone they're making you uncomfortable! Pride is all about celebration, and I NEVER hesitate to say, "Hey, you're making me uncomfortable." I also LIBERALLY lie to get myself out of an unsafe situation!
SUPER IMPORTANT! Have an agreement with your friends about safety — are you ok if someone meets a cutie and wants to frolic away? If so, have a check-in plan with your people! There's no need to be controlling, but there should be a plan as to who is going home with who, and how plans might change that!
#3 Tip for First Pride: Fanny Packs & Back Packs – NO TOTE BAGS!
Ok, one of the TOP mistakes I see at Pride is cute little queer cuties trying to stay organized using a canvas tote bag.
My adorable little buttercup, that is STRESSFUL!
I recommend getting a bum bag, fanny pack or little mini backpack for the day. (Don't get too big of a bag if you don't want to carry EVERYONE'S stuff!)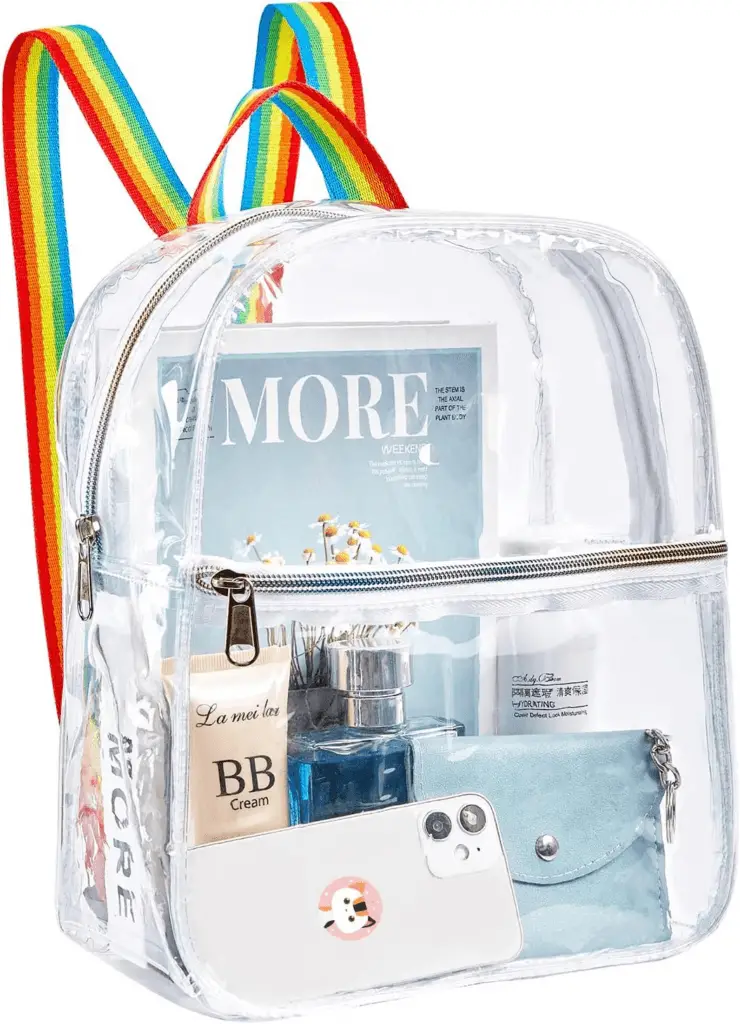 Also! Bumps and bruises happen at Pride, as we're all busy frolicking and may not see that extra step or curb. Ahem. I def recommend bringing a little mini first aid kit!
#4 Tip for First Pride: Megababe Stick
Ok, I have a confession: As a plus size babe, I don't struggle with thigh chafing as much as my friends! BUT, during Pride, it can flare up — there's a LOT of walking. I'm fine most days, but when I travel during the summer or I'm at Pride — I strategize on how to avoid thigh chafing!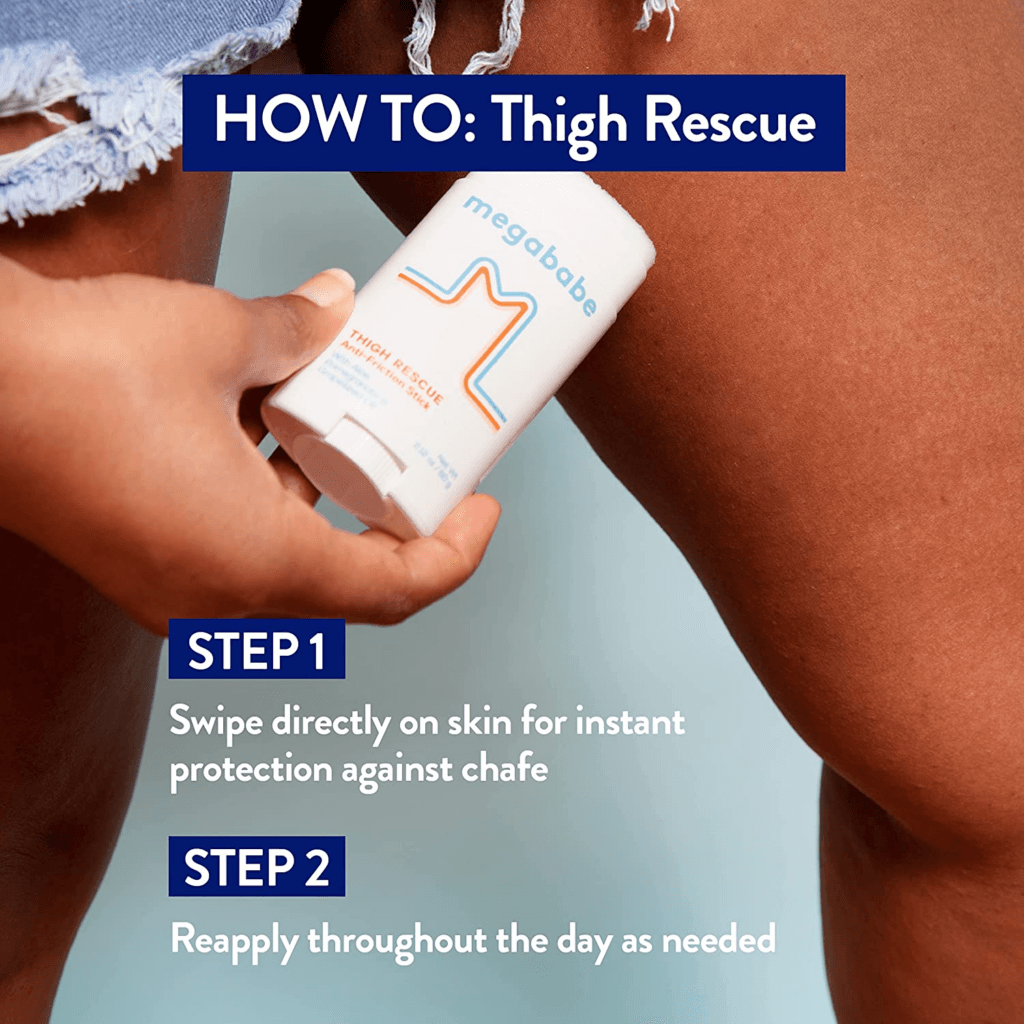 I've had multiple besties recommend the Megababe Thigh Rescue Stick, so I'm plopping it in our chat! I know Team TCF also loves Megababe!
#5 Tip for First Pride: Air Fans
Recently, my bestie, Victoria, of Fly for a Ginger, came to visit me in Salt Lake City. And omg was she PREPARED with fans! She has a handheld fan and a NECK FAN to keep herself cool in the hot weather.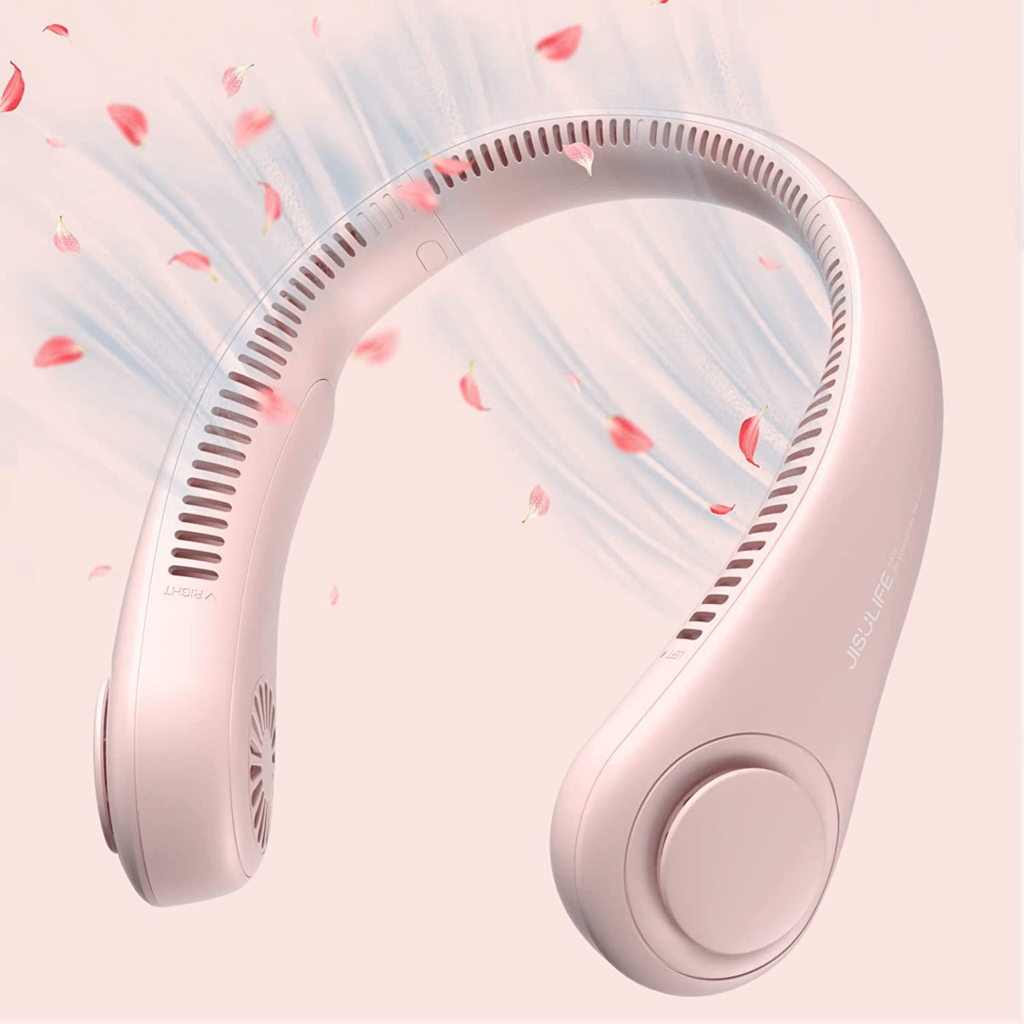 GENIUS!
#6 Tip for First Pride: SHOES
Ok, I am ABSOLUTELY guilty of wearing SUPER CUTE SHOES to Pride and then wincing in pain after a few hours.
For this reason, I recommend that you either go for cute and COMFY shoes (rainbow Converse, anyone?) or bring a pair of flip flops to change into!
#7 Tip for First Pride: PARKING
Next, let's talk about everyone's (least favorite) topic: PARKING. When it comes to Pride, I usually drive and park my car at a local store for the day, then rideshare my way (~10 min) to the downtown area. Parking can be a nightmare at Pride!! You can also strategize your public transport options as well, depending on where you're at.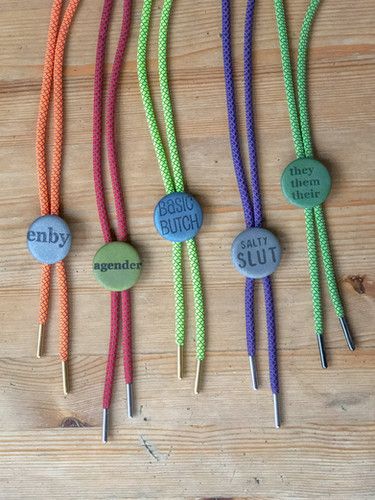 #8 Tip for First Pride: Wear a Helpful FLAG
Listen, part of the fun of Pride is getting hit on (at least for me!)! I find it's easiest to communicate what kind of person you're into by snagging a little button on etsy that shares your pronouns, and another one that is a flag for your particular identity. From the bisexual pride flag to the agender or asexual flag, it's nice to be seen/known, and also let people know what's up! 😉
#9 Tip for First Pride: Buy TICKETS
I had to learn this one the hard way at SF Pride! Many clubs and restaurants have events Pride Weekend, buuuut due to popularity — they sell tickets to those events.
In the month or so before Pride, be sure to snag your tickets!!
Share Your Tips Below!
There's no way for me to write a totally comprehensive guide to Pride (although that WOULD be cool!). The TCF Team would LOVE it if you would share your tips for attending Pride below! <3