Yes, we are talking about our periods and no, not those panties you designate for a certain time of the month. Did you know that a specific product exists? Panties that replace (or can be used with) your tampons, pads, and cups?! Yes, AND more specifically, we are talking about Thinx!
A few months back, I was sent a few pair of these Thinx panties to play in! And let me tell you something, my mind has been blown!
Who knew!?
Did you?
I would never imagine that there is a whole different option (from using tampons, pads, or cups, and sometimes even birth control) to manage our cycle. But Thinx is on to something, that I am beyond geeked about and still trying to wrap my head around.
Thinx Period Underwear? Oh Yes.
Just so you know, Thinx are "washable, reusable underwear designed to replace pads and tampons, or be worn with tampons and cups for extra protection."
With a claim to "look and feel just like your regular undies — but better," I gave them a whirl. Why not? We are at home; this is the perfect time to experiment with a few new beauty and feminine care options… right?
Thinx tells us that they are:
Super absorbent
Holds up to 4 regular tampons' worth, without feeling bulky.
Wicks moisture
Our breathable cotton draws away wetness – and dries fast.
Controls odors
Neutralizes smells, keeping everything fresh all day.
Prevents leaks
So your clothes, sheets, and everything else stays stain-free.
Is that right?!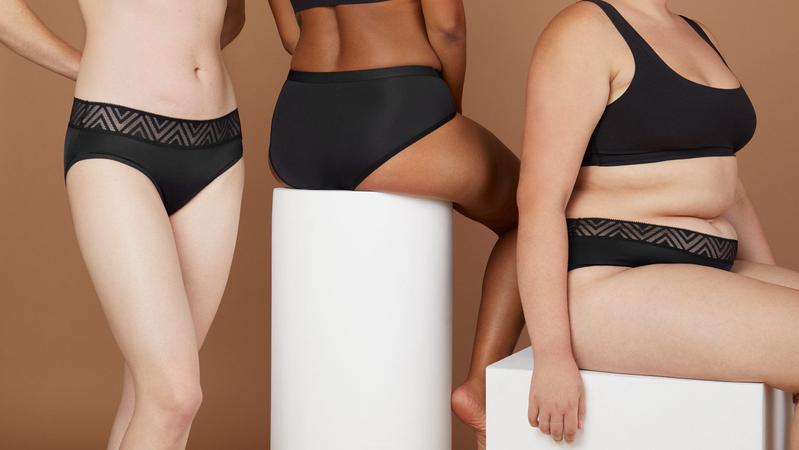 Without getting too in detail about my experience, I HAVE to share why you have to give Thinx panties a look a go.
Because I was feeling adventurous, I jumped right in. I received three pairs to test out: The Super Hiphugger, The Boyshort, and the Air Hiphugger. With Thinx, you shop abased off of your flow!
And guess what?
It works.
As someone who has a heavy 4 to 5-day flow, I was impressed. These Thinx panties did its job without having any accidents.
For me, I played with the boyshorts first, overnight, for my heaviest flow. Then I would move to the hiphuggers.
I thought to myself, I'm at home, I'm quarantining, why not just go for it, right? So I did and let me just tell you, my mind was blown! My mind could not comprehend what was happening.
What I did not feel? Was messy, stinky, uncomfortable, or self-conscious.
I continually had to check to make sure that I was not having any problems, because there were none.
An added bonus with Thinx?
I do not have to feel concerned about waste with pads and tampons…
And Thinx has quite a few options and styles to choose from, even a thong option for those lightest of days. You can play with the rise of your panties. High rise, low rise, and they've also added in the additional technology, the Air Products! This is a lighter weight fabric that still gives the desired coverage you need.
And today, they JUST dropped the Thinx Sleep Shorts! I need to add these to my collection STAT. You see, these are made of a soft micro modal, with the Thinx Super gusset technology!
What sets these Sleep shorts from their other products? They take the Thinx super gusset technology, built into the inner organic cotton bikini, and extend it up the back for extra overnight protection.
Like the boyshorts, they hold up to four regular tampons' worth of flow! But these are a bit more relaxed in the fit when compared to the snug higher waist fit of the boyshorts.
WOOT.
Honestly, I am a new believer…
Shop the collection now, at Thinx.com!
If I had any complaint or challenge to Thinx? To extend their size range or update the sizing. While they have up through a size 5X on their Speax brand (for bladder leaks), the Thinx goes up through a size 3X.
Also? Make sure to check the measurements of their products, as they do not follow a traditional size chart.
BUT! I found myself in a 2X at a size 16/18.
Other than that, I am still gob smacked and impressed with what they are working with.
You have to love how technology has been impacting all things fashion and lifestyle products, right?
Last thing, which I think is kind of impressive? They also have Thinx available for the tweens and teens! Yes!!! BTWN is their line for the younger ones to use for their cycles. I think this is brilliant.
I do wish I had these when growing up!
Anywho…
Have you tried them yet?
Shop the collection now, at Thinx.com!
What questions do you have for me? I will do my best to help and answer you!
ALSO? This is NOT a sponsored post. I am a huge fan of this and had to share options!