If you haven't heard, Gabby is on the road for her book tour, and I am so sure that we will see her sporting more style around town! Gabby Sidibe slayed the red carpet during the Elvis & Duran show to promote her book, This Is Just My Face: Try Not To Stare. Have you picked up your copy yet? Get all the details here!
Gabby served up some tropical sporty realness with a long sleeveless top from Navabi, pairing it with a casual jean jacket and Chucks to complete the laid-back chic look. The sunny paradise hues of the top really brought out her beautiful deep skin tone and the bright colors matched her even brighter smile!
Gabby Sidibe Serves Tropical Sporty In Navabi!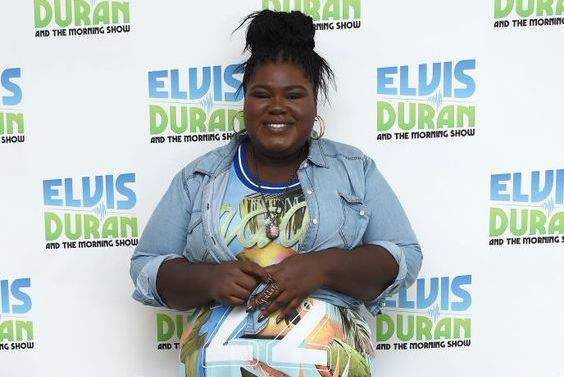 Want Gabby's "sporty in paradise" look?
Check out the deets below!
Miss Y by Yoek Printed Long Line Sleeveless Top, $126.99 at navabi.us
The top is so versatile, too! You can either rock it as a long top with leggings or as a dress to show off those gams! I picture it while strolling the pier as the breeze hits your sun kissed skin or shining at a brunch while downing the gloriousness that is bottomless mimosas. The possibilities are endless!
If you haven't, make sure to cop Gabby's new book, available at Amazon.com!
One thing that's firm, though, is that Gabby KILLED this look. I'm a fan! Is this a look that you would rock? How would you make this your own? Would you do a jacket on top with sneakers or play it up sleeveless with heels? Let is know what you think and how you'd own this…
Would you rock this? How do you like Gabby's look? Is it something you'd rock? Are you a fan?
Let's discuss this navabi look!