While some grew up on Saturday morning cartoons, Bri Cooper spent her weekends listening to her parents play classical music for hours. Her mother was an opera singer and her father had a deep appreciation for music so it's no surprise that she was going to the orchestra from a young age. These days, Bri Cooper is taking an entrepreneurial approach to her classical training as an actor and opera singer running her own production company.
At the age of 12, Cooper really became hooked on opera when her music teacher noticed she had a very classic sound and that was the same year she was given her first solo and landed her first leading role in the opera Carmen. From there, Cooper says her life became all about music.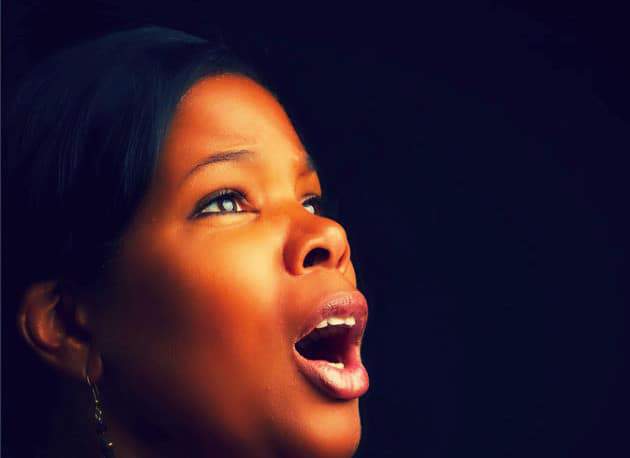 "When you understand that any gift you have been given is not about you as a person, that it is actually bigger than you, you start to understand the extreme amount of responsibility and good you can bring to the world through (in my case) music," shares Cooper.
And Cooper has not taken this gift lightly. She studied at School of Music at East Carolina University. And her accomplishments in the music industry rolled in from there. She's performed at Carnegie Hall, the People's Inaugural Luncheon honoring First Lady Michelle Obama, and sang the Bahamas National Anthem for the Ambassador of the Bahamas. She hosts a TV show "Operaluscious: Where Opera Meets Lifestyle" and she's currently producing and starring as Marian Anderson in Casta Diva: The Marian Anderson Story.
Through all of the traveling and performing, Cooper still found time to give back when she was awarded a grant to teach opera to kids in DC. It was an experience that left an impact on both the students and Cooper.
"When I started each session I would say, 'I do not mind if you do not like it, but I want you to be able to understand why you do not like when you are in a conversation,'" says Cooper. "I wanted them to say, 'Oh yes, I am familiar with Mozart, as a matter of fact I performed in The Magic Flute' and watch their faces drop."
She says a group of 15 boys in sixth to eighth grades surprised her the most. Watching them become curious about Mozart and seeing them perform The Magic Flute was an experience Cooper says moved her.
"After their performance, the Principal had tears in her eyes," says Cooper. "They were so excited they invited their parents."
Education continues to be integral to Cooper's work as an opera singer and entrepreneur. On her TV show, "Operaluscious," she focuses on three main components: education, entertainment and lifestyle and introducing opera to new viewers who may not understand the art form.
"Our goal is to inspire, enhance, educate and entertain all viewers, including those who have never seen an opera before," says Cooper. "Opera singers are very funny, nutty, crazy, smart, intelligent and very disciplined. The art form is a very disciplined art form, much like an athlete. I wanted for people to see that very human side of who we are without being gimmicky and going for a shock value." In addition to giving a humanizing take on opera, Cooper shares fashion tips in the lifestyle segment of "Operaluscious" where she talks about what to wear to the opera and how to create an opera-inspired look.
One of her personal favorite go-to plus size brands is Kiyonna where she describes the pieces as sexy, on trend and elegant. When it comes to workout clothes, Cooper's go-to is Xersion from JCPenney and she loves trying out new pieces from plus size subscription service, Gwynnie Bee.
But while fashion is something that Cooper enjoys, it's music that remains her first love. And her perspective on music as her gift is something that can be application inspiration for women everywhere.
"When a singer realizes that their musical gift is not just about them as a human being, it is about something greater than them, that is when all of the other negative things that are all up against seems to be put into perspective," says Cooper. "You automatically spend your energy on what is positive and promoting that instead of what is negative."
Now this is a positive attitude that I am more than happy to sing the praises of.
You can learn more about Bri Cooper, her work, and her music at BriCooper.net and TheMezzoMaven.wordpress.com!