It's August and while summer is coming to an end, that doesn't mean the temperatures are any different! This is the hottest month of the year so we still need clothing, undergarments, and skin care to get us through the heat. We've rounded up some summer style tips you can use during any month with summer-like weather.
Summer is one of my favorite seasons for stylin' and profilin'! However, with all the new summer trends, I have to find new ways to wear those styles while still feeling supported, comfortable, and confident.
From off the shoulder tops, culottes, rompers, and all the sundresses, I have to be as comfortable as I am cute. Curvy girls should never sacrifice one for the other. Never! With this proclamation in mind, here are some great go to summer styles and what you need to support your curves!
Summer Styles to Support the Curvy Girl!
Lace Bandeau, at Torrid.com
Shopping for the perfect strapless bra can be a nightmare. For your off the shoulder pieces, a breathable bandeau can be more comfortable than you think, and Torrid has an excellent assortment to pick from. Having elastic along the top and bottom help hold it in place, so you won't have to do the summer shimmy every few minutes to keep it up. Because who has time for that?
Kut from the Kloth Plus Size Catherine Destructed Denim Shorts, at Macys.com
If there is anything you need more in your summer style closet, it's a pair of classic denim shorts. These, like strapless bra, can be a journey to find the perfect pair. Whether they gap in the waist, or are too snug in the thighs, finding the right fit and style takes time. The two qualities I look for in denim shorts are rise and stretch. I find that high-waisted feels more comfortable and is more supportive of my shape, and of course a curvy girl's best friend is stretch. This pair from Kut from the Kloth is not only high-waisted, but longer in the thighs to prevent the always-dreaded chafing. It's also a cotton/spandex blend to provide stretch, and comes in wide sizes.
Plus Size Off-Shoulder Palazzo Jumpsuit, at GSLovesMe.com
My all time summer fave is always a romper/jumpsuit. I love the versatility of a day to night look, and how effortless they look. This lightweight wide leg jumpsuit from GS Love provides the option of an off the shoulder jumpsuit without the commitment. Bust out that strapless bralette from Torrid and give this look a try for your next brunch or date night!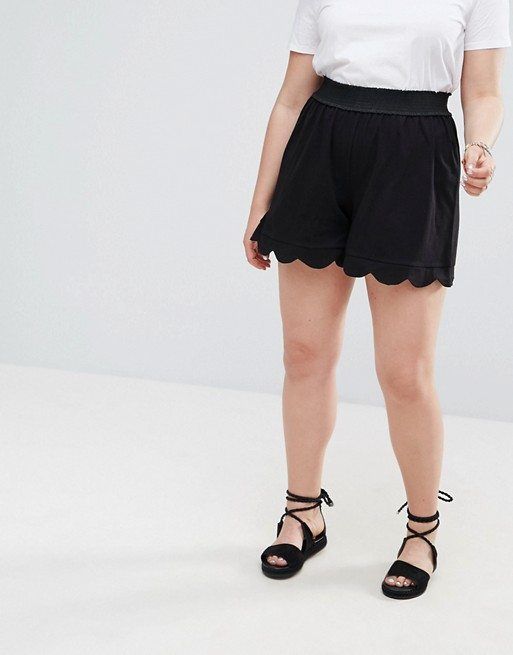 Ruffle Waist Short With Scallop Hem, at ASOS.com
For all of us who had the privilege of enjoying 90's fashion firsthand, skorts are such a nostalgic must have. Everyone needs a good go to pair of shorts. And of course we need a go to skirt for the summer, so why not make it a two in one? This skort from ASOS has scalloped edges that are super flattering on curves, and the airy fabric is perfect for keeping you cool when you're out and about.
Silky Underwear Dusting Powder, at LushUSA.com
Worried about sweating through your perfectly planned fit for that upcoming music festival? Your fave organic cosmetic company has you covered. As I'm sure everyone knows, it's Chub Rub season, and LUSH's Silky Underwear is great for not only preventing chafing, but absorbing sweat. Swipe it on before you leave and bring a little bit in a travel container to dust on when you need refreshing. The subtle sweet scent helps too!
This summer has provided some great trends! Thanks to more and more curvy girls making a statement, like with Refinery29's #takebackthebeach, Dia & Co's #diaARMy and Lane Bryant's #thisbody, I feel like this is the summer for curvy girls to embrace their bodies and be seen! It's important that with being seen you feel as comfortable as you do confident. Hopefully this shopping list of summer style essentials will help you and your curves feel cool, comfy and blissfully supported in your summer styles.
What are some other go to summer style tips that you think every curvy girl should have in her summer arsenal? Let me know in the comments! We cannot wait to hear from you!!!