I've been out here in these cosplay streets for a while, and the one thing I've learned is that your plus size cosplay doesn't have to be complicated to be fun. I have spent months putting together a look only to be so uncomfortable that I didn't want to wear it for more than an hour. I've spent minutes pulling things out of my closet and matching them up with is wig and having a great time for hours. I've also done every variation of that over the past decade and a half, and each time I realize the only thing that matters is how I feel about my cosplay and whether I had fun.
As the TCFStyle Expo is hosting its first ever COSPLAY CATWALK that is open to everyone who wants to participate, I wanted to offer some straightforward pointers on how you can join in the cosplay fun! Yes, you heard us. Plus size Cosplay for the plus size person, man or woman. The Cosplay Catwalk is a runway walk off, at the TCFStyle Expo on Saturday at 3pm… Are you going to dress up? This event was specifically made for us, to showcase the amazing talent within the community.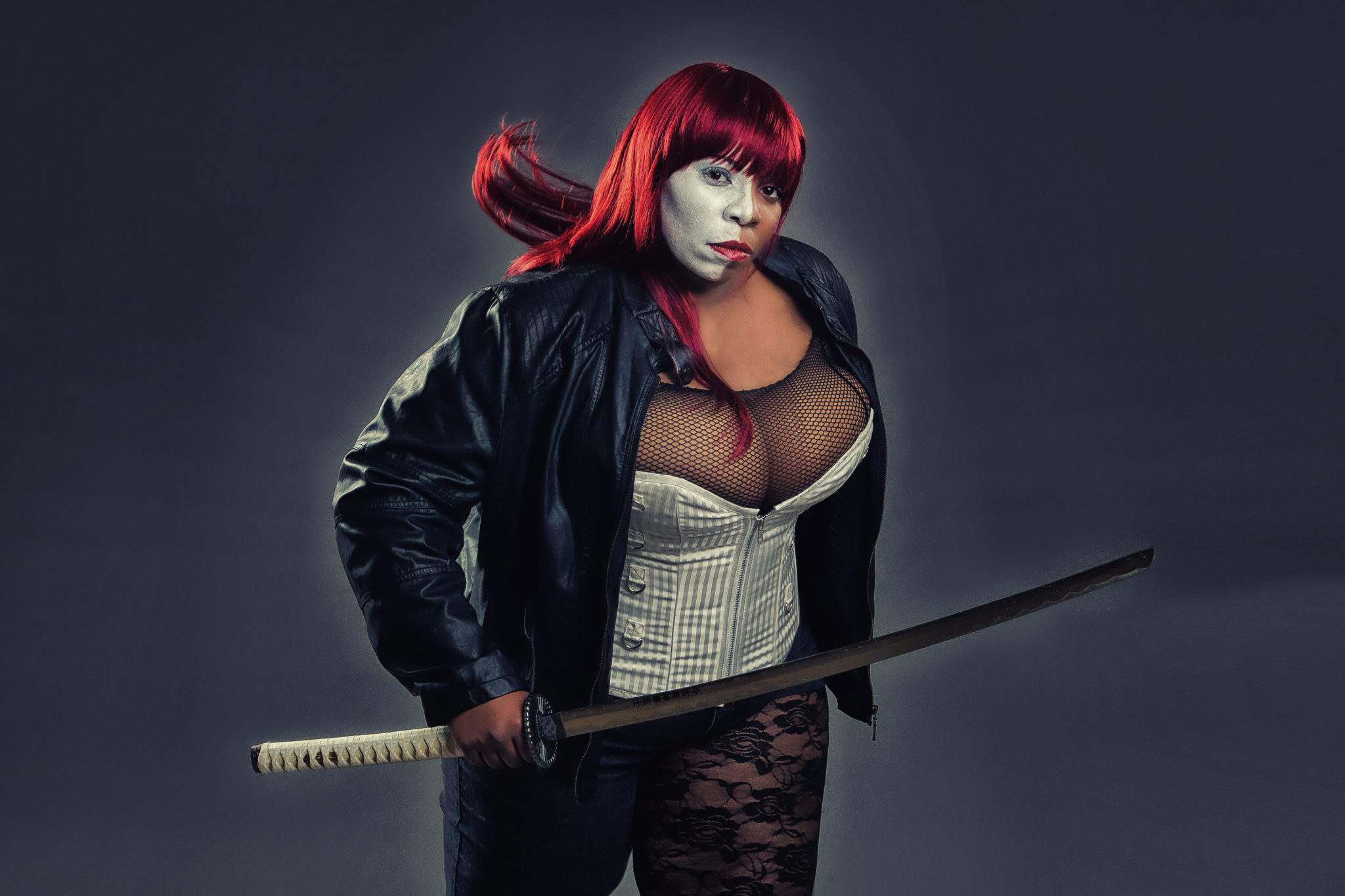 10 Tips to Enjoy Your Plus Size Cosplay at TCFStyle Expo
Cosplay is a look and an attitude. You don't need visible fangs to be a vampire. The fangs help but aren't required. All that you need is to embody what it is about vampires that you like. Slink around. Hiss. Be super sexy or menacing. It all works. I personally like the gothic vampire look and use it as an excuse to buy Victorian era clothing.
Create your own characters. I've created original characters for my moods repeatedly. I've been a Celestial being heading back to the cosmos, a prissy faun, an elf princess. The only limit to my character creation is the limit I place on myself.

Image via Talynn Kael

Play with makeup. You ever had that outrageous lip color you don't feel is appropriate for the office? Cosplay is the perfect opportunity to break it out and create any kind of look that you've wanted to try but couldn't find a space where it felt safe.
Play with clothing. I'm in a vinyl phase right now, and I now own 2 vinyl skirts, 2 pairs of vinyl shorts, 1 vinyl dress, and 2 vinyl corsets. I mix and match them for different looks depending on my mood. Don't think I'll ever wear them to the office, but who knows. I definitely wear them for cosplay.
Find that character's iconic characteristic and make it yours. Sometimes it's specific glasses. Sometimes, it's a combination look. Jubilee from X-Men wears a signature yellow trench, pink tank and denim shorts. That's all you essentially need. You could change the clothing style and keep the colors – make it a yellow sweater and pink shirt and jeans. Or a yellow shrug, pink corset, and denim leggings. It all works.
Cosplay from ANY fandom you want. ANY FANDOM. It's all about how you want to play.
Buy, build, sew, repurpose in any combination. It's about what makes you feel comfortable enough to do this. I have cosplay I've commissioned, and cosplay I've made from old ripped up old clothing. You can do whatever you want to get to the look you want. Plus, deconstructing stuff is fun. My seam ripper is one of my favorite tools.
Do not limit yourself by race, size, gender, anything. You can cosplay whoever you want, however you want. Except nazis. Don't cosplay as nazis. Not even to punch them. Just don't.

Image via Talynn Kael

Be creative. I love seeing the different ways people approach cosplay. We envision things so differently and it's a fascinating way to learn something new about each other.
Cosplay AnyWay. Any way you decide – complicated or simple, over the top or lowkey. It is 100% up to you how to cosplay. Some people are the "go big or go home" type while others are low-key, can't really tell if they are cosplaying or not. It doesn't matter. Cosplay AnyWay you want.
All this is to say, chill. It's all good and keep it fun. TCFStyle Expo is about any style in any way and that you are welcome to cosplay anyway you want. And while we'd love you to join us on the Cosplay Catwalk, you don't HAVE to if it makes you feel uncomfortable.
You don't have to cosplay at all. We just want you to share with the plus size cosplay community however you feel most comfortable.
I don't care if this is your first time or your 100th time cosplaying, I want to see all my plus size geeks out here showing me your creations. Original characters, comic heroes and villains, anime, pop-culture, you decide. Cosplay ANYWAY you want.
And share your progress pics on Instagram using the hashtags #TCFStyleExpo, #PlusSizeCosplayer, and #CosplayAnyWay. I want to see and share your fabulous geek selves.
Will we see you there?
Our lives. Our rules. Cosplay Any Way.