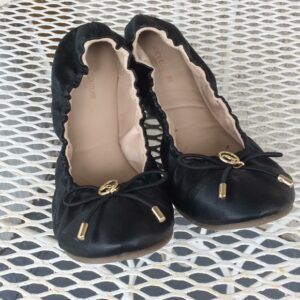 Ahh, the ballet flat= A shoe that oft eludes me and looses the shoe war to my strappy flats. This spring, the battle for my fancy feet will be intense as this shoe has reinvented itself to an option for the ever so high heel, with its fanciness and the flat thong sandal, in its comfort and playfulness!
One of the most prevalent trends within ballet flats is the woven ballet flat. Whether accented or literally woven, this trend has taken a modern approach with its finishes and is definitely one I want to experiment with!
There is no wrong outfit to pair your spring ballet flats with- well maybe for an evening dress- but even then, I AM SURE, there is a flat for that! LOL…
Take a peek at some of my favorites and if you are in love, you can shop them straight away!
Marie Denee
I am the Editor in Chic of The Curvy Fashionista. Often goofy. Forever emo. Always a Virgo. You can find me somewhere grooving to 90s R&B.