Hey Atlanta, what are you doing November 12th? Why don't you join me and the team behind The Plus Strut 5K!?! ! We are sooo excited to be co hosting the NOURISH event at L'Occitane En Provence to bring awareness to this really cool 5K!! Join me, for a live FB Live with 'Coffee with Marie' and The Plus Strut™ 5K at NOURISH!
This is one of the many events leading up to the Plus Strut 5K, a day for a feel-glam experience, in partnership with the luxury skincare brand, L'Occitane En Provence!
As the official media partner for the Plus Strut 5K, we are geeked to bring this Atlanta event to your attention! And how much fun would it be to do a FB Live on location for one of their many informational events?! I am geeked about this.
But let me give you a few more deets…
What is The Plus Strut?
I am glad you asked!
The Plus Strut™ 5K is the first ever 5K run/walk for plus size women; an event you and your friends do not want to miss. This event is to encourage and embrace all different shapes, sizes, and curves in all activities put our way. What better way to spend your day by being surrounded by great energy, diverse atmosphere, and support by all the attendees and all of those who just came to watch the fun!
To sign up for The Plus Strut 5K, Click Here!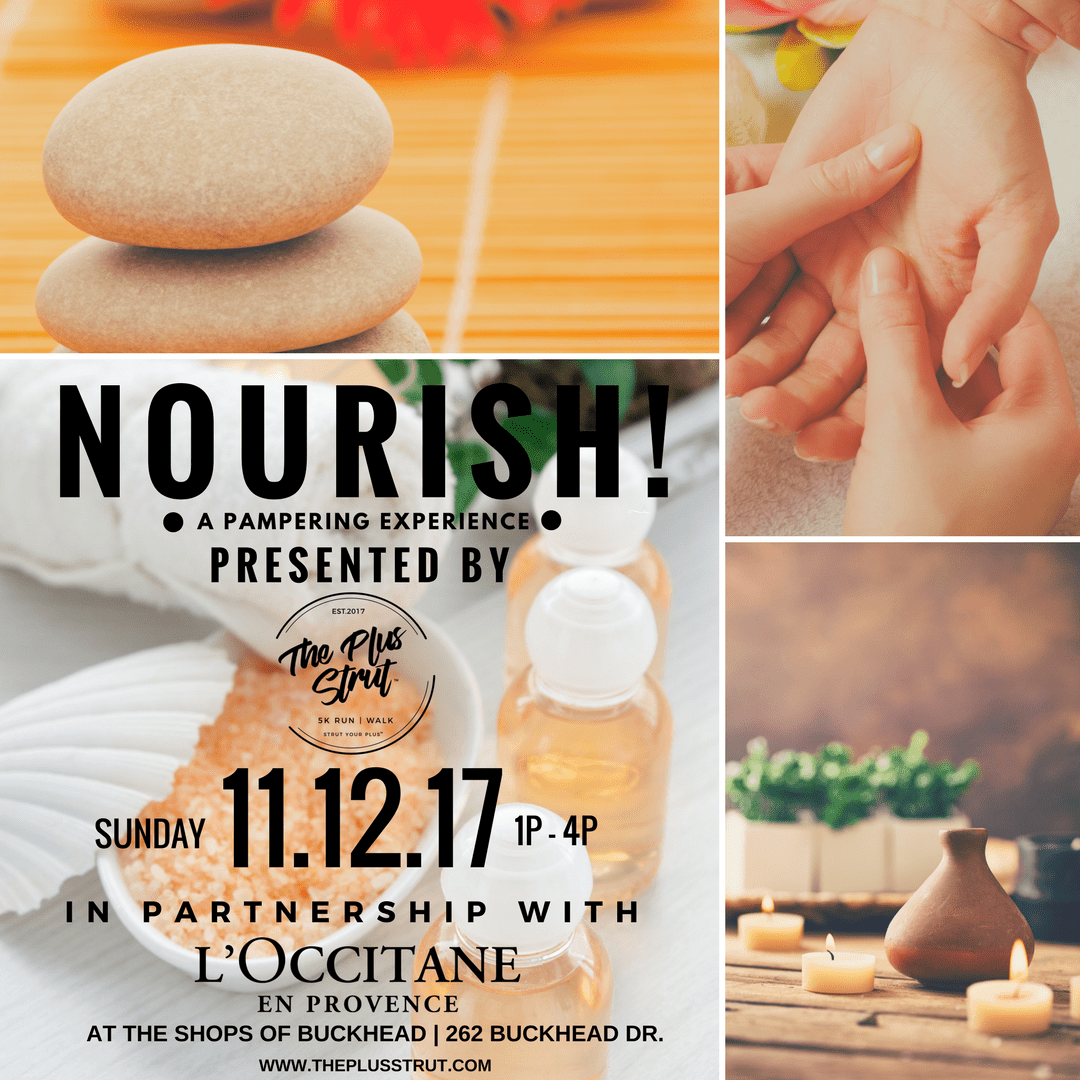 Here are the details about the NOURISH event!
What: Live Coffee with Marie and The Plus Strut 5K
Where: L'Occitane En Provence at 262 Buckhead Ave, Space #C322, Atlanta, Georgia 30305
When: 1-4pm (we go live at 1pm!)
More information: Nourish event on Facebook
NOURISH provides a great ambience to meet new faces, talk style and fashion, have a few small bites, fun product testing… ohh and did I mention mimosas?! (lol) Sooo come meet us on Sunday, November 12th from 1pm to 4pm.
We'll be waiting for you at 262 Buckhead Dr. at The Shops of Buckhead for a day of fun, fashion, and empowerment!
So don't you want to say you were one of the ladies at the first ever 5K for plus size women all brought to you by The Plus Strut™?!
Now, don't get it twisted you don't have to be a pro, I am not. BUT! If you've got running shoes then you're in.
You can walk, run, run slow, run fast, as long as you are comfortable!
The goal in this 5K is to finish with great energy and feeling accomplished.
Will we see you at NOURISH or the Plus Strut 5K? Let's talk about it!