Out of all the inventions of the modern age, I low key want to high five the first person to think of subscription boxes, the most. While I am sure they are out there, I have yet to hear a person say they hated their subscription box. They are pretty much unanimously enjoyed. And really, why wouldn't they be? I've likened my experiences with subscription boxes to receiving a birthday present in the mail. EVERY. SINGLE. MONTH. What's not to love about that?
For the plus size girl and guy out there, there are plenty of ways for us to join in on the fun, too! More and more subscription box services are becoming available, catering to us and our style needs specifically. Aww yeah! Today, we're giving up the 411 on a few of our faves and letting you know just what you can expect when you subscribe. You might want to start clearing space in your closet. Just sayin'…
You've Got Mail! 10 Plus Size Subscription Boxes You'll Love
Gwynnie Bee
Available in sizes 10-32, Gwynnie Bee is one of the most popular online women's clothing subscription services out there today. With your subscription, you get the opportunity to explore curated collections featuring top brands. Add the styles you love the most to your online closet, get them delivered to your door and rock them as many times as you like. The shipping is free both ways, and if you find an item you have to keep? You get to buy it right from your at-home closet, with a pretty sweet discount off the regular retail price.
Taking its name from Sir Winston Churchill, former Prime Minister of the United Kingdom, The Winston Box is the subscription box for the stylish big & tall man Sizes 1XL to 6 XL. With your subscription, you create a style profile, telling them your size and style preferences. They then hand pick 2-4 items from their signature label based on your profile and send them to you. For a monthly fee, the big and tall fellas out there receive high-quality clothing and consistent sizing, and the clothing you receive is yours to keep. You read that correctly. Yours… to keep.
Stitch Fix is the first fashion retailer to revamp the clothing subscription service and make a shopping experience that is personalized like never before. When it was announced that Stitch Fix would become more accessible to women sizes 14W-24W, 1X-3X, excited was an understatement. With your subscription, a specially-trained styling team will select each item by hand to specifically complement your shape.
Their in-house Stitch Fix plus size fit experts focused on streamlining sizing will ensure consistency in the fit of everything you wear, just for you. Once your selections have been mailed, you receive three days to pick what you'll keep and what you'd like to send back. If you keep all the items sent, they'll give you 25% off the entire purchase! Can you say WIN?!?
Dia&Co
Dia&Co is the online personal styling service for women sizes 14 and up. What makes them unique is that through their service, they are working to redefine the shopping experience for plus size women. Because they think that our bodies should come first, they are inspiring radical self-acceptance through style.
With your subscription, you will be paired with a Dia&Co stylist who will curate your pieces based on your style/fit preferences. You can receive shipments as often as you'd like, you get five days to try on the items at home. Once you've made up your mind, you keep what you love and send back what you don't!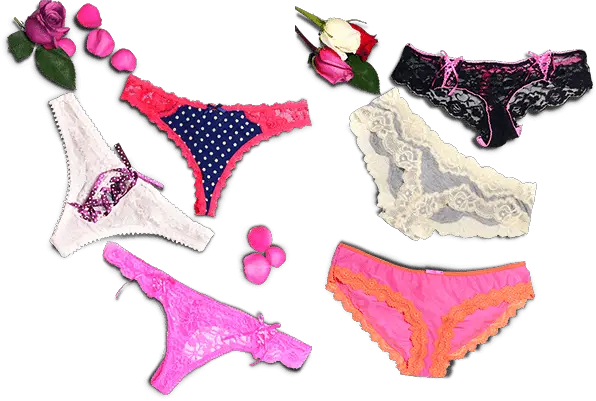 Who wants fancy chonies? If you are looking for a plus size subscription service that caters to your never ending panty game, then you need to give Volupties a whirl. Catering JUST to underwear, this monthly box sends you an option of no thongs or a mix of fancy panties to your home in a choice of plans that you wish! Just for one month, or for 3,6, 9, or 12 months!
Plvsh is like having a personal shopper, dedicated stylist and super-fashionable friend all in one. They provide an online personal styling service that caters to the "discerning" (read: who loves a little luxury in her life) plus size woman who insists on quality, fit and sophistication. They connect you with professional stylists who handpick quality pieces tailored to you and your lifestyle and have it all delivered to your doorstep.
PLVSH launched with one goal: deliver incredible fashion and personalized styling for savvy, sophisticated women size 14+ and we are loving it!
The Maximus Box is the self-proclaimed Big & Tall fashion of the future. They aim to bring sexy back for plus size men sized XL – 6XL, and give them a shopping experience that makes life easier and far more fashionable.
With your subscription, after taking a short style quiz, you will receive a personalized box of clothes every month. Subscriptions are available in both less to luxe, so whether you choose the Basic, Fresh or Prime subscription, the Maximus Box has you covered.
Wantable is the ultimate online lifestyle service for busy women sized XS-3X on the go. They provide distinctly unique products tailored to your individual tastes, needs, and wants. From fashion to intimate to even makeup, they help you discover amazing products and trends you can't live without. Even better? They deliver them straight to your doorstep each month.
With your subscription, you fill out a profile dedicated to your style must-haves. Whether you have a classic aesthetic, or you're all about boho chic, you will receive items based on your preferences. Your entire shopping experience has been redefined and made simple with this service.
Stylogic was started with the vision that no matter how busy you are, you should look as fabulous as you are. From sizes XS – 4X, every woman deserves to look and feel beautiful and fashionable. With your subscription, Stylogic asks you to complete an interactive style profile. The Stylogic Set is a handpick outfit based on your fashion profile. This typically includes a complete outfit with shoes, bag, and accessories.
The outfit will be ready to wear as soon as you receive your set, and you can keep the entire outfit or send back items you don't want. You can select what you want in your next set by going into your profile. Here you select what pieces you want for your next shipment. Stylogic goal is to provide you with a personal stylist experience without ever having to step into a store. Chic AND convenient.
Five Four Club
With an abundance of choices, fashion is often overwhelming. The Five Four man is smart, tech-savvy, and wants to live life to the fullest. We make it easy for our members to look stylish with minimal effort. Fashion should be simple, easy, and approachable. With sizes up through a 3x, a collab with Chris Paul, and a clean look and style for the Big & Tall Man (double check sizing) this one is another great option to test.
Just like other boxes, Five Four is simple to use! Fill out a questionnaire, and you are sent items that cater to your style! $60 a month and that is it, not too bad, huh?! You keep everything they send, usually 2 or 3 or more items.
So, What do we think? Found a few new plus size subscription options to give a whirl?
A little hard to decide which is best? Kristin Chirico from Buzzfeed gives a great breakdown of three of the boxes that she tried, take a read:
If you are a lady who likes to try new things but prefers to have control over her surprises (me, and also my friend, me): Gwynnie Bee is a great choice for you.
For the traditional style box route (and get a box full of surprise clothes) but are worried about stuff flattering your body, and you don't want to spend a lot of money: Dia&Co. is a good option.
If you have a bit more money to spend and are a bit more adventurous, then go for Plvsh, because when you get a winning garment from them, it's a SUPER winner.
How about those men's options? I love that there are more and more options to play in!
As our lives are becoming busier and full with activities, this doesn't mean that we shouldn't neglect ourselves OR our closets. Right? Right. Thanks to the varied options of plus size subscription boxes, there is always time to get fashionably fly!!
Don't you agree?
Do you belong to any of the above subscription boxes? Did we tempt to you join one? Did we miss a favorite of yours?
Tell us all about it in the comments!!!