Over on Facebook, I asked you what you would like to hear more about and one of your requests were to hear more about foundations: The Bras, Shapewear, Hosiery, and additional underpinnings that work for our curves!
So, for the last few months, I have had the pleasure to be introduced to a few bras that I wouldn't necessarily play with, some shapewear options that I have had the pleasure of playing with, and lingerie brands that I have not heard of. I am such a creature of habit… but I have been stepping out of my, um… own box and delving into these new-to-me brands! So, over the next few weeks, I will be sharing with you a miniseries: Laying the Right Foundation.
Today's Feature?
Growing up, I always remember Playtex being for my mother, aunties, and grandmother. In my mind, they were an inexpensive option for not-so-cute bras. Their shape turned me off, the colors were never cute, and frankly- I wanted the sexy and playful Victoria's Secret.
At age 11, I wore a B cup. Such an interesting time then… asides from the unwelcomed attention to the "girls," the bras for me were not cute. Now, umpteen years later, my options are many!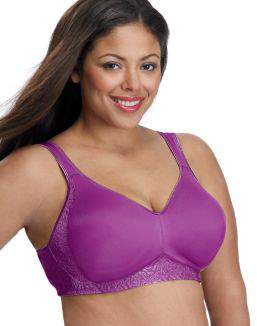 So when I was sent the Playtex 18 hour bra to review, after seeing a few commercials and knowing a fellow blogger was the ambassador, I happily obliged, as curiosity intrigued me!
AND LET ME TELL YOU.
I decided to rock this bra all day, to get the full 18 hour feel! I was sent a hot pink option, amongst others- like in the commercials, and was happily impressed. Actually, I was surprised.
Playtex promises:
With 18 Hour® bras, you've got it all – a comfortable, all-day supportive fit that looks just beautiful. Add lovely, feminine detailing like embroidery and lace. And, of course, lots of comfort extras such as wide, stay-put straps and cooling, breathable fabrics.
And they more than deliver! My now 38 DD girls bounced around all day (I even did an X Box Kinect Dance game) and my girls were supported, secure, and nestled fashionably! Literally was a bit surprised and quite elated! Who would have thought my mother's bra she bought in a box so many years ago would emerge as a fashionable and functional option? At the end of the day, I was not rushing to unleash the girls…
With support and wirefree technology, Playtex provides fashionable options with lace, seamless, and comfort strap options just for your liking! Seriously… style comfort and an attractive price, if you haven't tried the new Playtex lines, what are you waiting for?
I am quite surprised I haven't found them sooner…
Q. Have you tried the Playtex 18 hour bra? I want to hear YOUR experience!