Have you been noticing more and more plus size representation on the runway for fashion week? Well… you are not alone. On September 21, 2017, The Fashion Spot released its bi-annual diversity report tallying up model representation in 2,601 runway appearances at 94 major shows from New York Fashion Week Spring/Summer 2018. The Fashion Spot looks at race, size, age, and transgender visibility in their reporting.
For the first time ever, there were 90 appearances of plus size models accounting for a total of 3.46% of all models on the runway. If that doesn't sound like progress, keep in mind that in Fall 2016, there were only four plus size models on the runway.
The first plus size line to show at NYFW was Eden Miller's Cabria in 2013. During a group presentation by the Fashion Law Institute, Miller showed a history-making plus size collection under the tents. But since 2013, plus size representation on the runway has been a slow climb. Despite only account for less 4% of all models on the runway, this season felt like an important shift in representation. i-D declared that SS 2018, had "more body shape diversity than ever."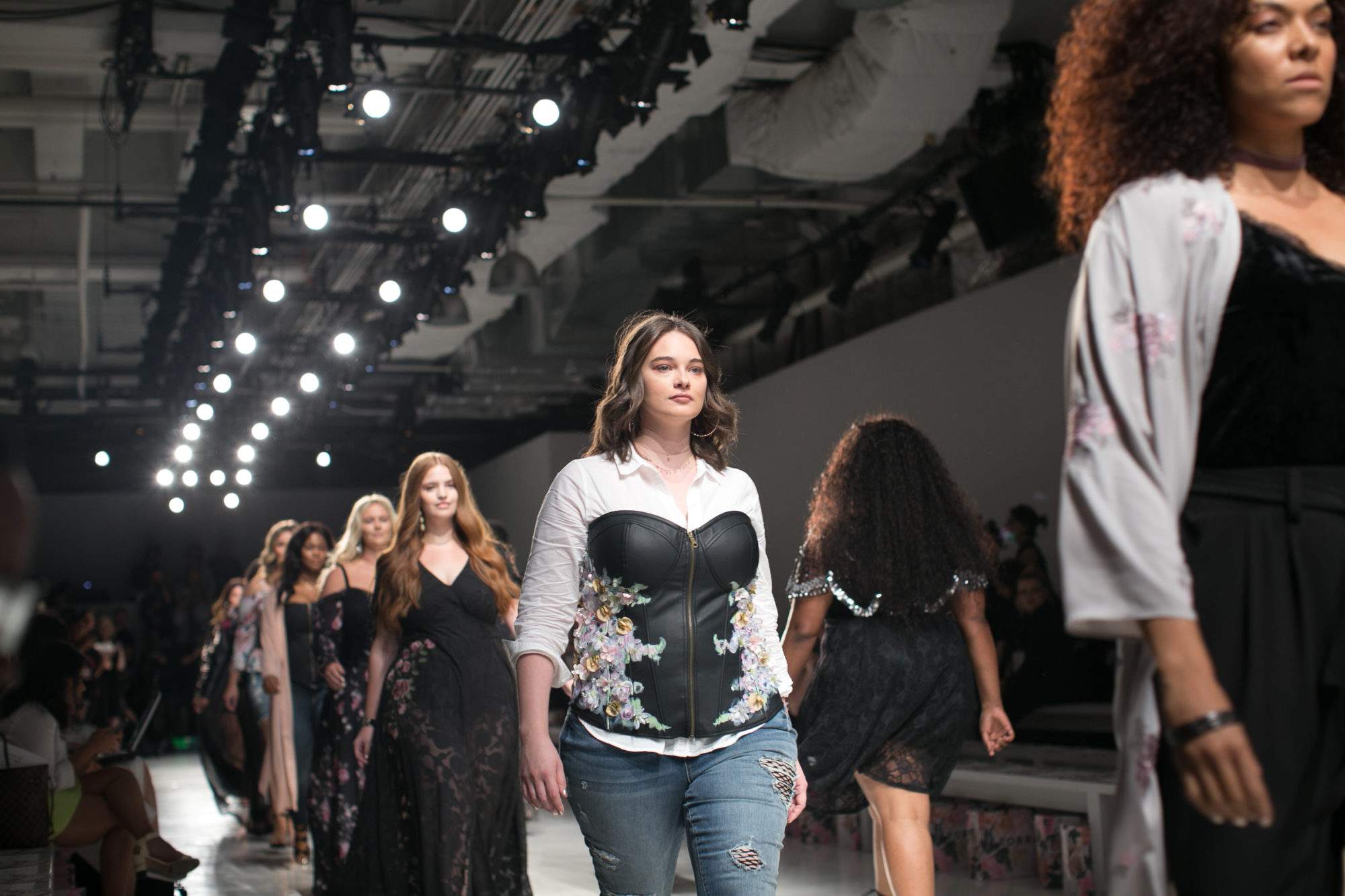 Torrid Spring 2018: Runway Show
I had the pleasure of attending five official shows during NYFW and two that fell in conjunction with Fashion Week. Even walked in one of those shows. I have wanted to attend NYFW since I was a kid. But I always expected if I got there, I would be there as a fashion outcast. But even the show I attended that didn't feature any plus models, had other plus size influencers in the audience.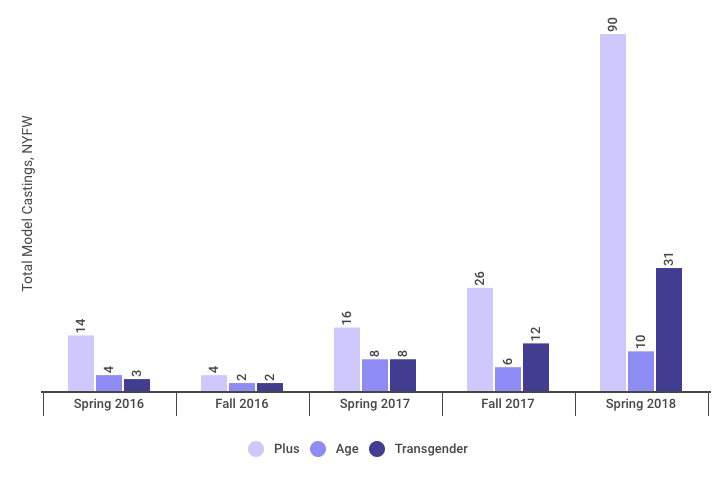 The Fashion Spot's Diversity Report
While size inclusive designers Christian Siriano and Chromat lead the way with ten and eleven plus size models respectively, plus size retailers Addition Elle and Torrid accounted for 56 of the 90 appearances with their plus size only shows. Michael Kors, Prabal Gurung, Michael Costello, Tracy Reese, Tome, Eckhaus Latta and Anna Sui all featured at least one plus model.
If you remove Addition Elle and Torrid's models, there were still 34 plus appearances on the NYFW runways which is more than ever before. Is this enough? Absolutely not. Is it progress? Yes. I know we still have a long ways to go but being in the room, I felt the energy.
When I walked into the Project Runway Show on Friday morning, my first NYFW show ever, I saw plenty of other familiar faces from the plus size fashion community. Although there's certainly a way to go in terms of models size 20+ being featured, I saw models on the runway whose bodies resembled mine. I'll be sharing more details from that show closer to the finale but just like on the current season, every season that showed at NYFW featured plus models in their collection.
I was part of a crowd that erupted in cheers when a plus model removed a skirt to reveal and a sexy bodysuit and her thick thighs in all their glory. Granted there were 89 other shows that I did not attend, but the ones that I saw left me invigorated.
A rundown of the best of the best of plus size representation during NYFW:
Addition Elle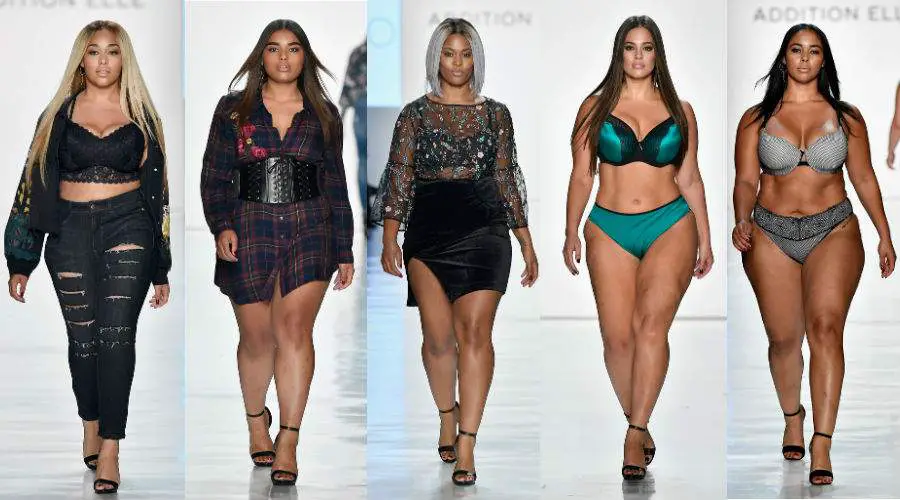 Addition Elle NYFW Spring/Summer 2018. Images by: Getty Photography, Frazer Harrison
The Montreal-based retailer, Addition Elle, made its official NYFW debut at Skylight Clarkson Square on Monday September 11. Although Addition Elle has shown during fashion week in the past in conjunction with Kia STYLE360, this is their first show in partnership with IMG and NYFW: The Shows.
The runway featured 25 plus size models including Ashley Graham and Jordyn Woods who both walked in collections bearing their own collaborative designs for the brand. The show started off with Jordyn Woods' edgy Ready-to-Wear line for Love & Legend and ended with Ashley Graham's sexy Purple Rain and Ritz lingerie collection.
Christian Siriano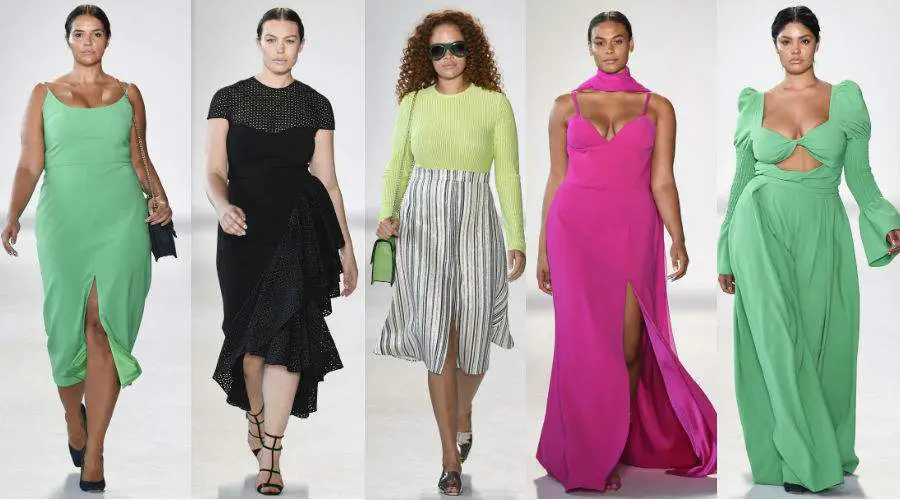 Christian Siriano NYFW SS2018
This designer, Christian Siriano has been a champion of plus inclusion for multiple seasons and he continued this trend for SS2018. Although I didn't get a chance to catch this show in person, I was glued to social media. Plus models Marquita Pring and Candice Huffine were among those strutting down the runway in stunning high slit dresses and cutouts. The seafoam green and magenta shades used in the collection were a personal favorite though there were plenty of black gowns that shined too.
Chromat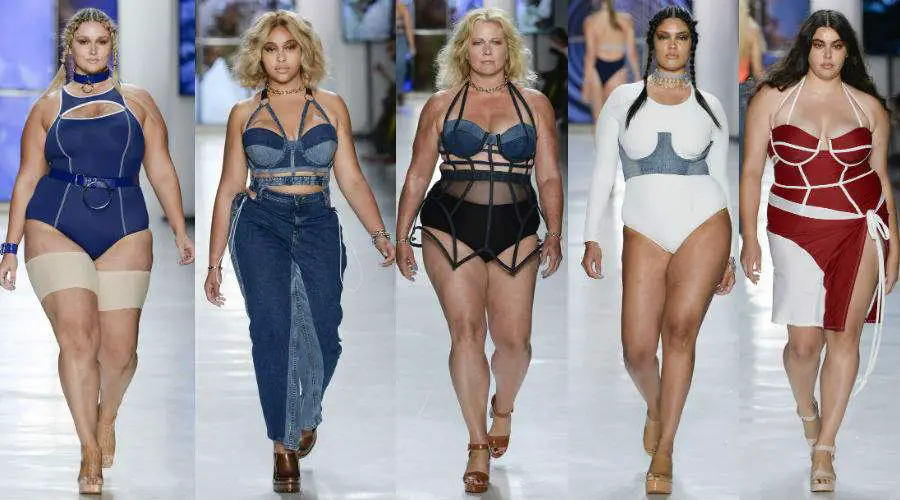 Chromat NYFW Spring/Summer 2018
If there's one show that I was most excited to see, it was definitely Chromat.Their architectural designs helped capitulate the structural caged lingerie trend into the mainstream and the diversity of their NYFW shows continues to make headlines. In addition to their eleven plus size models, they lead in transgender and nonbinary models as well. They even put 54-year-old supermodel legend Emme on the runway. Their overall model casting was 72% nonwhite.
I was so excited to see the range of models that I forget I was there to look at the designs. All of the models did their final walk to Cardi B's "Bodak Yellow" which totally matched the energy of the show. When I calmed down, I looked back through my videos of the show and I loved what I saw. The collection featured denim, swimwear and dangling crystal belts and accessories from designer Creepy Yeha. It felt very Chromat and that's a very good thing.
Torrid
Torrid NYFW Spring/Summer 2018
This season represented Torrid's very first NYFW showing. I attended a influencer brunch previewing Torrid's holiday collection the day before their Tuesday runway show so I was curious to see how the runway show would align with what I saw there. Their Holiday collection was very stargazer meets boho with hints of glitter and decadence.
Their runway collection, which was modeled by 31 plus models including 10 of their model search winners, started off with a look that left me speechless. It was a white sheer dress and a hand painted leather jacket. The show was divided into what felt like three stories: rocker chic, boho babe and glitter glamazon. The leather jackets wowed me. The boho dresses weren't my personal taste and the sequin holiday pieces were fun.
Dia&Co.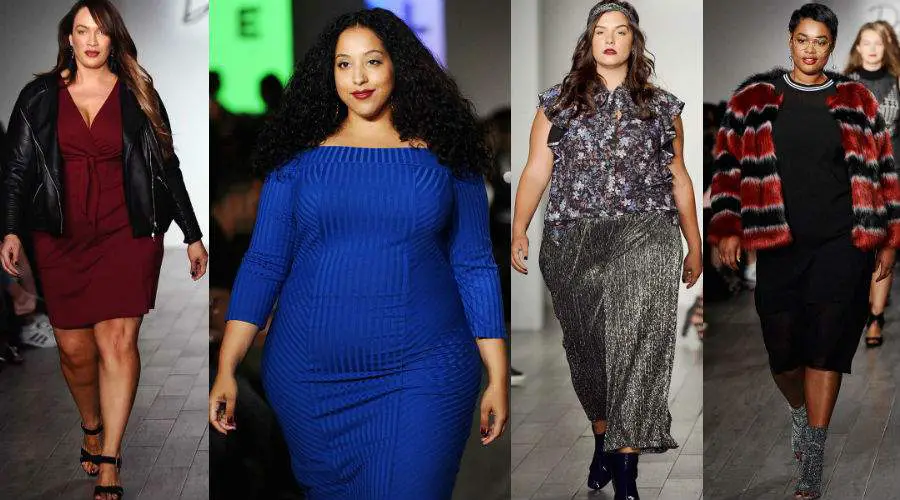 Dia&Co's Fashion Week Show
Although Dia&Co didn't show on the official NYFW calendar, their runway show at theCURVYcon during fashion week made a huge splash. It was live-streamed on Yahoo and featured a mix of agency models and plus size influencers like YouTuber Loey Lane and WWE Star Nia Jax.
Dia&Co showed 50+ looks from Dia&Co brands such as Rachel Roy and debuted an original collaboration collection with blogger Girl with Curves. What struck me most about the Dia&Co show was that the audience of mostly plus size women started screaming anytime size 18 model Alex LaRosa appeared on the runway. Visibly plus size model Faith Costa was also met with cheers. This highlighted to me just how hungry the plus size community is. We want to see more models above a size 16 on the runway.
dapperQ's R/Evolution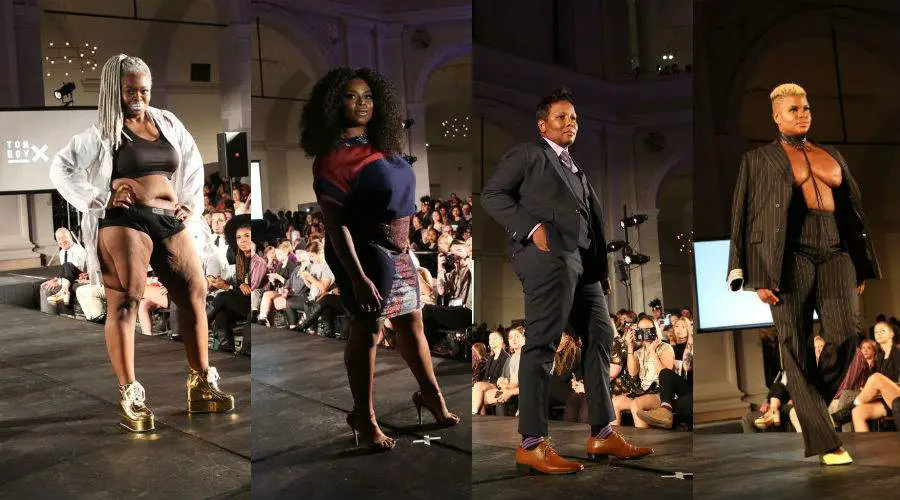 dapperQ's R/Evolution Fashion Show. Photos by Nomi Ellenson
dapperQ, the leading site for masculine and transgender style, presented their fourth annual runway show during NYFW in partnership with the Brooklyn Museum. With more than 65 LGBTQ models and 10 designers, this show was the largest gathering of queer style.
How did this show fare for plus size representation? Well, speaking from personal experience, this show represented for larger bodied plus size babes. I know this because I was in this show as a model and I am 5'1" and a size 20/22!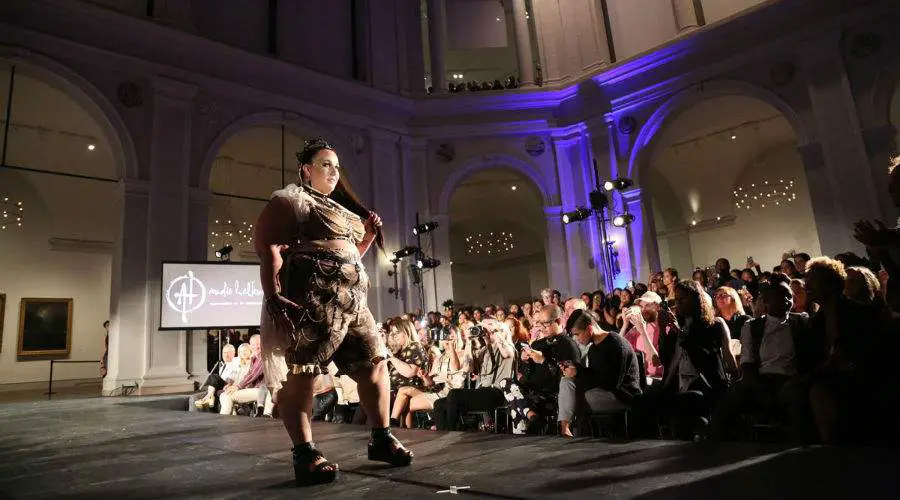 Photo by Nomi Ellenson
I walked for designer Audio Helkuik who featured myself and two other plus size models. Brands TomBoyx and By Nicole Wilson were also among those who featured plus models in their designs. As a model rather than an attendee, my perspective is totally skewed but the energy of this show was positive and encouraging! This collection also showed that style is for everyone of every size and every gender.
As I reflect back on my first NYFW, I know that the fashion industry still has a long way to go! In terms of inclusion for all body types, I can't help but feel hopeful that mainstream fashion is open to change.
Your thoughts?