Listen, there is something that touches my soul when it comes to wearing plus size white jeans. And yes, I absolutely wear white jeans beyond labor day.
If you've wanted to rock white jeans but are unsure of how this post gives you 4 easy styles to jumpstart your fashion creativity. The plus size white jeans worn in this post are from the fashion brand Asoph. For tall women who are looking for great jeans, Asoph is one brand to keep an eye on.
4 Ways to Rock Plus Size White Jeans
Look 1
Look 1 is simple, pair a shirt dress over white jeans allows for you to be able to change looks from day to night. You can leave the shirt closed & long, or you can tie the front. This shirt dress is from Pretty Little things. But if you like something with a little more structure, try this shirt dress from See Rose Go!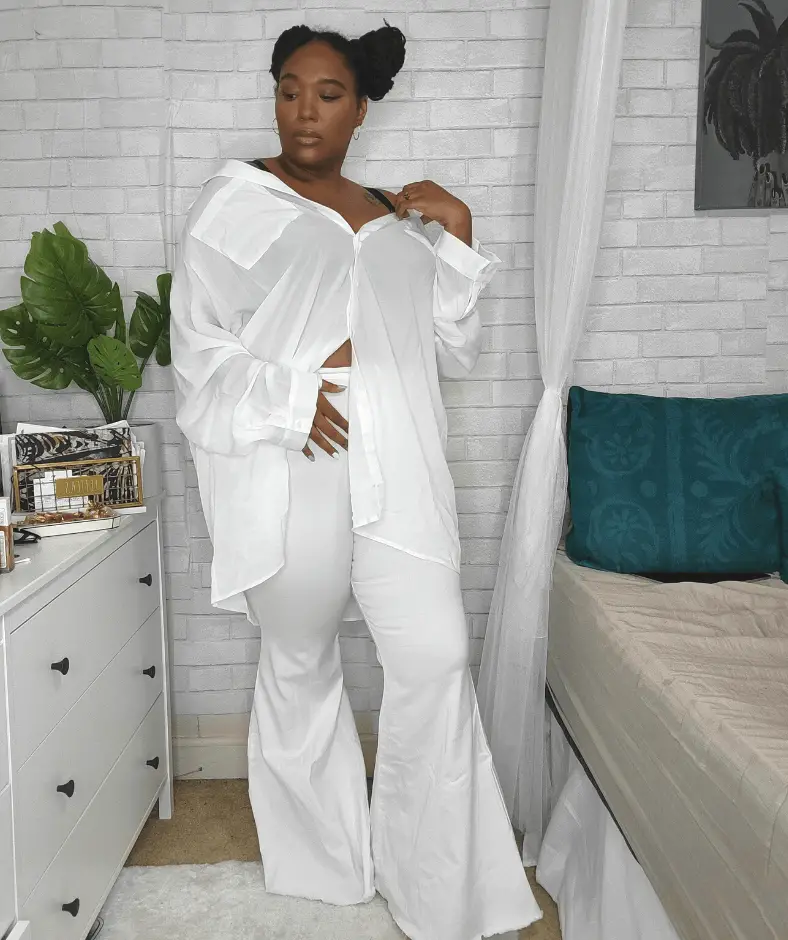 Look 2
Look 2 is all about being casual. Grab your favorite t-shirt, a denim jacket & you're ready to go. Both this Tupac graphic tee & denim jacket are from Nasty Gal's plus section. Honestly, any graphic tee will set this look off. I personally like the long shirt look, but if you're feeling a crop top…go for it!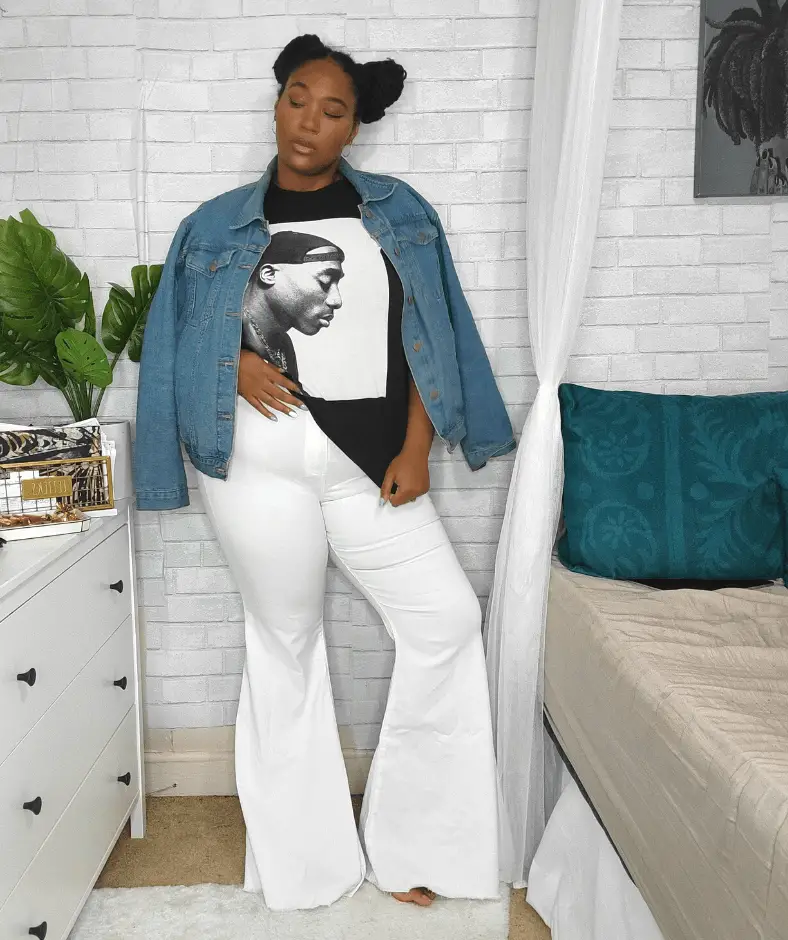 Look 3
Look 3 is giving me all white boat ride vibes and it's working for me. I paired these jeans with a simple and basic white button-up from Lane Bryant. Buttons are a staple that 1. never go out of style 2. can be worn many ways and 3. work for every single body type. An all-white look is fresh, clean & allows you to add any color accessories that you make be feeling at the moment.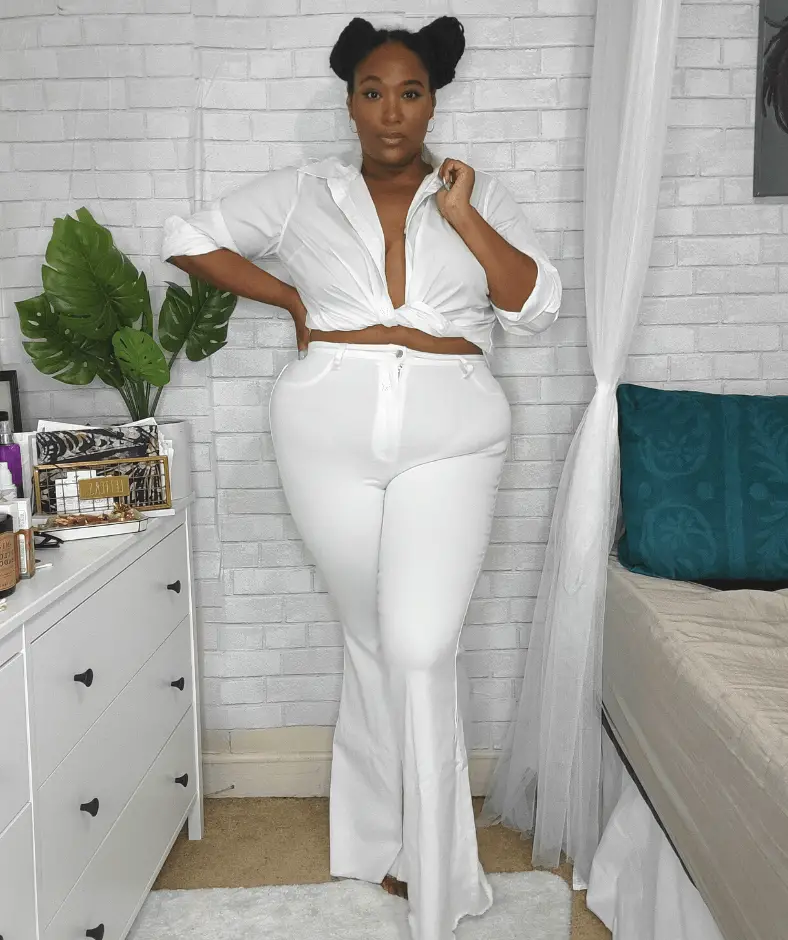 Look 4
Look 4 is most certainly my favorite. A blazer & jean look is classic for any & everyone. You can go basic with black, grey, or navy. Or in this case, go full out with print and color. This Ankara print blazer is from the African brand Ofuure. To complete the look add a colorful bodysuit that compliments the blazer. If you don't care for bodysuits, a tank top is just fine as well.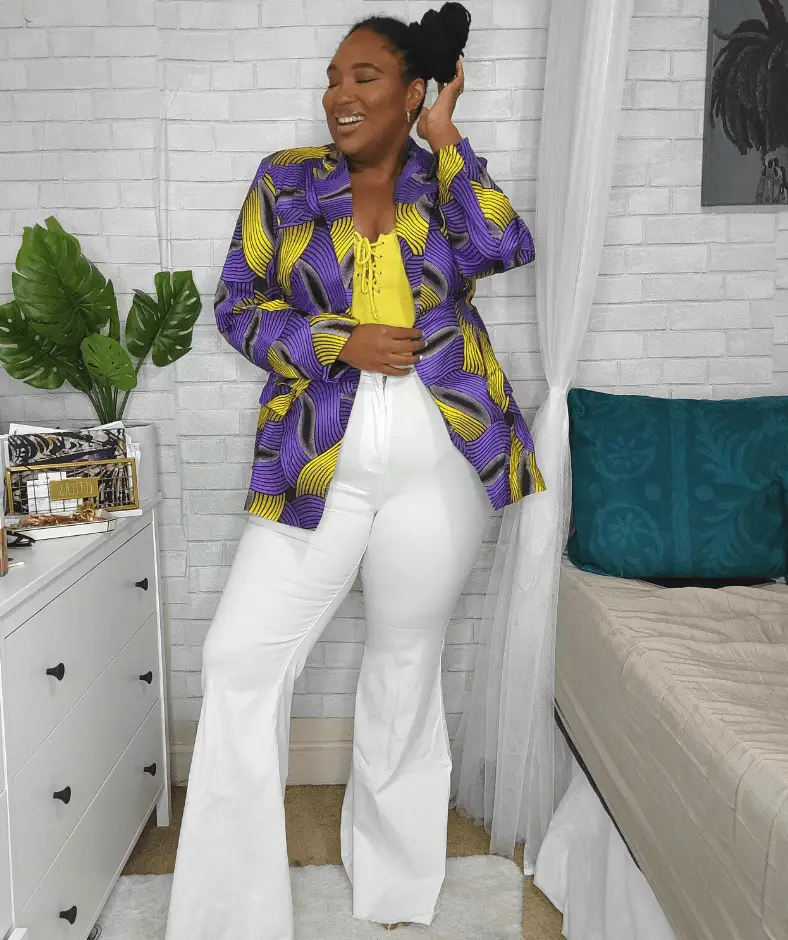 If wide-leg jeans are not your vibe there are plenty of other white jeans on the market that will work for you.
Try these…
Crop Boyfriend Jeans from Torrid
The Danae Jean from Ashley Stewart
Flare Jeans from Rainbow Shops
Split Hem Jeans from Boohoo
High Rise Jeggings from Fashion to Figure
What do we think? Are white jeans something you're willing to try? If you're already a fan of what jeans, how would YOU style a good pair of white jeans!?!?!
Let us know and happy shopping.
Shop Plus Size White Jeans: