It's a new week, and we have a brand spanking new You Oughta Know style pick to share with you all today! We love having the opportunity to share with you designers and retailers of plus size fashion that we're really digging… And hope you will love as much as we do! Last week, we talked all about the cutest chonies for curvy girlies, courtesy of MiiMii Intimates.
This week, we are shining our You Oughta Know spotlight on a vendor of The TCFStyle Expo, who also debuted at the expo last year! Are you coming this year? Well, it is happening July 28th & 29th in Atlanta, Georgia!
If you attended last year, you most likely spotted these signature styles. Will you be in the house with us this year? Well, then you should enjoy this sneak peek of the type of goodies you will be able to get your pretty little hands on!
Let's get started!
You Oughta Know: Maria Paulina
Maria Paulina is THE destination for exotic and elevated African-print apparel. Crafted specifically for today's plus size women, these gorgeous garments are constructed with premium-stretch materials and imbued with amazingly modern African-print designs.
If you love kente, ankara or other fashions with a bit of Motherland appeal, Maria Paulina is for you!
Maria Paulina's creator, Ana, created the brand as a way to always connect with, and pay tribute to her elders. For their grace, elegance, and their embodiment of love… It was their influence that comes forth in the designs.
Born in the coastal regions of West Central Africa my childhood was imbued in the rich, vibrant colors of the continent as was most notably impressed upon me by my grandmothers, (Avos) Maria & Paulina who exclusively dressed in the most ethereal, exciting, & vibrant African-Print garments. Ana Toomer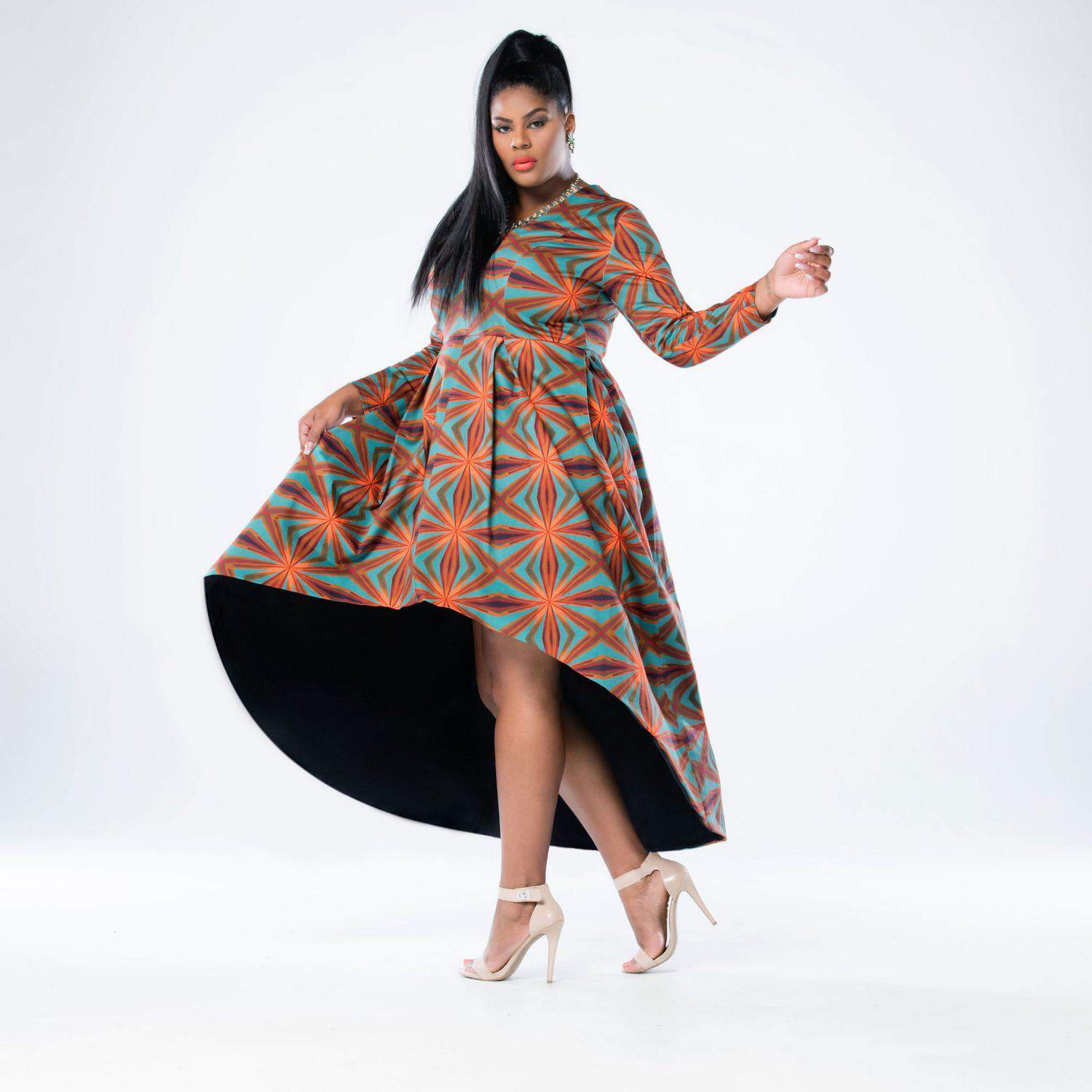 Coming from this rich culture of love, life and traditional, it is no surprise that the foundation of the Maria Paulina label is the same African-Print style of dress that so vividly inspired Ana.
Taking the energy, inspiration and essence of her grandmother's keen sense of style, she created Maria Paulina to bring her Avos' fashioning for curvy women today.
My hope is that you too will be just as captivated, charmed, and comforted by our signature styles.

Shop the ENTIRE Maria Paulina collection at MariaPaulina.com!
As someone who believes we stand on the shoulders of our ancestors, I can get behind Ana's story 1000%.
I love the fact that her grandmothers were so strongly in her mind, heart and spirit when creating her brand, and I love thinking that by rocking these afro chic garments, we are helping her honor them.
Her designs are dramatic, fun, and are definitely head turners! You do not have to be of African descent to appreciate these fashions, and ranging in sizes 14-24 curvy girls all over have an opportunity to adorn ourselves in these designs.
This is why you oughta know Maria Paulina!
Let us know which look was YOUR favorite in the comments! If you scored something from the brand at last year's TCFStyle Expo, tell us all about it!
AND if you are look for more places to shop,
make sure you check out our Plus Size Boutique Directory!
Until next time!!