If you have been following me, I eluded to you that I was in London for such a cool project. On facebook, I teased photos from me, Nicolette Mason, Georgina from Fuller Figure, Fuller Bust, Callie from From the Corners of the Curve and Beth from Arched Eyebrow in our newest endeavor with EVANS.
Today, I am really hyped and excited to share with you the collection and the shoot in the making.
First off. I missed my original flight to London. Yeah… that was grand. You'd think this military brat would remember military time… don't ask, my sister is still laughing at me behind this. Anywho, I arrived and hit the ground running.
A full day with press, bloggers, clothes, and the Evans team! Oh… and COFFEE. MOUNDS of it.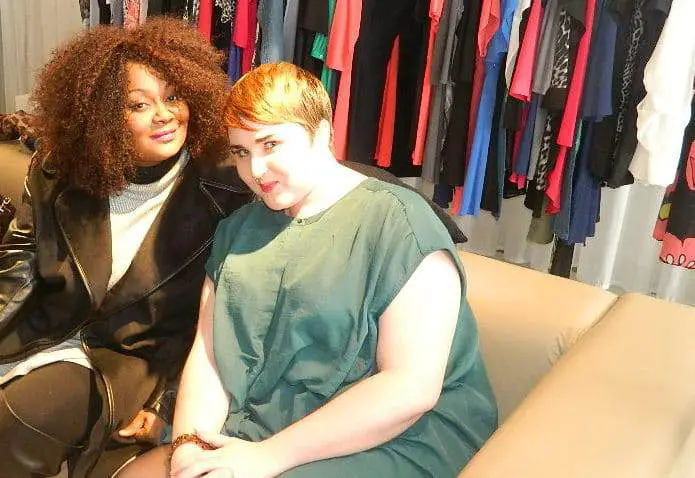 PAUSE: I must pause and thank the EVANS team for asking me to participate, a special thank you to the Clements Ribeiro team for bringing me on board and tapping us five bloggers to represent your brand.
Can I say DIVINE?
YES!
I am grateful and humbled.
But all was well after a great night's sleep. SHOOT DAY! AND… it SNOWED!
OMG. This California girl was not ready!
The girls were quite divine, especially in my bouts of coffee withdrawals… "Coffee diva" I think is my new nickname.
Big Hair, ombre nails, and a table full of jewels and goodies? Yes and YES. BUT, even better? The clothes! YES, the clothes!
While bundling up in other people's blankets, because I was not ready for the snow, we made our way over to the fancy clothing that was the Clements Ribeiro Collection. Immediately, I found my way to the flowers. Two floral shifts. #flowerpower in full effect.
The shoot was so much fun! Shooting in a castle? WHAT???? Playing in a "photobooth" with the girls?
Watching the others get dolled up in looks that reflected their vivacious personalities? I LOVE. I DIE. I LIVED.
After a long day shooting, snow flurries in our head, we traveled back home to get warm, rest, and take in the magic that the day gave us!
BUT, enough of me gushing, I want to show you the looks and features! Are you ready?
The Evans x Clements Ribeiro collection goes Live TOMMORROW, May 16th!
You can Check out the look book, learn more, and sign up to get notified once it is live at Evans!
Which Looks are your Favorite from the Collection? What do you think of them using bloggers to model? Do you like it? Leave a comment and let's talk about it!