I am turning 35 in 2 months. I have oily skin. Sometimes, I break out. I have a bit of hyperpigmentation. And I worry about dark circles.
As I have gotten older, I have gotten uber serious about taking care of my skin (for me this means $$$ investment). Hello eyebrow microblading, at home laser hair removal… I am a bit hyper aware and sensitive to what I put on and in my body- hello water…
I remember being told, that every 7 years, your skin changes… I am not sure how much of this is true, but I have been looking for a skincare brand that will address the concerns and care, with each season. So when Cosmedicine shot me a note to tell me about their newest tinted moisturizer, in my color, immediately I needed to know about their range, products, and if they would work for me!
They sent over their Medi Matte Perfected Oil Control Tinted Moisturizer, and honey…. Honey! I as in love! As I sung their praises to the team, they sent along a few more products that have literally brightened and smoothed out my skin, leaving me comfortable enough to head to the grocery store barefaced (I still got my SPF on though, don't play!)
So let me share with you why you need to check them out!
(Now this line is not going to be for everyone. It is a bit costlier, so if you are on a budget or price sensitive, this is not for you and make sure you check out a few of our drugstore faves!)
Oily Skin? Five Reasons to Check Out Cosmedicine!
Speedy Recovery One-Step Perfected Blemish Clarifying Cleanser
What they say:
Fast-acting exfoliator that soothes & resurfaces to activate healthy skin turnover

Our superior exfoliating cleanser is designed to help win the battle against oily skin and congestion. The fast-acting cream loosens debris, unclogs pores and controls sebum at the skin's surface. Exquisitely gentle, it can be used to target problem areas, activate the rejuvenation process, soothe irritation, and reveal a polished layer of clear, radiant skin.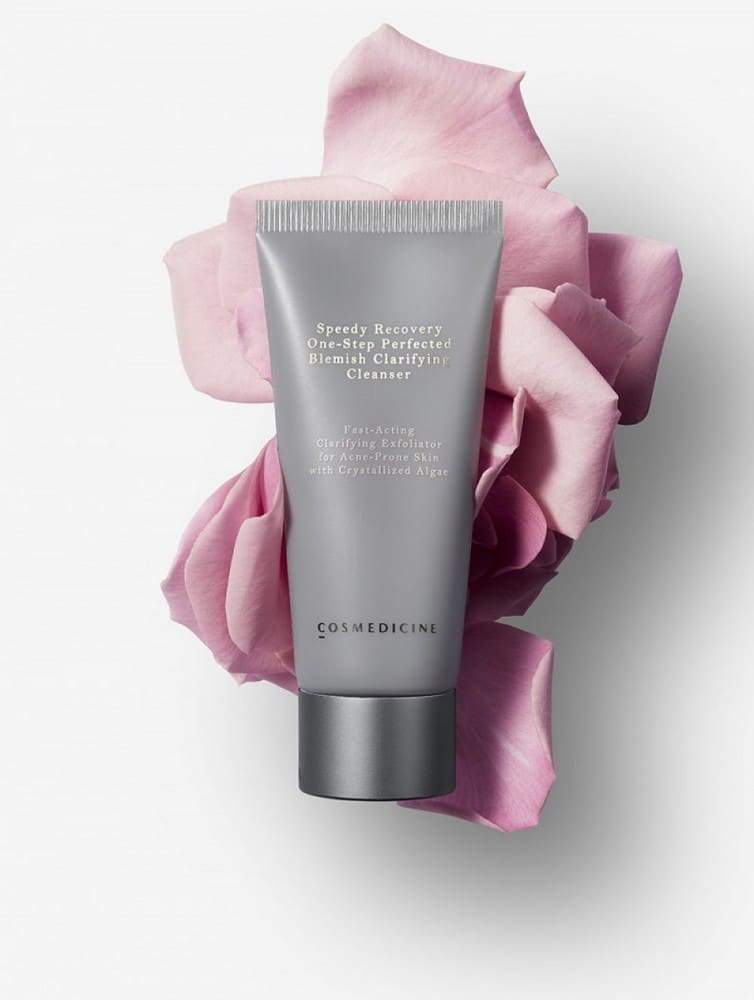 My Thoughts: This right here? Is my jam. I use this either in the am or at night, opposite the face wash. This has small grains that exfoliate your skin, gently sloughing away yesterday and years past! Add to the fact that there are algae crystals in this? I feel fancy and my skin feels so damn smooth with it.
Healthy Cleanse- One-Step Perfected Face Wash for Oily Skin
What they say:
Foaming face wash that leaves oily skin clean, hydrated, toned & shine-free. Healthy Cleanse for Oily Skin is designed to be the essential start to a shine-free day.

The oil-control formulation of our signature foaming face wash whisks away excess oil and acne-causing bacteria while eliminating environmental pollutants and dead skin cells. It melts away even the most stubborn waterproof makeup without irritation or stinging. In one step, Healthy Cleanse delivers clean, hydrated, toned and shine-free skin.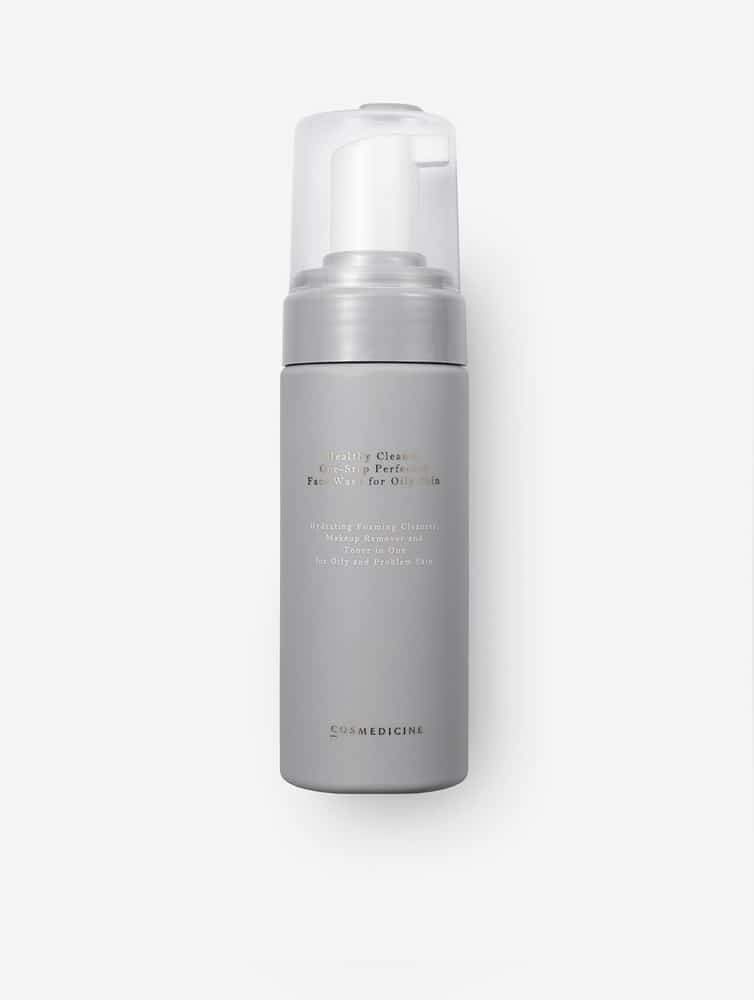 My Thoughts: Sometimes, when my wipes do not get all of the makeup off, I follow up with this facial cleanser to get my face squeaky clean! It does not leave my skin dry or tight feeling, but this face is squeaky clean! I happen to love the Speedy Recovery a BIT more and see more results with that one over this one!
Triple-P Perfected Brightening Serum
What they say:
Powerful antioxidant & multivitamin complexion-perfecting miracle serum

Our special-edition day-and-night serum collection is the apex of acclaimed skincare formulator Mark Potter's groundbreaking work. Triple-P, the day serum, is a uniquely harmonious blend that supports skin healing and puts renewal into overdrive while protecting skin from harsh environmental assaults.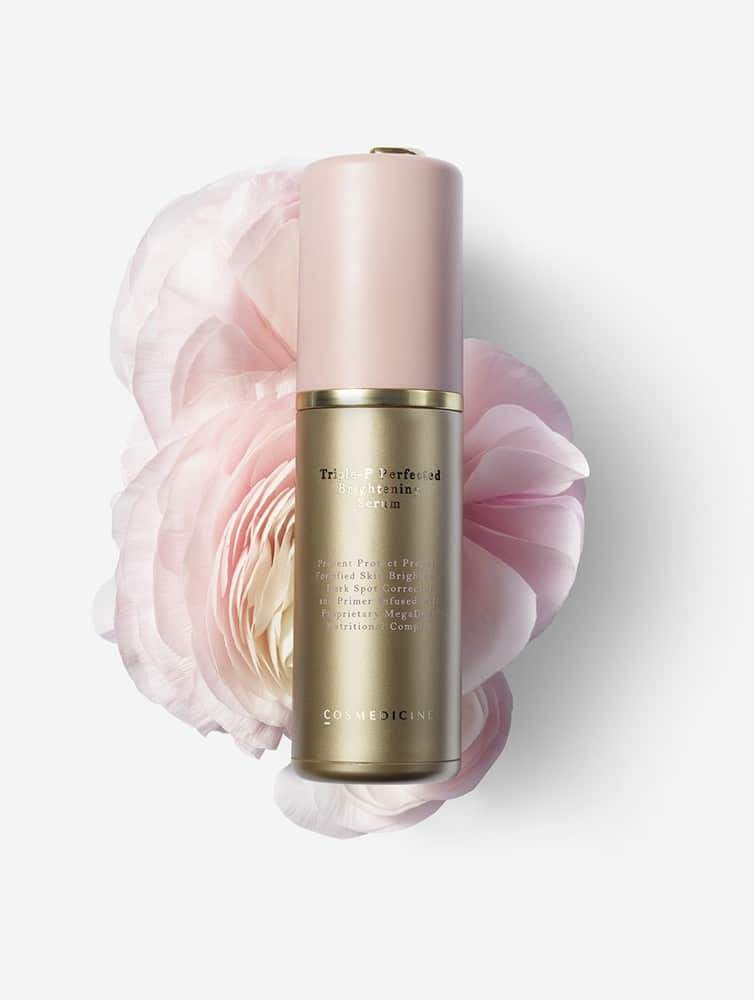 My Thoughts: Honey. I love a good serum. I got my life a few years ago with another uber fancy formula, so when I had the chance to play in this? You better believe I was going to make sure I stayed up on it. NOW. This serum can be used day and night, so in the am, I apply and after I wash my face at night, I pay attention to the spot under my neck and on my cheeks! I am holding on to this puppy. You have to peep their before and afters. YOU HAVE TO.
Medi Matte Perfected Oil Control Tinted Moisturizer
What they say:
Long-lasting mattifying moisturizer with SPF 20 & sheer tinted coverage

Our mattifying daily moisturizer's broad-spectrum UVA/UVB SPF 20 protects against sunburn, while it instantly curbs excess surface sebum and keeps it at bay all day long. Infused with our proprietary MegaDose® Nutritional Complex, Medi-Matte Tinted is available in five flawless sheer tints, called Latitudes.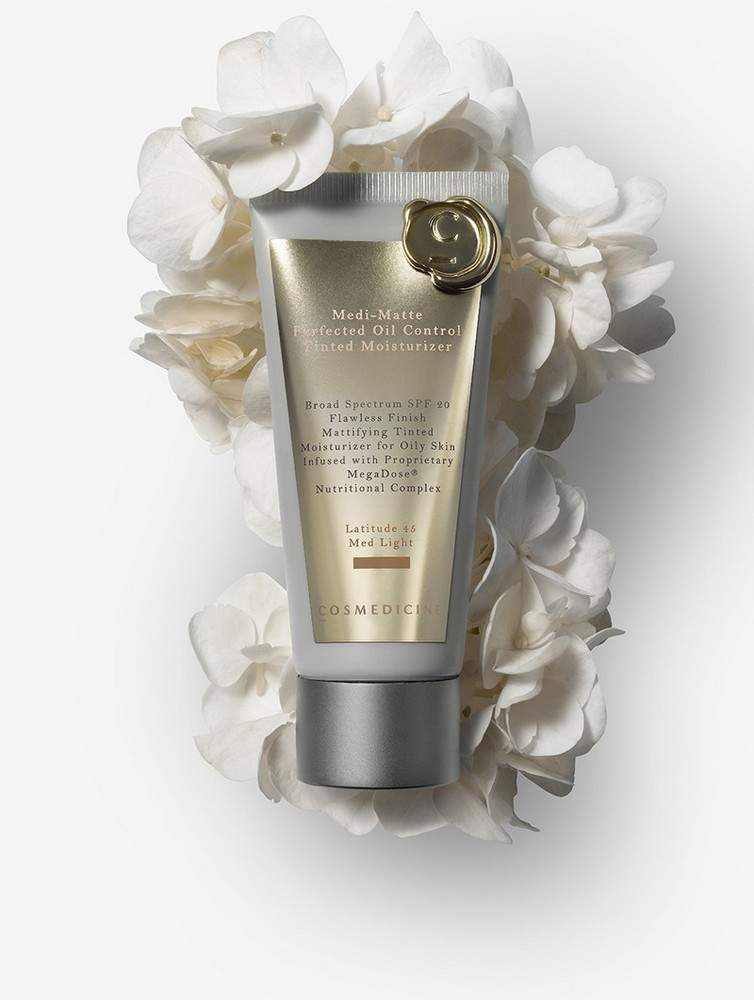 My Thoughts: This is much thicker than the other BB and CC creams that I have used, but this is because of the SPF that is in this. But me and my oily skin love it. I have an even complexion, nicely matted throughout my day, with mayyyy be a couple of dabs of powder while I'm bracing this Georgia humidity and heat, but this has even replaced my foundation so many times! I need this forever.
Private Nurse Perfected Night Cream
What they say:
Wrinkle-recovery & repair emulsion that reveals a fuller, softer appearance overnight

Private Nurse cocoons the skin in an intense moisture barrier, plumping up deep wrinkles and softening fine lines to reveal a noticeably fuller, softer, more radiant appearance by morning.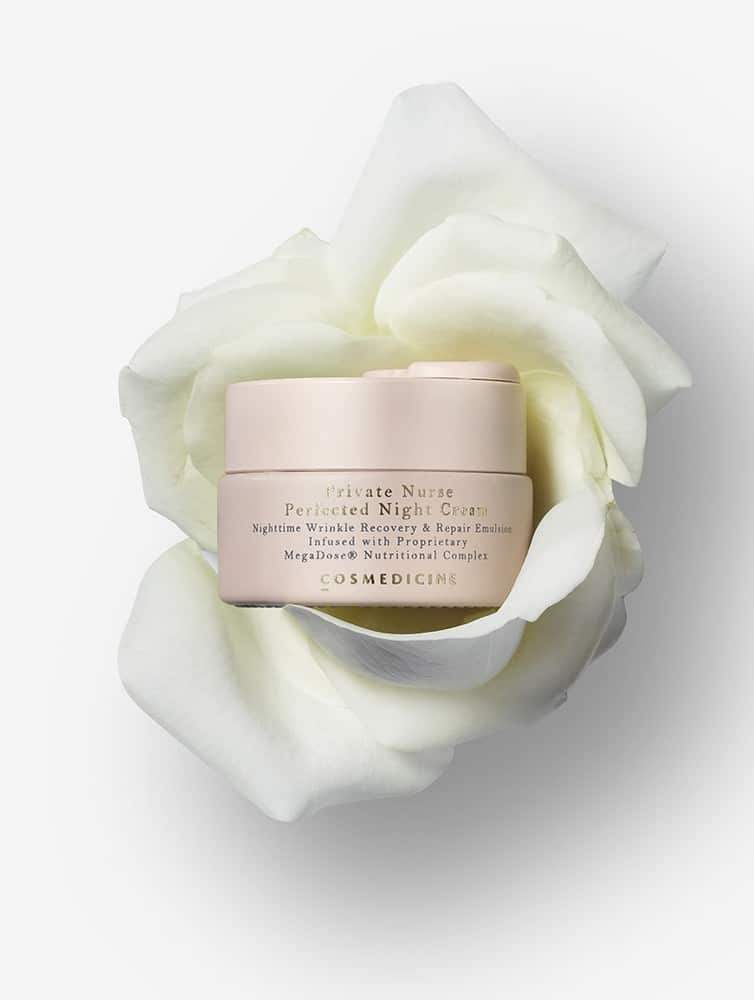 My Thoughts: You only need less than a dime's worth. It is sooo thick and concentrated. Night creams have been one thing I have only recently gotten used to, but honey! When I wake in the am? My face looks and feels all supple and smooth!
Listen.
I use alllllllllllllllllll of them daily. Everyday.
Everyone's skin is a bit different and needs different types of love and for me? Over these past six-ish weeks, this has been a really awesome and welcomed change! With this new regimen, I have been sticking to it, and my skin has been thanking me for it! I can even tell when I have NOT been giving the skin some love and using my trusty black soap.
You can learn more and shop the collection at Cosmedicine.com!
You have to check out all the options and products that they have, especially if you find yourself needing a bit more pointed attention or care, like me!
Do you use serums? Treatment in your skincare? What has been rocking your world for the oily skin? Let's discuss…