While I was in NY for fashion week, I was invited to a fabulous dinner hosted by Lianne Farbes for SkinCeuticals. Now, I had talked about them before- as I was FIRST introduced to this AH-MA-Zing skin care company in February- when I referenced my skin care regimen.
My how a few months will do ya! After being spoiled with their Blemish and Age Defense (this baby works wonders on those pesky pimples!), I was elated to have dinner with the team again! And even MORE surprised when they brought me the most amazing Flaming Baked Alaska and sung Happy Born on Day to me! (I cried).
I share this because, unbeknownst to us, they gave us skin care consults and put together regimens to address any issues! *does cartwheels!*
For me, it was fairly simple… lol:
I have really large and visible pores
I am quite Prone to breakouts
I am always shiny with an Oily T-Zone
I wanted to be proactive about aging (hey, I did just turn 30!)
Repair Sun damaged skin from the days in Hawaii and Okinawa!
Voila! Easy right? LOL
Anyways, before I share my newly updated regimen with you and why I am loving it, here is what you should know about SkinCeuticals:
Our goal at SkinCeuticals is to provide you with advanced skincare backed by scientific evidence. When it comes to the scientific proof behind skincare technology, SkinCeuticals sets the standard in the cosmeceutical industry. We devote countless resources toward research at major medical institutions to support the technology behind our products. Our active ingredients are pharmaceutical grade, and the studies performed on our core products are peer reviewed.
This is what I am now using and why my skin loves me so much…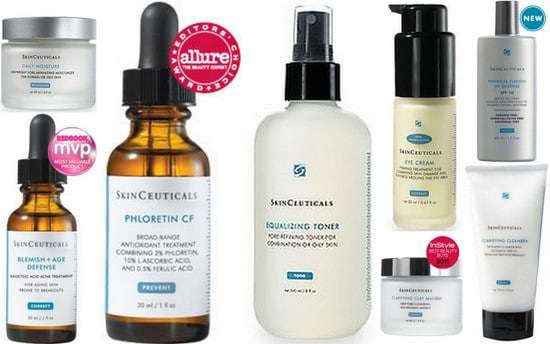 Clarifying Cleanser (with the help of my Clarisonic) out of all the cleansers I have tried (Dermalogica comes in at a close second) this definitely calms and cleanses my skin!
Equalizing Toner– It comes in this cool spray, and I want to spray it in my face-lol… but onto cotton pads, but I love it! Refreshing
Phloretin CF (antioxidant) This is new to me. Over the past few weeks, I have noticed a bit more radiance and glow. But this is the shield or the protectant of radicals!
Blemish and Age Defense– Hyper pigmentation is one thing I LOATHE when I get a bump, especially around that time of the month! I do not pick and still I am left with marks- not anymore! Nope!
Eye Cream – I use this sparingly, but this goes right after my tired eye days, or for those nights I have had too much fun!
Daily Moisture– Of Course!
Physical Fusion UV Defense SPF 50– this little tinted SPF is a delight! I have been looking for one that DOES NOT break me out… I think I have finally found it! I have tried many to no avail, but tadah! AND I am not greasy or that weird chalky color!
<Clarifying Clay Masque– I haven't played with this one yet… we shall see!
Literally, whatever type of skin concern you have, they have got a solution for it! AMAZING.
So! Asides from the increase of my water intake, targeted care, love, and repair; this is why my skin has been singing to me! The reviews on these products are bananas! You have to check it out, if even you are a BIT curious!
Have you ever heard of SkinCeuticals? Have you had the pleasure of testing out their products? Better yet, what do you use to get down on your skin?
Let me know!
In the meantime, check out SkinCeuticals and give them a tweet too!
*disclaimer* I was given these products for review and these are my honest opinions!