Heeey!
One of the moments you've been waiting for is finally here! We've started to announce the amazing vendors you'll be able to shop with at the 2019 TCFStyle Expo. You already know that year after year we bring to you some of the greatest plus size and Big & Tall vendors for your shopping pleasure. This year we're bringing back some OG vendors as well as some newbies! You're going to love them… We promise!
We already introduced you to our grand collection of speakers and sponsors. Now let's introduce you to our 2019 TCFStyle vendors! We have plus size dress and lingerie company,
Moonlight Serenade Apparel
. This contemporary collection was created to give curvy women more sexy and fashionable options for their wardrobe. It features stylish prints, sexy silhouettes, high-quality fabrics. With 5 years in the fashion game, Moonlight Apparel has been known to focus on style, quality, and comfort. Sounds like music to our ears right?? Who doesn't want to be fashionable and comfy AND sexy at the same time?!
We caught up to the creator of this plus size fashion brand, Kara, to get a closer look into the Moonlight Serenade Apparel collection. Check out the gems she shared with us!
New Vendor Alert! Moonlight Serenade Apparel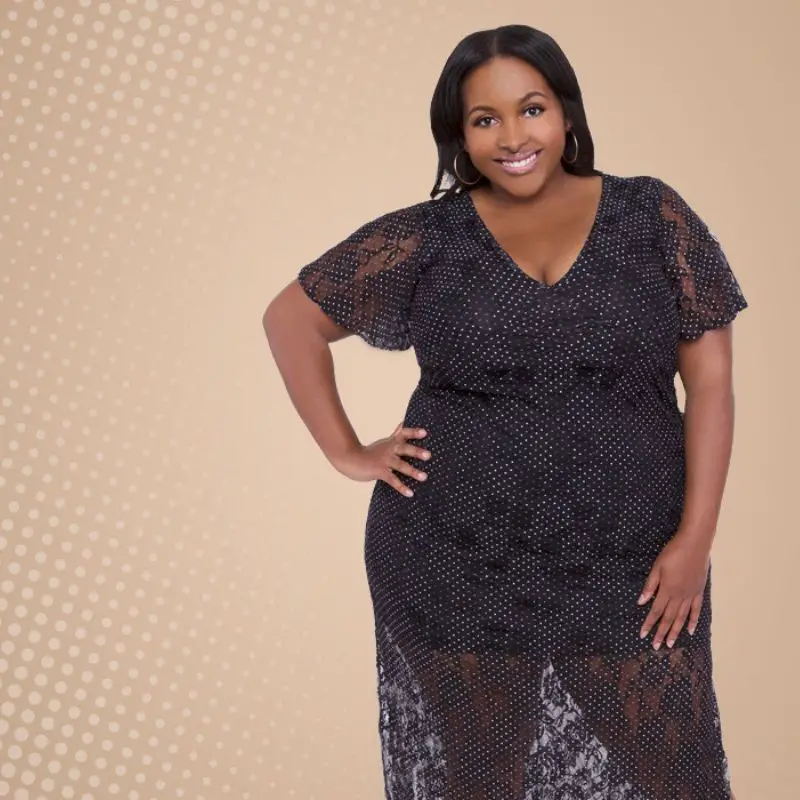 1. What is the story behind your brand?

*
Moonlight Serenade Apparel believes that the plus size woman is both beautiful and sexy.
There are not enough fashionable choices for the curvy woman.
3. What inspired you to get into fashion?
Ever since I was young l loved designing my own clothing and decided to become a fashion designer.
4. Are you self taught/passion driven or did you go to school for this?
When I was young, I taught myself how to design before going to FIT in NYC to study fashion.

5. What or Who is your style/design inspiration?
My inspirations come from everywhere I look. From the clothing I see women wearing on the streets to the models on the runway.
6. What has been the biggest success of your brand, to date?
The reactions of the consumers when they see my collection.
7. What would be one of the biggest style myths in Plus Size or Big & Tall Fashion?
The biggest myth is that plus size women can't be beautiful. This is reflected in the fashion that we see in stores today. Moonlight Serenade Apparel strives to change this attitude.
8. How do you think the plus size industry has grown over the years?
It has grown A LOT. People are beginning to understand and accept that a large number of people are plus size and still beautiful.
9. Have you attended or vended at the expo before? If not, tell us your past experiences, if so, let us know what you are looking forward to!
This is Moonlight Serenade Apparels first time at this particular event and we are looking forward to meeting new people and showing them what our company has to offer.
10. What can the attendees of the TCFStyle Expo look forward to seeing from you?
Moonlight Serenade Apparel will give all those in attendance a great selection of beautiful fashions to choose from.
We're so excited to have Moonlight Serenade Apparel at the 2019 TCFStyle Expo! Want to shop the collection?
Want to stay connected to Moonlight Serenade Apparel? You can check them out on social media:
The 2019 TCFStyle Expo is coming to Atlanta! Mark your calendar,
Book your room and Get your tickets now!