So here's the deal. In a recording of a company meeting provided to Jezebel (presumably by a ModCloth employee), ModCloth CEO Matthew Kaness announced that Jet.com has acquired the clothing retailer. This news wasn't set to be released publicly until Friday, but the internet is buzzing.
It seems innocuous at first, a bit strange because Jet.com is like the Amazon for household goods, but then I learned that Jet.com happens to be owned by…Walmart.
*klunk*
That's the sound of my heart sinking.
ModCloth.
…the gamechanger in independent fashion for women of all sizes, body diversity, and who just days ago launched a new campaign called #StyleForAll featuring Tess Holliday.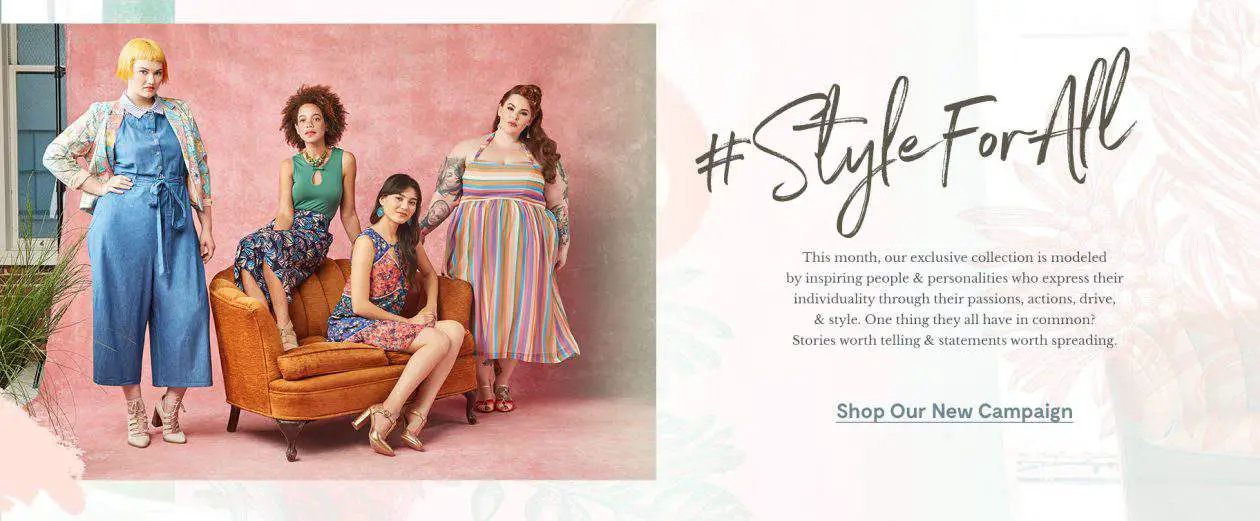 Is
Now
Owned
By
Walmart
…who, in 2014 got in trouble for featuring a collection of what their website called "fat girl costumes."
And that's not the worst of it. You probably know where I'm going.
Modcloth, the company that described as "inclusive, woman-positive, and feminist" by Cosmopolitan, is now owned by a corporate giant that has been rightfully criticized for paying families (or the lack thereof) a living wage.  A company who was sued in 2011 by 1.5 million, yes MILLION,  for gender discrimination.
Note: though it was the one of the biggest class action lawsuits of its time, they lost because the women in the case did not have enough in common to constitute a class action, but according to Democracy Now! the great RBG (Ruth Bader Ginsburg) wrote that the "plaintiffs' evidence, including class members' tales of their own experiences, suggests that gender bias suffused Walmart's company culture."
So I'm just speculating here, but I wonder how much they'll care about helping designers maintain their intellectual property or producing the clothes ethically.
Here's what the CEO, Matthew Kaness, had to say about it (as reported in Jezebel):
"When I think about the quality of people I've met at Jet and their ambitions and how it aligns with ours," Kaness began. "And when when I think about their parent company Walmart, who has the resources—but also has when you've spent time researching it and understanding it, they've spent a lot of time working on corporate responsibility and environmental initiatives and opportunities for their employees and their careers. I think there's a lot of overlap culturally with what they're about and what we're about. I think over time this is going to become an incredible marriage."
Sorry Matthew. No. (sidenote: this is the first time I learned the company was run by a dude. So sadly, I'm less surprised.)
I do wonder what the co-founder, Susan Gregg Koger, was thinking. 
But I can't help but to think that they could have done better.
Ugh. We still have so far to go ladies.
I'm pretty new to the plus size fashion world. Until I learned to love my body, I didn't feel like fashion was a world I fit into. And as a girl who has yo-yoed from a 10 to an 18 over the last 10 years there was one place I always new I could go AND express myself, the way I love to.
I've often described my style as Joan Holloway meets Snow White. And there's no brand who helped me own that better than ModCloth.
I have pretty much lived in their stuff. As you can see…
The reviews not only told me if I would like the outfit, they allowed me to check in with other ladies of similar sizes and specifically, cup sizes, to know if something would fit me or not.
But unfortunately, all relationships have expiration dates. And our love affair has come to an end.
ModCloth. I'm breaking up with you.
So this is a call to action.
For all you independent ModCloth designers and to all of you other designers waiting in the wings… don't let this be the only place you grow your business and brand.
Start a new website, launch a new etsy store, and let us know where we can find you!
We will celebrate you. Lift you up. And, always promote the shit out of you.
And for you shoppers of quirky indie fashion!? You can still fight back with your pocketbook.
Here are a few alternative designers and online shops to check out:
I love their customizable styles. You can pick your neckline, sleeve length, skirt length, and more. Super fun. In fact, here I am wearing an eShakti dress!
With a mix of Vintage inspired designs and actual vintage, they seem to be the best replacement so far. I met one of their models, Pinup Gigi Marie, on a Slink Jeans shoot and LOVE their Instagram account! Plus they have a rewards system, so that's rad.
I just found them on etsy and they look like a promising substitution!
Until now, ModCloth literally had the only jeans I loved. But thank god for Slink Jeans. In fact I got to be in one of their campaigns just last week!
I've hung out with the owner, Jessica Hinkle, here in LA a bunch. She's a doll and sells the clothing both online and off at The Plus Bus Boutique.
Jess also recommends ReDress, Witch Worldwide, Copper Union, Candy Strike, Chubby Cartwheels, and Ready to Stare.
Do you know more? Let us know in the comments! We want to support them!