Breathe. Breathe. Ivy Park in plus sizes?? Yes, honey. You read that right. As a fellow Virgo and HUGE BEYONCE fan, this news shocked me out of my afternoon slump. We have been seeing the news and pictures about IVY Park Drip 2, but NEVER would I think that this next drop would INCLUDE PLUS SIZES UP TO A 4X!
Yes. IVY Park in Plus Sizes! The latest promo email confirmed this to us. As a matter of fact, the adidas email made their subject line: "DRIP 2. The adidas x IVY PARK Collection is coming, offering inclusive sizing up to 4X in several styles."
I will note, I caught that "several styles" but I I am so curious which pieces will and will not be in plus? Because… the teaser promo has us geeked about what is to come…
WHERE'S YOUR PARK? WHERE DO YOUR DREAMS LIE? WHAT IS YOUR MOTIVATION? THAT'S YOUR PARK.
Breathe, Marie.
The first Ivy Park collection left us feeling a bit hurt, frustrated, and confused- with no plus size options to play in. But it seems that BOTH Adidas and Beyoncé heard us LOUD and clear.
INSPIRED BY INNER BEAUTY, STRENGTH, AND RESILIENCE

adidas X IVY PARK pushes the boundaries of traditional performance wear to deliver a collection that is effortlessly functional, and always inclusive.
Beyoncé, you have our attention.
IVY PARK IN PLUS SIZES.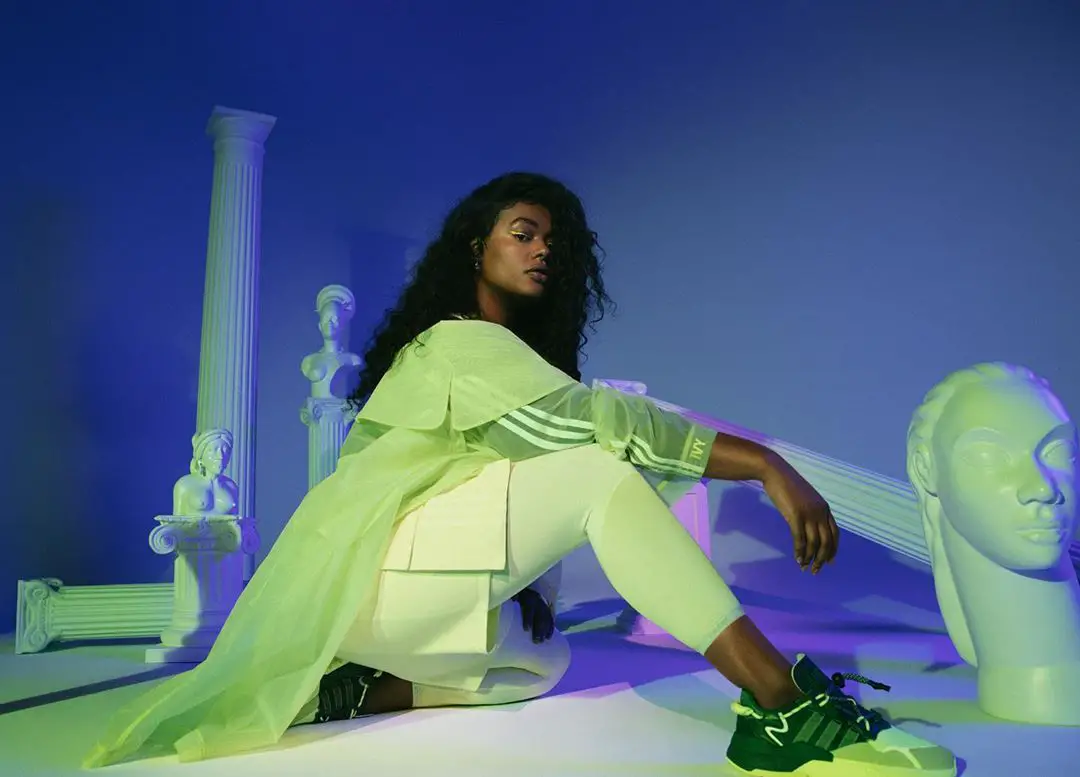 But if you have NOT been stalking Beyoncé's or Ivy Park's Instagram, the latest video drop features plus model, PRECIOUS LEE!
Yes, to the plus models being included!
And the timing could not be more perfect as many us of are looking for plus size active wear or lounge wear options to play in for the fall and winter.
We are over the moon, here!
ESPECIALLY as this second drip has quite the fancy options. This collection features a bold and electric color palette of neon green, forest green, camel, and aqua blue.
Fashion Bomb Daily shares that "Drip 2" collection will include "both apparel and sneakers like the first collection. In fact, the collection includes six sneakers silhouettes including two Nite Joggers, Ultraboost, Supersleek 72, Forum Mid, and Forum Lo."

Shop the collection on Friday, October 30th at adidas.com!
This second installment features some of the fun tracksuits and bodysuit, but this collection gives us a lot more- especially in plus.
Added to the lineup, we see that there are also blazers (come on suiting!), fanny packs, windbreaker jackets, and cropped sweatshirts!
And we have 8 days to prepare. The new Ivy Park Drip 2 drops on October 30th.
This is sooooo exciting and we are here for it!
I have to add… Seeing this level of inclusion and the way that both Adidas and Beyoncé responded here, excites me.
Not only is this inclusion needed, but it also shows other brands who have been sitting on the sidelines, the value of inclusion. But ALSO?
It shows these brands the dollars that they are leaving on the table by not including us in their launch, promotions, and look books.
We spend money and are incredulously loyal, too…
Soooooo who is shopping the collection Friday, October 30th?
What is at the top of YOUR list?
I want it all. ALL.