*Disclosure* This is a sponsored partnership with SKIMS. All thoughts and feelings are our own.
Who is ready to add the coziest and softest of lounge wear to your closet, with the temperatures dropping? Well, to help you out, the SKIMS Velour Collection is throwing it back and giving us an updated luxe velour, up to a 4X!
And listen, with most of us staying safe and/or working from home, it is even more important that we have options in closet that give a little fashion and function, right?
Last holiday season, SKIMS had fun with their Cozy Collection, which is still in high rotation over here. But today? You are in for a fun treat with their latest elevated lounge wear options.
And the timing is perfect! The weather has quickly dropped its temps and we need all the layers. This versatile collection gives us both luxe lounge wear and run around the town chic- depending on which pieces and colors you chose to play in.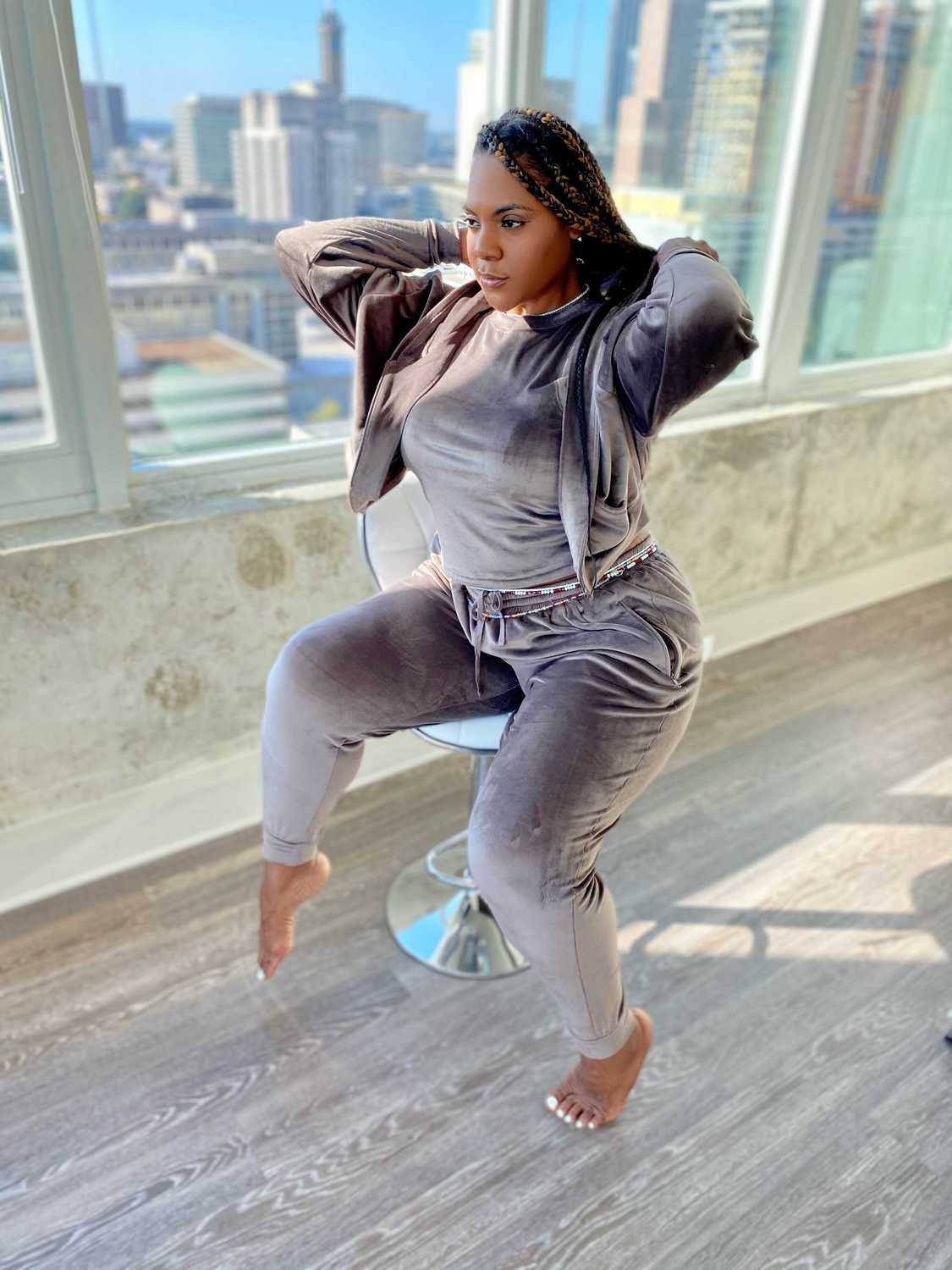 The SKIMS Velour 7-piece collection comes in four tonal hues: Honey, Sienna, Smoke, and Amethyst. Who doesn't love a little velour set that is super soft and plush?
Well, to help you get a better idea of what to expect from the SKIMS Velour collection, we tagged in Crystal from Society of Harlow! We asked her to share and show off her experience with the SKIMS Velour collection! Playing in the Smoke Velour pieces, Crystal is giving us all of the luxe lounge life.
Crystal Gives the SKIMS Velour Collection a Home Test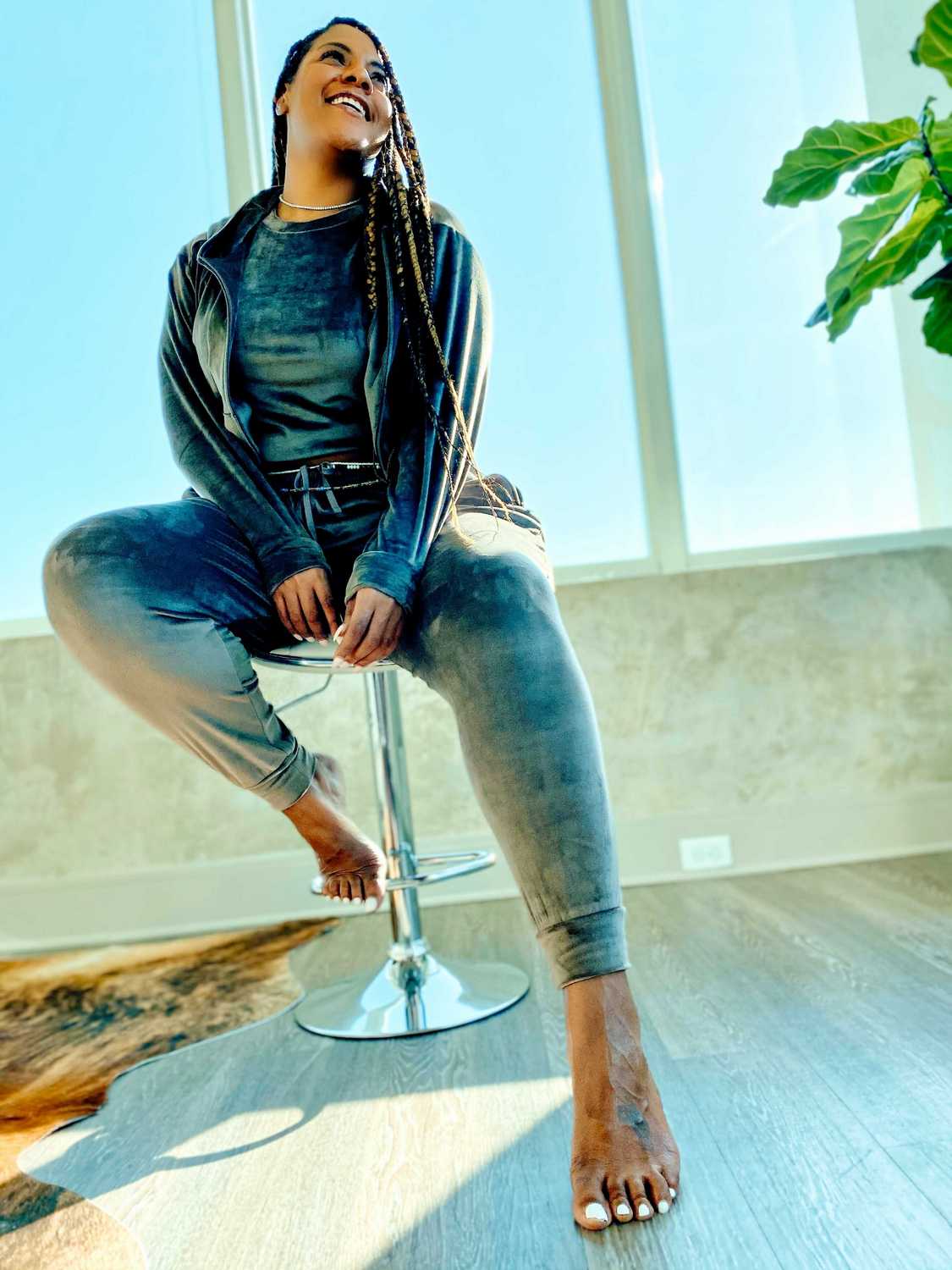 "I've been a curvy fashionista my entire life. I can distinctly remember being a teenager holding on to the deep desire to have a designer velour tracksuit.

The SKIMS Velour Collection is way more than luxe fabrics, it's also about providing plus size bodies with luxe and stylish fashion."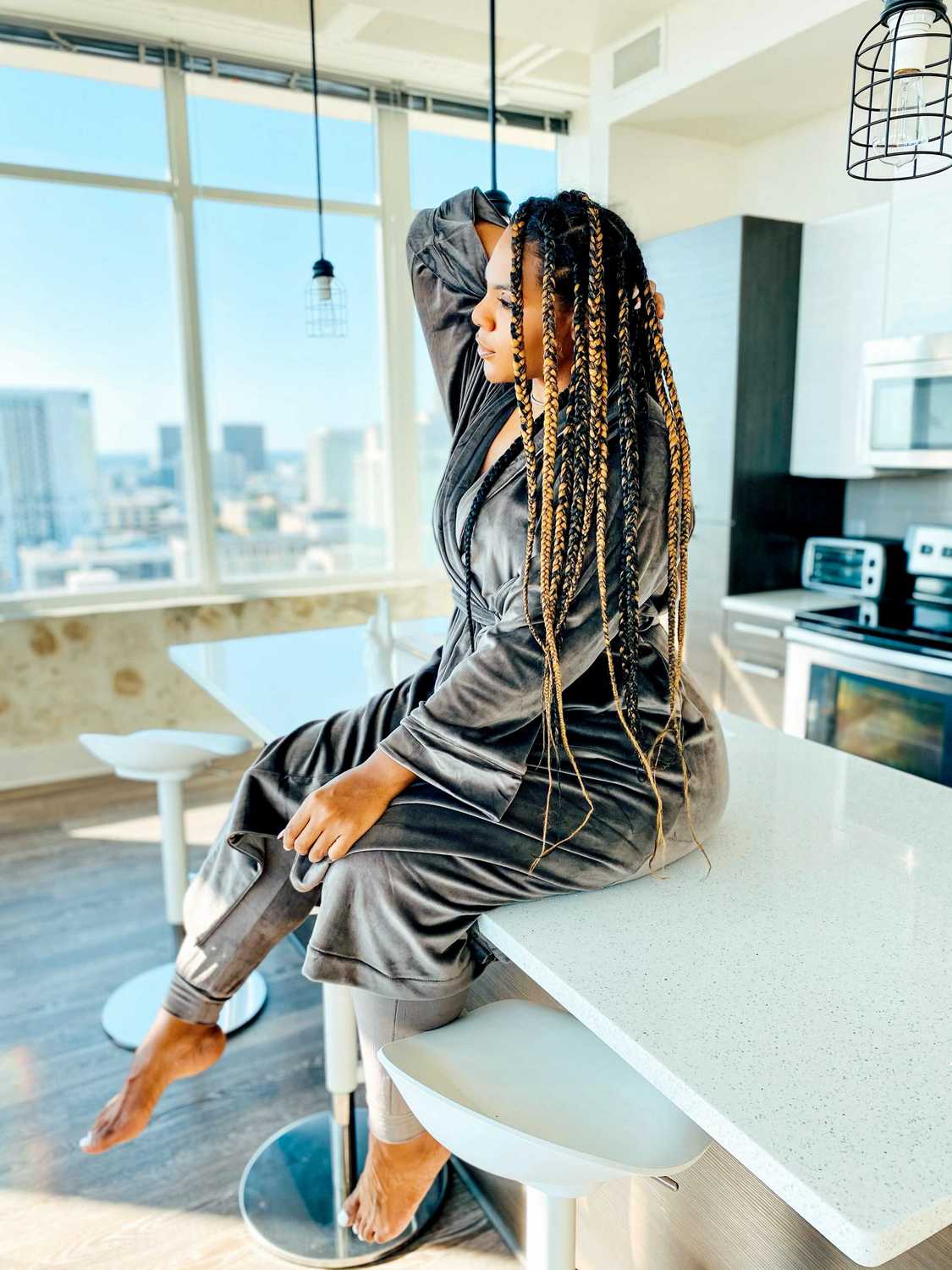 "I'm feeling myself… I LOVE everything about the Velour Collection – from the yummy velour to the neutral toned hues.

You know the fabric is yummy when you walk around your house asking your partner to just feel your sleeves!"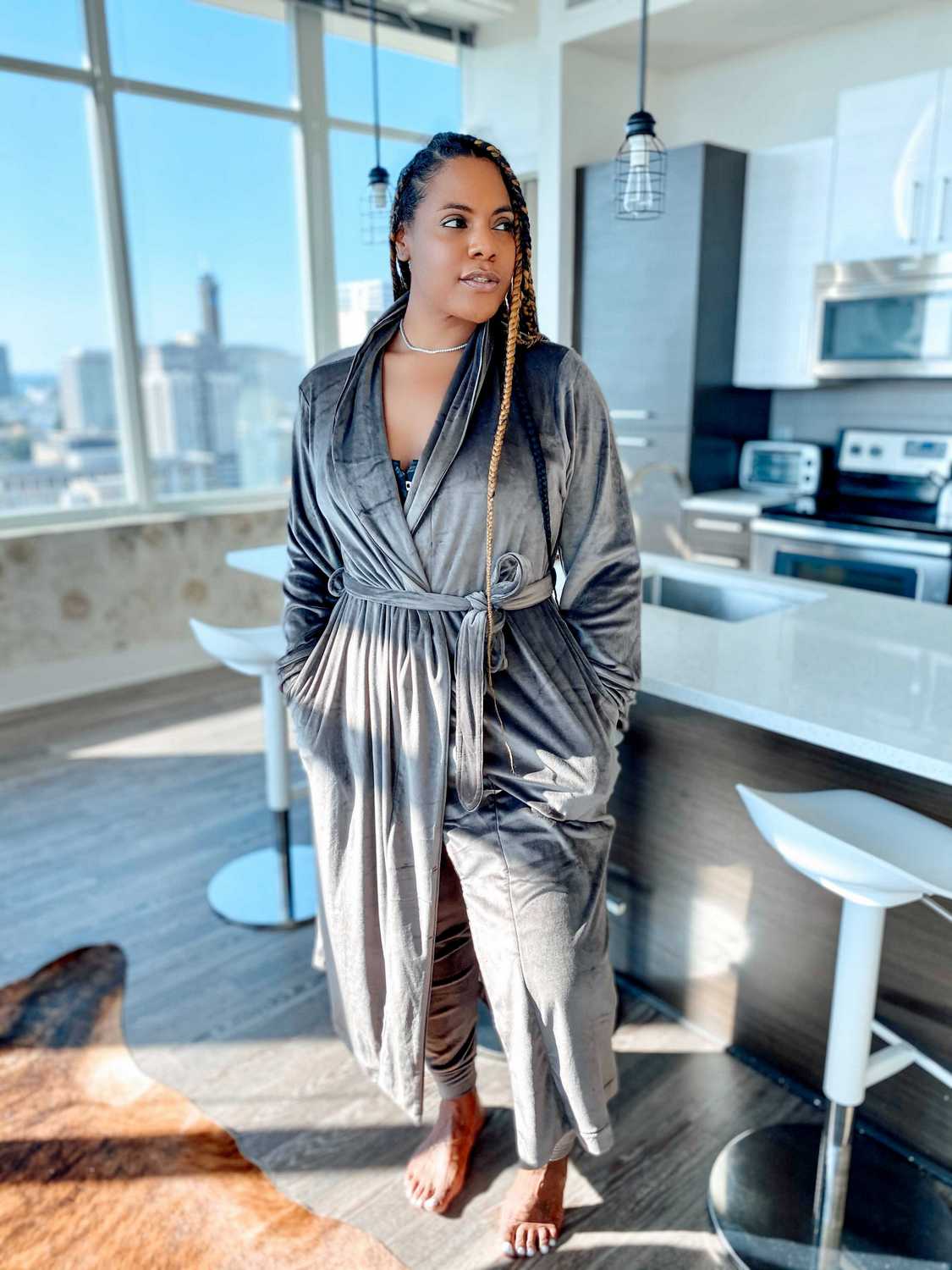 Doesn't she look cayuuuute!
Crystal is rocking out with the Velour Robe, Tank, and Jogger in size 2X as a size 16/18. Also, can we also get into the length of the robe on Crystal? She is a tall plus blogger, so for the robe to hit her where it does? Is alright in our book.
*Sidebar* If you are an older millennial or younger Gen Xer, then these velour sets should be giving you all the nostalgia.
But the way that SKIMS brought it back is the perfect modern or updated twist. With intentional satin piping, updated silhouettes, and the purposeful hues, this velour collection has officially been updated.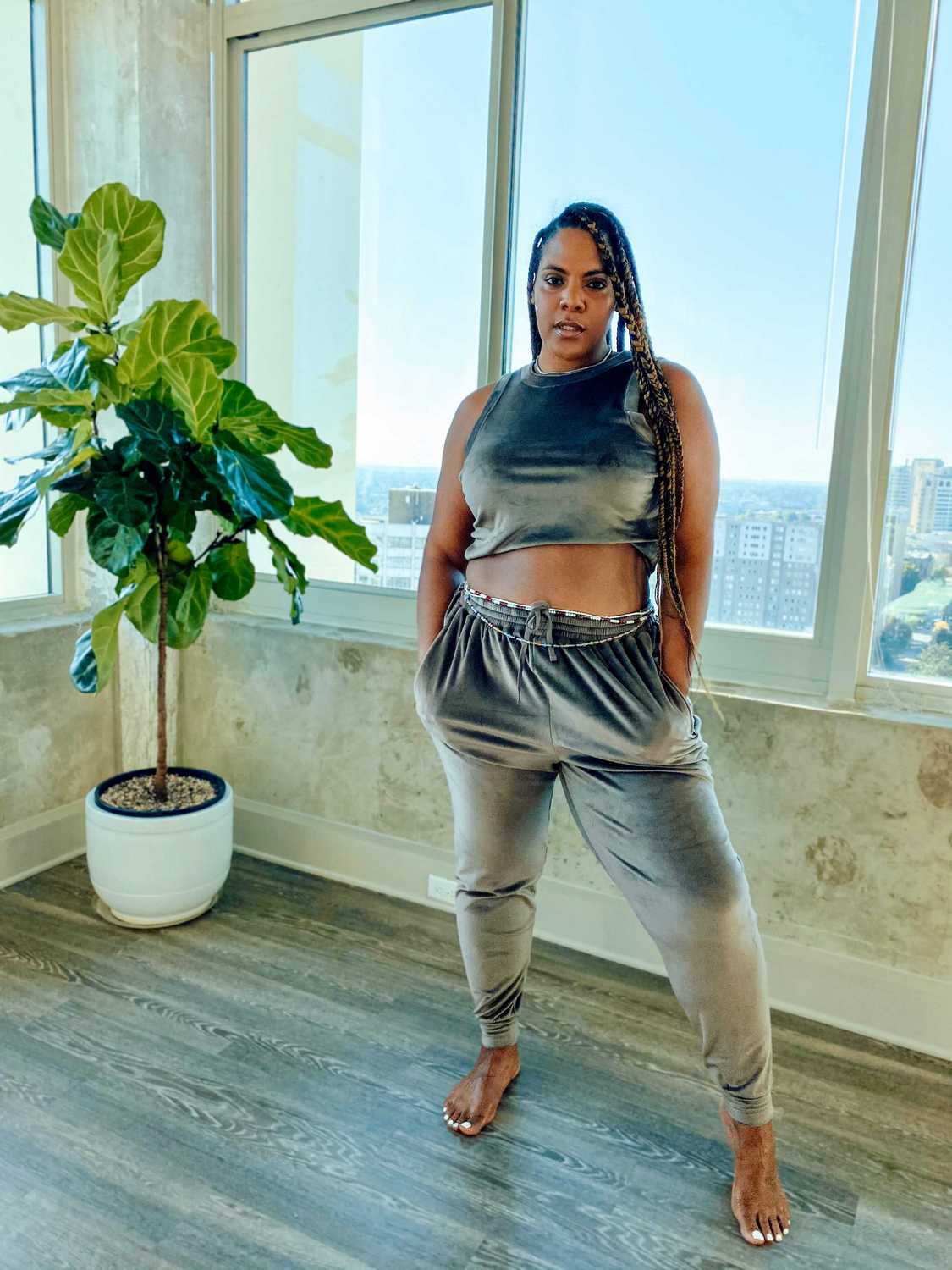 And listen, we have options.
"During these times, I'm looking for versatility in my style. The SKIMS velour collective provides you with an elevated loungewear look. Pair your velour tracksuit with heels for a cute, chic, and hip date night look.

Or pair with your favorite fuzzy socks and cuddle up with bae. The style possibilities are endless."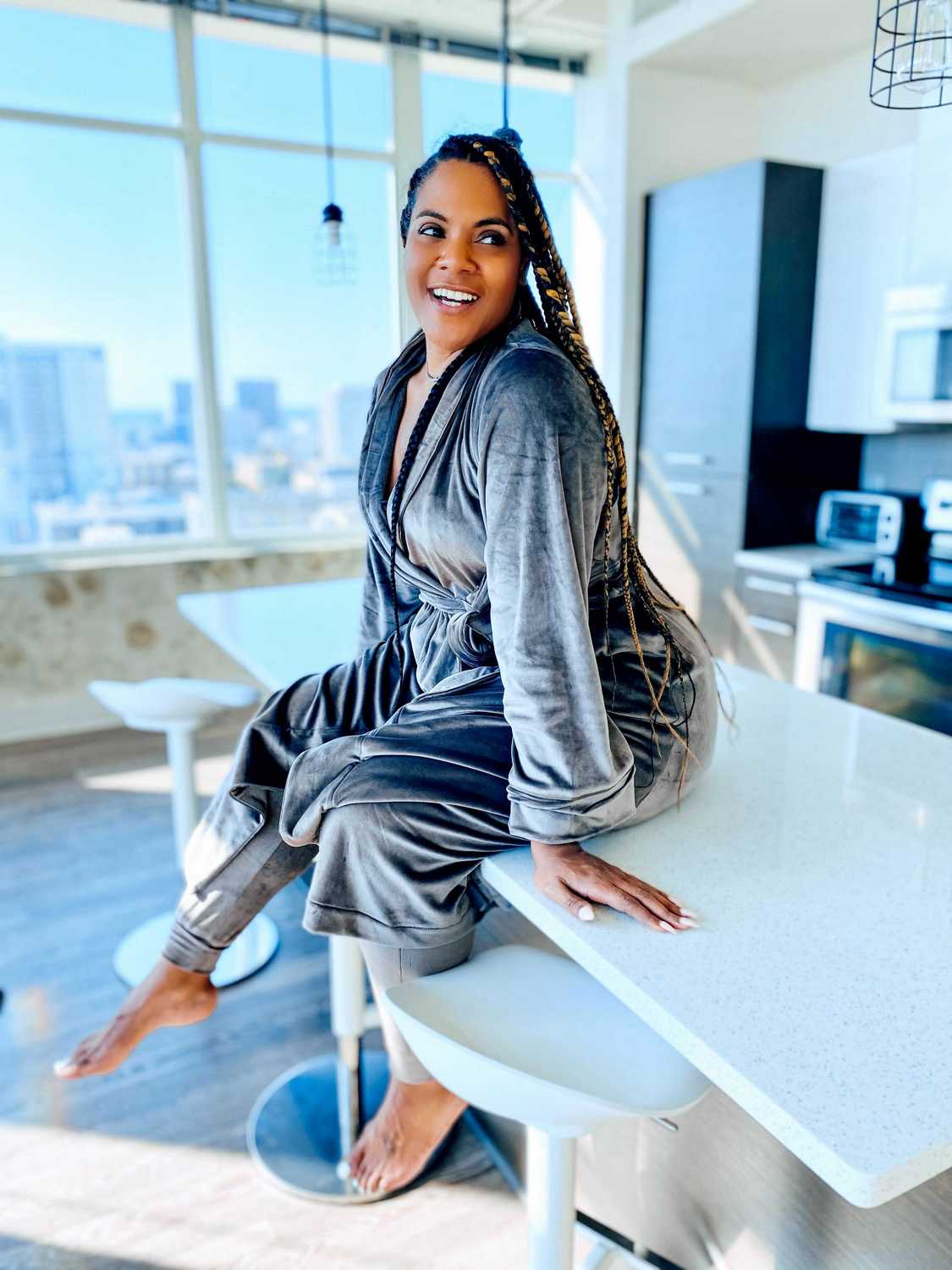 While Crystal is loungewear chic in her Robe, Tank, and Joggers, you also have the option to play in the Velour Bandeau (I want this), Wide Leg Pants, Hoodie and Sleep Top!
The only thing missing? Some velour sleep shorts!
The SKIMS Velour Collection is LIVE today at 9am PST/ 12pm EST. Today… so if you are digging this collection on Crystal and can see yourself in a few of these items, you better move fast!
You can shop the collection NOW, at SKIMS.com
And you know… you have to move fast, because these SKIMS sets DO SELL OUT! Swift-like.
We want to know…
What do you think about how they brought back Velour? Can you see yourself in this trend again?
Which pieces stand out to you?
Let us know your thoughts in the comments!
*Disclosure* This is a sponsored partnership with SKIMS. All thoughts and feelings are our own.