If you do not know, me and Igigi go BACK. Wayyyy back to the start of the blog. Watching a brand evolve and grow is quite inspiring especially as they evolve with the times and listen to what their customers are wanting.
Such is the case with Igigi by Yuliya Raquel, who wanted to transform how people think and see plus size fashion, so Curve Connection was born. Yuliya shares, "What better way to do that than by having our customers as our models? I am so looking forward to seeing Curve Connection™ evolve into a thriving community of women sharing their experiences with fashion and IGIGI."
Plus Size Fashion Community Curve Connection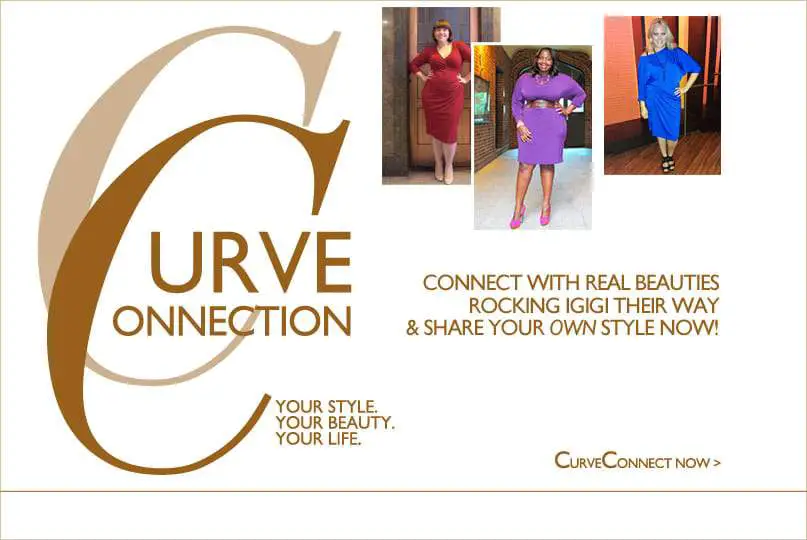 Curve Connection™ is the new Igigi community of fans (LIKE YOU) showing off their favorite IGIGI designs and showcasing them for other fashion fans and potential shoppers worldwide. You get your own page that lists your size, shape, bio, and motto! You get to see how Igigi garments look and how they are styled on women JUST LIKE YOU!
What a great way to show YOU how the garments will look like on everyday women like you and me!!!
Want to be on Curve Connection?
Share how YOU rock IGIGI by Yuliya in YOUR own unique style by submitting your form at Curve Connection here. Each unique entry receives a 10%off coupon and one lucky lady wins a $500 gift certificate each month.
What are you waiting for? Will I see you on there? Join me! Yes, I have a page on there too!