Gotta say, It's been a pretty amazing year for one of my all-time favorite plus size actresses! Body positive advocate and all around bad ass, Gabourey Sidibe is killing it!
And to end this year on an extremely high note, last week Gabby tweeted the cover to her long awaited memoir,"This is Just My Face: Try Not to Stare," set to drop May 1, 2017 on Amazon.com!
Since first making the announcement of working on the memoirs in June of 2015, we've been pretty geeked for this moment. From her hilarious tweets to soooooo hilariously real Instagram posts, Gabby has practically spoke to my soul on many occasions.
"Moving from Bed-Stuy to Senegal to Cannes, as Gabby has done in a still-short lifetime, has helped produce a fierce, wise way of being in the world impossible not to admire.

'Funny' doesn't begin to capture just how irreverent and complex Gabby's stories are." Deanne Urmy, Senior Executive Editor at Houghton Mifflin Harcourt.
Congratulations Gabourey Sidibe on an AMAZING YEAR!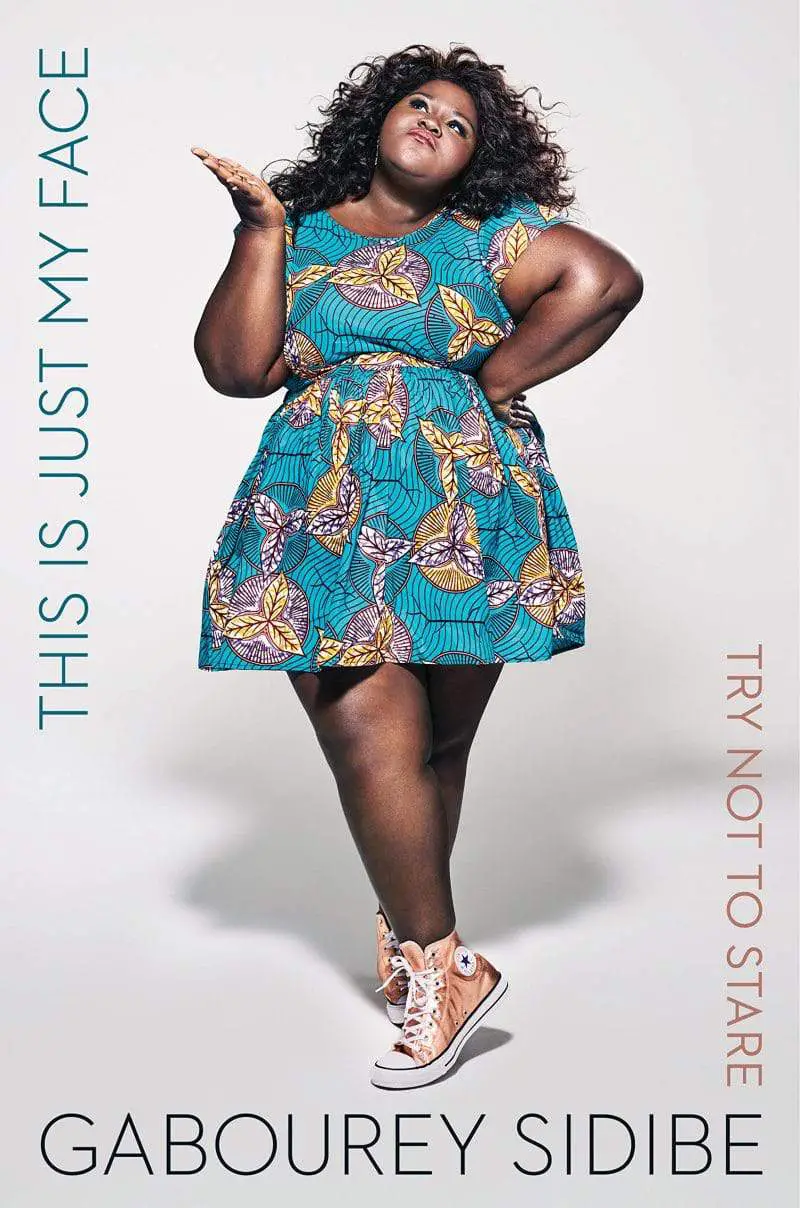 Pre-Order this book at Amazon.com!
From Precious to various American Horror Story characters (Queenie was my favorite) and now Becky, on Fox Primetime hit Empire, there's nothing she can't do, so of course a book had to be in the works. One that we are sure is going to entertain!
"I've been writing since I was a child, and have always had so many stories to tell that are too long, shady, and impolite to share in interviews.

It brings me much joy to add Published Writer to my resume of Actor and part-time Foot Model." Gabourey Sidibe
And in true fangirl pandemonium, over here we are screaming, "Hey Gabby! Girl, we see you!"
And well in true TCFStyle fashion, I had to round up some of our favorite Gabby moments!
Just a Few of Our Favorite 2016 Gabby Sidibe Moments
From wowing us with all her gorgeous melanin filled beauty for Covergirl!
To showing off her new bodacious body and clever clapback for Lane Bryant's #ThisBody campaign
#thisbody @lanebryant

A video posted by Gabby Sidibe ?? (@gabby3shabby) on
And entertaining us as we wait on that powerball jackpot to hit one day!
Me if I hit that 900 million dollar lotto tonight.

A photo posted by Gabby Sidibe ?? (@gabby3shabby) on
I can already tell that 2017 is going to be AWESOME, not only for her, but for all of us!
Are you itching to get your hands on this book? I know that we are and guess what?! While you can look for the memoir online at Amazon on May 1, 2017 and a bookstore near you, you can pre-order the book NOW! Yes!
Preorder your copy of Gabourey Sidibe, "This is Just My Face: Try Not to Stare." at Amazon.com.
Until then, take a peek into Gabby's world as she fills your life with words of wisdom on Twitter AND on Instagram!
How exciting is this! We are soooo hyped and geeked about this… Are you going to snag a book from her?