We talk a lot about how we should make exfoliation a regular part of our skin care routine, but we shouldn't forget to exfoliate the entire body. Body exfoliation does the same as when we exfoliate our face, gently sloughs away dead skin for a glowing complexion. Regular body exfoliation also helps improve circulation and skin cell turnover making it easier for moisture to absorb the skin.
For these reasons, using a body scrub 2-3 times a week keeps skin glowing, soft and healthy looking. In this post, we're rounding up 9 body scrubs that provide not only exfoliation but treatment for conditions like KP bumps and eczema. We've also included scrubs in every price range, some you can get at the drug store or higher end cosmetic stores, there's sure to be something for everyone.
9 Body Scrubs You Need Right Now
The Smoothie Star Breakfast Scrub will be a staple in your body scrub collection after one use. It smells amazing, with notes of vanilla and almond. The exfoliates and softens skin with shea butter and glycerin as it's main ingredients.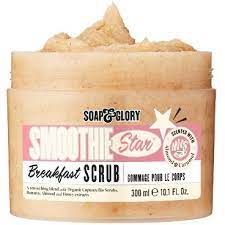 The Coconut Oil Creme scrub is gentle and exfoliates the skin while softening. The main ingredients are coconut milk and raw sugar, both of which leave the skin soft to the touch. This scrub feels more like a cream when it's applied so it is gentle enough for sensitive skin.
Dermalogica not only cares about the skin on your face but also the skin on your body. Indian bamboo stem and panpain promote natural cell renewal through exfoliation. This scrub brightens the skin and refreshes it with the grapefruit peel and tea tree oil as added ingredients. Use this scrub 2-3 times a week for best results.
Epsom salt has been a staple in skincare for a reason. It's an ingredient that calms sore muscles and softens the skin. The Pink Himalayan Scrub from Dr. Teal's has sea salt and epsom salt for exfoliation. And the bergamot and sweet orange oil awaken the senses while you scrub.
A spa-like experience is what you'll have when using this Brown sugar body polish from Fresh. The brown sugar works to gently exfoliate dead skin without irritation.The sweet almond, jojoba and evening primrose oil nourish and hydrate leaving the skin soft to the touch. This scrub also works well for eczema prone skin.
The Dove Almond and Mango Butter is a gentle exfoliating scrub with ¼ cup of moisturizing cream. This is not a harsh scrub by any means. In fact, it feels more like whipped butter but it works to gently remove dead skin. As a suggestion, use this scrub after using your favorite Dove body wash for an extra luxurious shower.
Olay made a scrub specifically for the skin condition called KP or Keratosis Pilaris. Small bumps and rough patches that appear on the surface of the skin. This scrub has glycolic acid which is an exfoliator and Vitamin B3 complex which works to gently loosen the top layer of skin to rinse it away.
This shower scrub from Lush feels like a shower gel but works like a scrub. The fine sea salt gently exfoliates dull skin and the lemon oil brightens the complexion. Scented with jasmine, mimosa and orange flower, this scrub smells like summer and will leave you wanting more.
The Coco Rose Body Scrub is a clean beauty formula with minimal ingredients. Formulated with coconut oil, shea butter and sugar crystals, you get moisture and exfoliation in one scrub. The light scent of Moroccan rose is not overwhelming making it easy to use for those with sensitive noses.
Using any of these body scrubs, you'll be confident in rocking your off the shoulder tops this summer. Smooth, glowing skin is totally possible with regular body exfoliation. We hope these suggestions were helpful for you.
Let us know in the comments which body scrub you love or which one you can't live without!