With everything bridal on The Curvy Fashionista this week, we thought it only fitting to showcase a plus size wedding publisher for today's Spotlight. Shafonne of Pretty Pear Bride is a dream come true for plus size brides.
Realizing how limited dress selection and bridal inspiration was during her own wedding planning, Shafonne set out to create a one-stop resource for the plus size bride-to-be.
As a wedding and event planner, Shafonne has insider and first-hand knowledge of the wedding business, and her site is a beautifully curated collection of advice, tips, and options for plus size brides from dresses to honeymoons, wedding photography to bachelorette parties.
She is a plus size publisher YOU NEED TO KNOW!!!
Meet Shafonne of Pretty Pear Bride!!!
Blog: Pretty Pear Bride
Age: 37
Height: 5'1″
Location: Fishers, Indiana (suburb of Indianapolis)
How long have you been blogging?
9 years – 3 as a wedding planner with a blog and 6 as a wedding blogger
What or who inspired you to become a wedding blogger? What led you to it?
As a plus size bride, I went into wedding planning with the intention to help new brides and realized that the main people that needed help were plus size brides. I didn't find anything to help me plan my wedding, specific to me. So knowing this void, I set out to create a space that would bring inspiration to plus size brides.
Do you run Pretty Pear Bride full-time, for fun, as a hobby? Share your journey!
Yes, I can finally say that I do. I started out doing it part time with teaching high school biology and planning weddings, but then decided to take the leap and I haven't looked back since.
What is your favorite asset? Your legs, arms, waist? How do you play that up?
My legs, arms, chest and back side. I tend to wear tons of skirts and dresses. I truly have been blessed to be with a husband who loves all of me and reminds me of that ever day!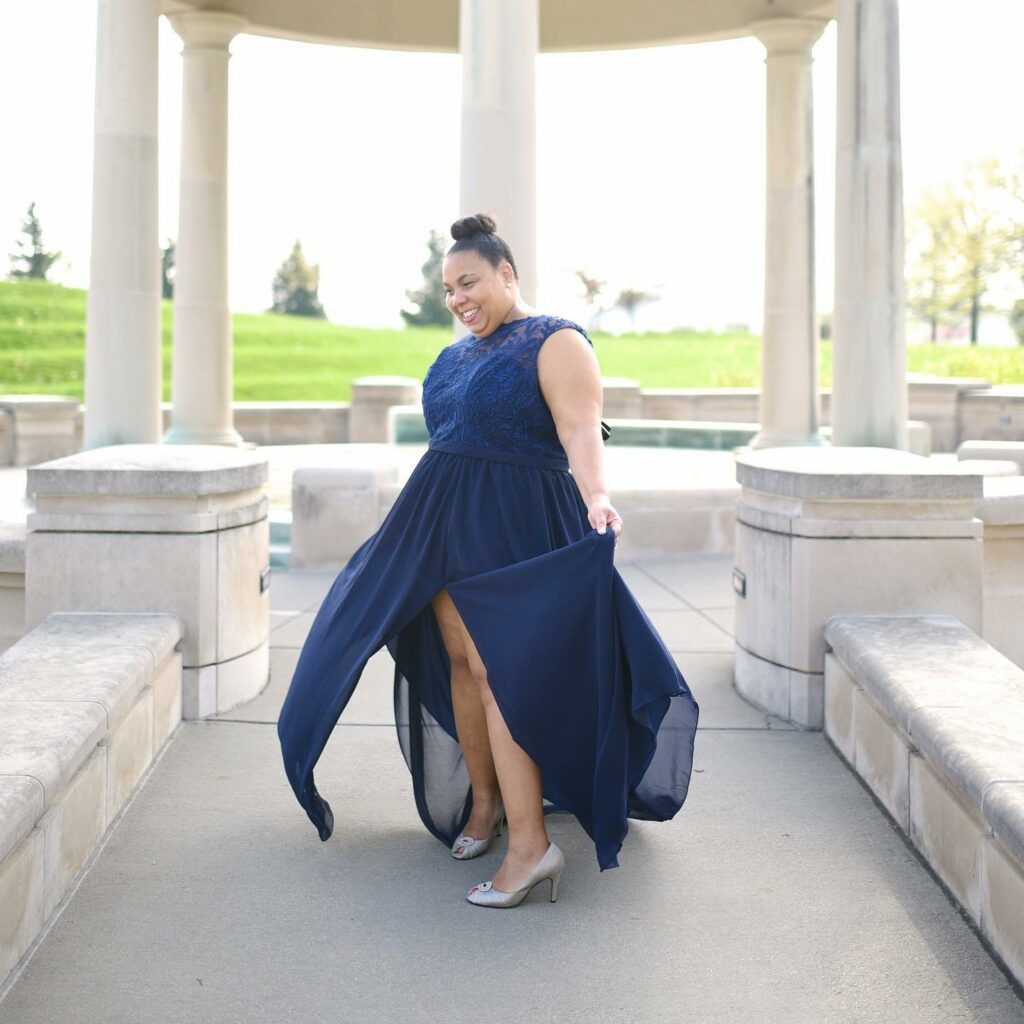 We are in the midst of Plus Bridal Week, What do you think are the challenges and pluses of being a plus size bride today?
The biggest challenge for plus size brides is having inspiration that relates to them, that's where I've come in and really helped to make a space where plus size brides can see themselves in the bridal industry.
I feel another challenge is finding bridal attire that actually fits a plus size bride. Bridal designers often think that all plus size bodies are created equal and they aren't. And along with that is a plus, we as plus size women have something that other body types don't have and that is a shape that can fill out wedding dresses totally differently.
With our curves and sizes, plus size brides are able to fully fill out wedding dresses.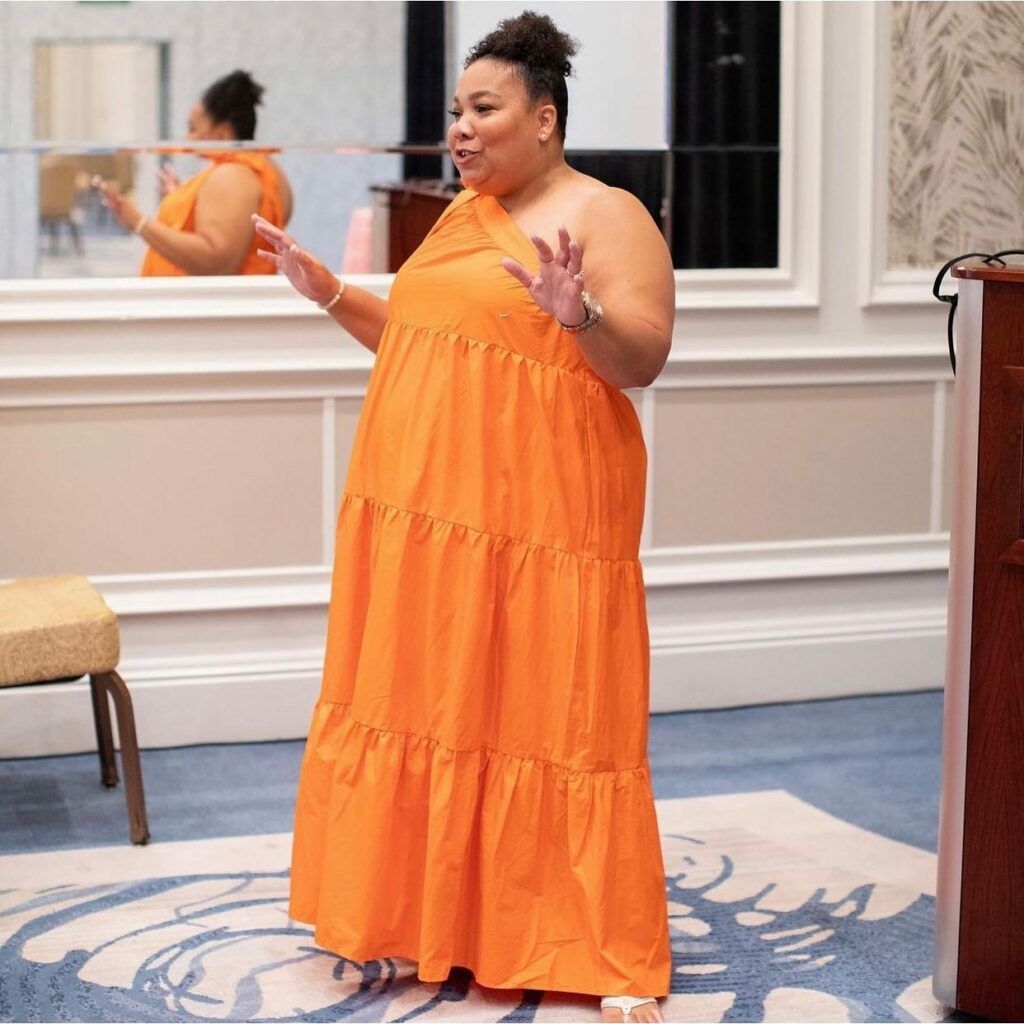 What are the challenges, if any, you face regarding being plus size?
As plus size woman, I'm constantly frustrated with the fact that I can't find clothing that fits my style. I have a very classy, chic and preppy style, and most brands that I love don't have plus sizes. It's so upsetting to know that there are brands that I love but I can't patronage. This needs to definitely change!
What's your favorite thing about being the owner of a plus size bridal site?
That I have the chance to truly make a difference. What I do everyday really impacts people. I have created something that people look at every day for inspiration… it's a great feeling!
What do you think about where plus size fashion and plus size bridal fashion are today versus a few years back?
Plus size bridal fashion? Both have definitely come a long way but they have farther to go. I just feel that designers, both bridal and regular fashion, think that plus size women are all build the same.
Which we all know isn't the case at all.
They really need to work on creating fashions that match the variety of shapes and styles of plus size women.
What do you think or hear from readers, is one of the biggest myths about plus size fashion and/or being a plus size bride?
One of the biggest myths of a plus size brides, is that we only need to have A-line dresses and nothing else. I love how designers are adding in more fit and flare and curve hugging dresses.
Plus size bodies look so good showing off all these gorgeous curves that we have.
Are you working on anything or have anything to share? Anything else you want The Curvy Fashionista's readers to know?
We are working on our newest issue coming out and our upcoming issues of the year. Also getting the word out about our bridal salon directory and looking for salons wanting to be added to it.
And as always, we are always looking for real weddings, engagements and bridal showers to share with our readers. You can visit our submissions page for more information!
Are you a fan of Pretty Pear Bride? Were you familiar? Did you know that we had our own site that centers all things plus bridal?!
Let's talk about it below!!
If you are looking for more plus size bridal finds, designers, and retailers, make sure you check out our roundup and our other Plus Bridal Week stories!