"Fantasy Lingerie encourages women of all shapes and sizes to feel comfortable in their own skin with a touch of added romance."
I am here for new plus size lingerie lines. I am here for new ways to dress for oneself and for the loved ones, a new way to lounge, and frankly a new place to shop! So, when I go the news of this new range, Curve by Fantasy Lingerie, I KNEW that I had to share with you the latest, especially as it is quite sexy and playful. I mean, we can be alluring, sexy, and sultry! Yes ma'am we can.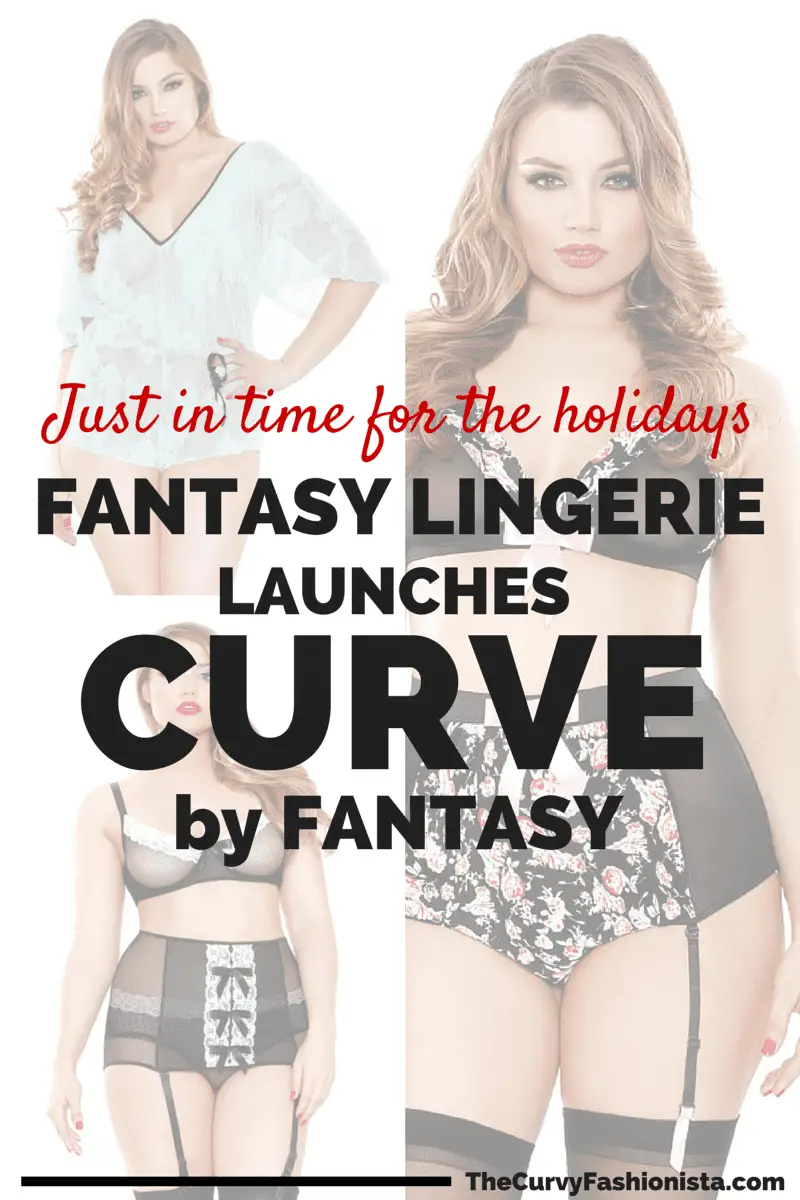 With this being said, I checked them out, already making a personal list of faves to add to my now growing arsenal- side note: I have realized that as I get older, I want to build up on my array of lingerie. I find, especially on days I do not feel so amazing, that slipping on some fancy lingerie can change things! And with all of Fantasy Lingerie's piece under $50, this range provides quite the option here! Let me share with you some of the newest pieces form the Curve by Fantasy:
Just in Time for the Holidays- Fantasy Lingerie Launches Curve by Fantasy
"People love the line because it is sexy, and sophisticated. It is the type of lingerie you want to show off because you are proud of how it will make you look and feel," says Managing Director of Fantasy Lingerie, Leilani Whitney.
About Fantasy Lingerie:
Fantasy Lingerie has taken over the plus size market with their newest collection, Curve by Fantasy Lingerie. With cutting edge pieces, Curve by Fantasy Lingerie's baby dolls and chemises feature colorful lace material, underwire and molded cups to provide shaping and support while enhancing beautiful necklines. Fantasy Lingerie is offered in a wide variety of styles and colors and is the perfect addition to your everyday lingerie and intimates collection.
Hey boo heyyyyyyyy! LOL You see what I mean? There are definitely some fancy fashionable and playful pieces here that I am sure will be the perfect gift for the holidays! Wouldn't you agree?!
You can check out the full range, at FantasyLingerie.net
The sizing is a bit interesting, with a 1/2X and 3/4X. Numerically it is up to a size 22, so make sure that you check and double check the sizing chart! They also have hosiery too, in queen sizes, so there is a bit of room to play there as well! The items are not live to shop JUST YET, but are slowly becoming available- so make sure you bookmark the site!
Not bad for a first start! Not bad at all. I cannot wait to get my hands on a few pieces!
What do you think? DO these interest and incite you? DO you rock lingerie, if even for yourself? What about as gifts, do you like lingerie as a gift?