Didn't you just love Lucia of U Can't Wear That!? Today, I'm excited to introduce you to Canadian blogger Cynthia of Flight of the Fat Girl. Cynthia has such a fearless take on fashion, and she mixes edgy and casual pieces with ease. Her body positive stance and willingness to share her own body with readers is nothing short of inspiring. Cynthia is a plus size blogger you NEED TO KNOW!!!
Meet Cynthia of Flight of the Fat Girl
Blog:
Height: 5'8″
Age: 32 years old
Location: Montreal, Canada
What made you want to become a fashion blogger?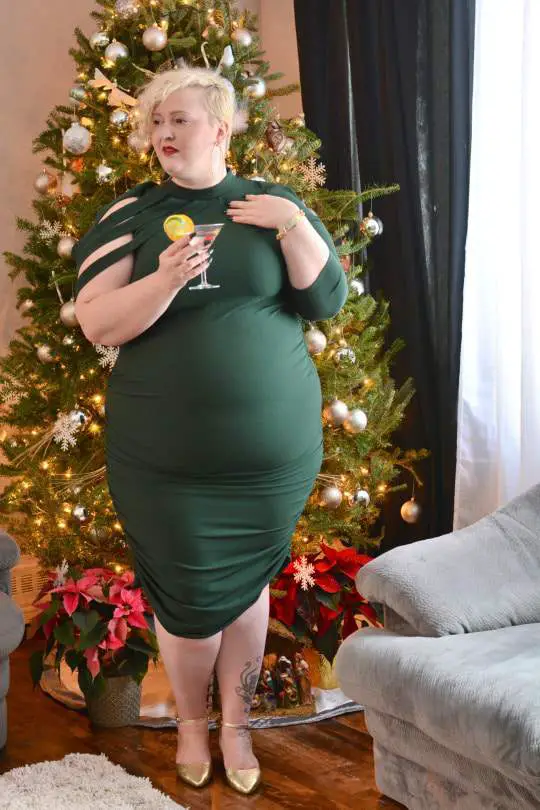 I became a fashion blogger for two reasons.
First if all, because I've loved fashion for as long as I can recall. Growing up, there were so few trendy, stylish plus size options available and shopping was always a struggle. I would cry because I couldn't shop in the same stores as my friends, and I dealt with very low self esteem from being made fun of constantly for my weight throughout grade school.
Over the past few years, the plus size fashion industry has exploded! It's so exciting for women like myself, who have loved fashion for so long, to have so much choice! Through fashion and photographs, I've really learned to love myself again.
I've realized that I'm beautiful and worthy even at a size 24, and I wanted to share my story with all the women out there who are still on their journey to body acceptance in hopes that I can inspire them, the way plus size bloggers, like Marie, have helped inspire me!
Secondly, and probably most importantly, I am on my own personal mission to take back the word 'fat' – a word that I let hurt me for so long. As I mentioned, I was made fun of as a child, and it took me years and years to love what I see in the mirror again!
To this day, I still struggle sometimes, but going into blogging, it was important for me to own the term. After all, what is 'fat'? It's an adjective that can be used to describe someone's physical appearance, the same way one might use 'tall' or 'slim.' So I wanted to take the negative power away from the word, and use it to empower myself and be fabulous!
What are the challenges, if any, you face in being plus-size?
I think one of the biggest challenges about being a plus size woman has been learning to love the parts of my body that were previously sources of shame for me and feeling confident enough to show them off in my clothes.
I've overcome a lot of self-doubt as I've challenged myself to love my body; at times, I have been my own worst enemy, but it's made me so much stronger – so determined.
Finding cute clothes used to be a challenge, but with all the options available these days, sometimes I even feel overwhelmed with choice!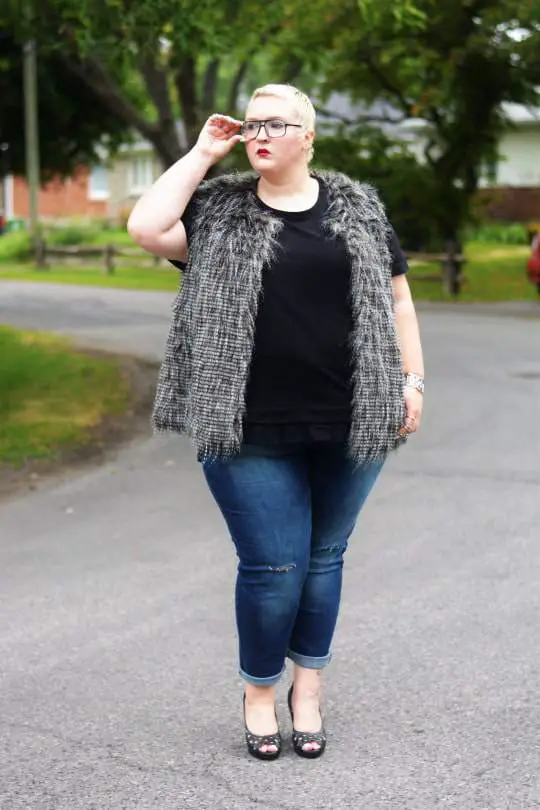 What's your favorite thing about being plus-size?
I love being a plus size woman, but the best thing about it is having the opportunity to be a positive plus size role model for my daughter, who is chubbier than the other girls her age, as well as for my three sons. I feel it is very important for my sons to have a strong, body positive example in their lives, to teach them how to respect women of all sizes.
What's your favorite thing about being a blogger? A plus fashion blogger?
My favorite part about being a fashion blogger is all the love that I get from my followers. They really inspire me each and every day to keep on growing as a person, and to never give up on my journey. I love when people write to me, telling me how I've given them the courage to try a new style that they never thought they could wear, or when they share their photos!
It makes me so happy to see my fellow fat girls feeling confident and loving their bodies and the idea that I've helped some of them along the way – well let's just say, I never would have imagined that I could have been a source of inspiration, and it's very humbling.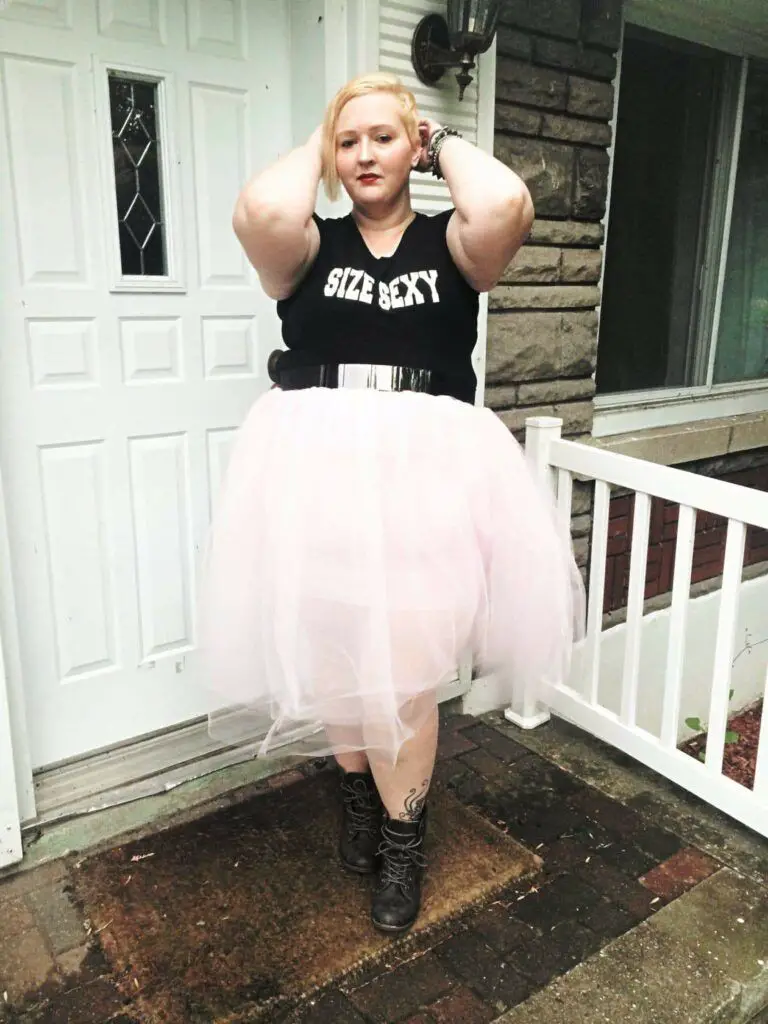 Who/what are your favorite designers/brands?
If I had to pick a few of my favorite brands/designers I'd have to say that I'm currently pretty obsessed with JIBRI. I love JIBRI's fashion forward designs, and couture look – so exciting to see silhouettes like that available to the plus size consumer!
I love stores like Addition Elle, Penningtons, and Forever 21+, where I do a lot of my shopping.
And, I will always love the high end brands like Burberry and Louis Vuitton.
Describe your personal style.
I would describe my personal style as edgy meets classic. From my undercut hair, to my long, almond shaped nails, I definitely love taking risks and making a statement! I like experimenting with fashion, and sometimes I change things up a bit, but I always come back to mixing classic pieces with edgier, trendier elements to create my own signature style.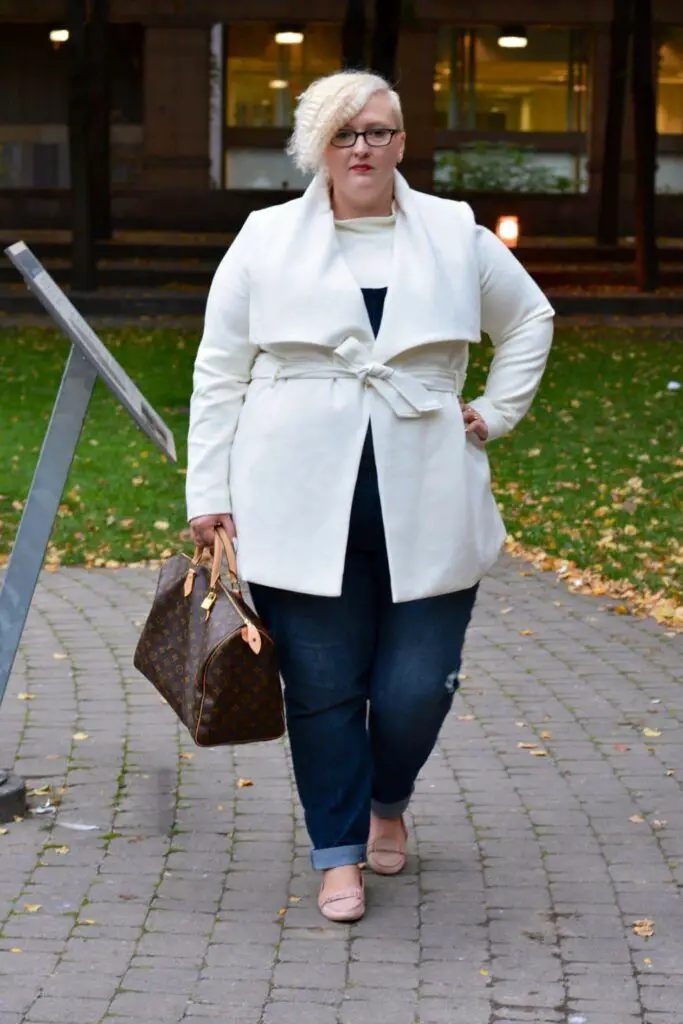 Any bloggers currently on your radar?
I follow so many bloggers, and draw so much inspiration from all of them, but I'm totally in love with Nefferth Bernadina of Mode Plus! She has this effortlessness about her style that is just everything!!!
Of course, there's Mo Handahu, of Lion Hunter, who just has the most amazing style and takes mad risks!!! I'm completely obsessed with her fabulousness right now!!! I also love Thera Warren, of Cloud14+ and her glam, diva self! So fierce!
Anything else you want The Curvy Fashionista readers to know?
I just want everyone to know how much I appreciate their support, and how committed I am to changing the idea that the word 'fat' is used as an insult.
We need to take it back and make it ours so nobody can ever use it to hurt us again, and that's exactly what I'm doing – one outfit at a time!
Hope you enjoyed meeting Cynthia! Do you already read her blog? Any plus-size bloggers you want to see featured? Let us know below!
Are you a plus size blogger who wants to be featured? Please make sure that you contact us, and we'll be in touch!