We hope you enjoyed meeting up with Instagrammer Jasmine of CookieLuv246! Today, we are so excited to introduce you to one of our amazing contributors, Brianne of The Huntswoman.
Brianne is a fashion designer, writer, businesswoman, and all-around Renaissance woman. Her blog is artistic, unapologetic, and definitely aspirational (#goals)! She is a plus size blogger YOU NEED TO KNOW!!!
Meet Brianne of The Huntswoman!!
Blog: The Huntswoman
Age: 27
Location: I'm all over! I pay rent in Salt Lake City, and travel for work to NYC and LA almost monthly.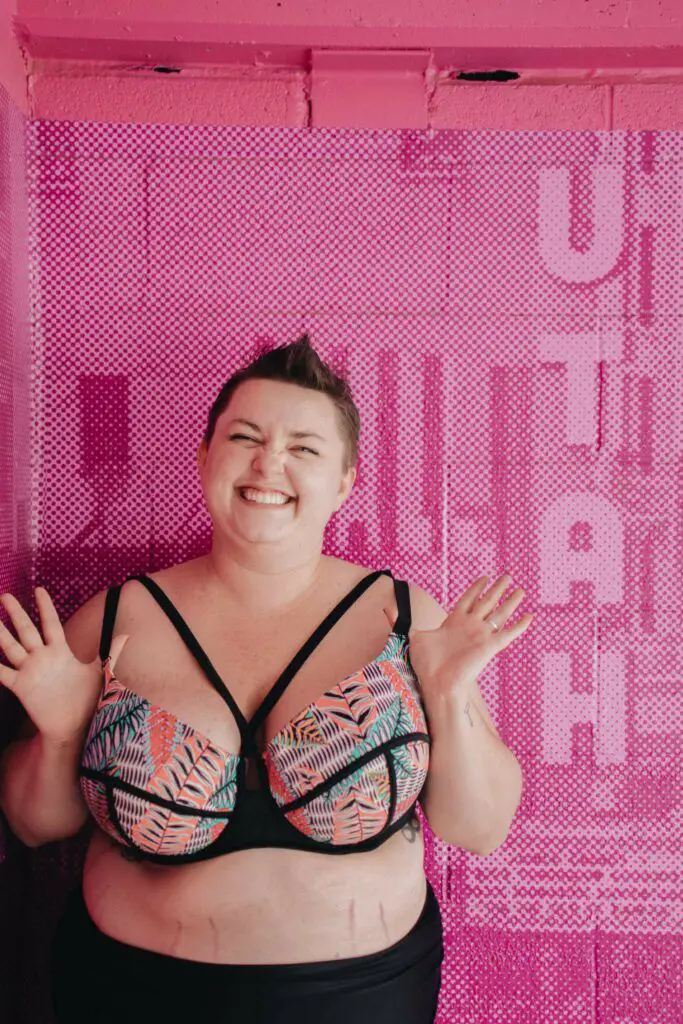 How long have you been blogging?
I officially announced that I was a fashion blogger on my Facebook profile in December of 2016. So, about a year and a half.
What or who inspired you to become a fashion blogger?
I am a fashion designer, and I realized the best way to connect with people (and potentially future customers!) was to write about fashion. I've also been an activist for almost the last decade, organizing to change policies, laws and viewpoints on sexual assault. I realized that I had a lot I wanted to personally share with the world, from fashion to politics (because fashion IS political), so a blog was born!
As for people, I would have to give all the credit to Marie Denee. Seeing the community she has created, and the resources she's provided me, inspired me to start writing.
What led you to it? Do you blog full-time, for fun, as a hobby?
I'm going to be SUPER honest with you. I started posting on Instagram as a blogger, and later blogging on my actual website, to help catch the attention of luxury and couture fashion houses – because I want to work for them!
Mentors told me having an engaged community of folks on Instagram (AKA "followers") would help me land an internship, and eventually, a job as a design assistant. I've learned a lot about sourcing clothes, styling, scouting locations for photo shoots, working with photographers, etc, just by creating content for Instagram and my blog!
TL;DR: I blog to make my dreams happen. People can hop over to my blog and get a real feel for who I am as a creative. I blog to inspire other people on their creative and/or body positive journeys.
Your evolution!
What is your favorite asset? Your legs, arms, waist? How do you play that up?
I really love playing with mischievous facial expressions, and I've started to post photos of myself showing emotional range (going beyond #Smizing for the camera).
Other than that, my hair! I love doing out-of-the-box things, from shaving my head to other short styles. My fave is the faux hawk I'm rocking.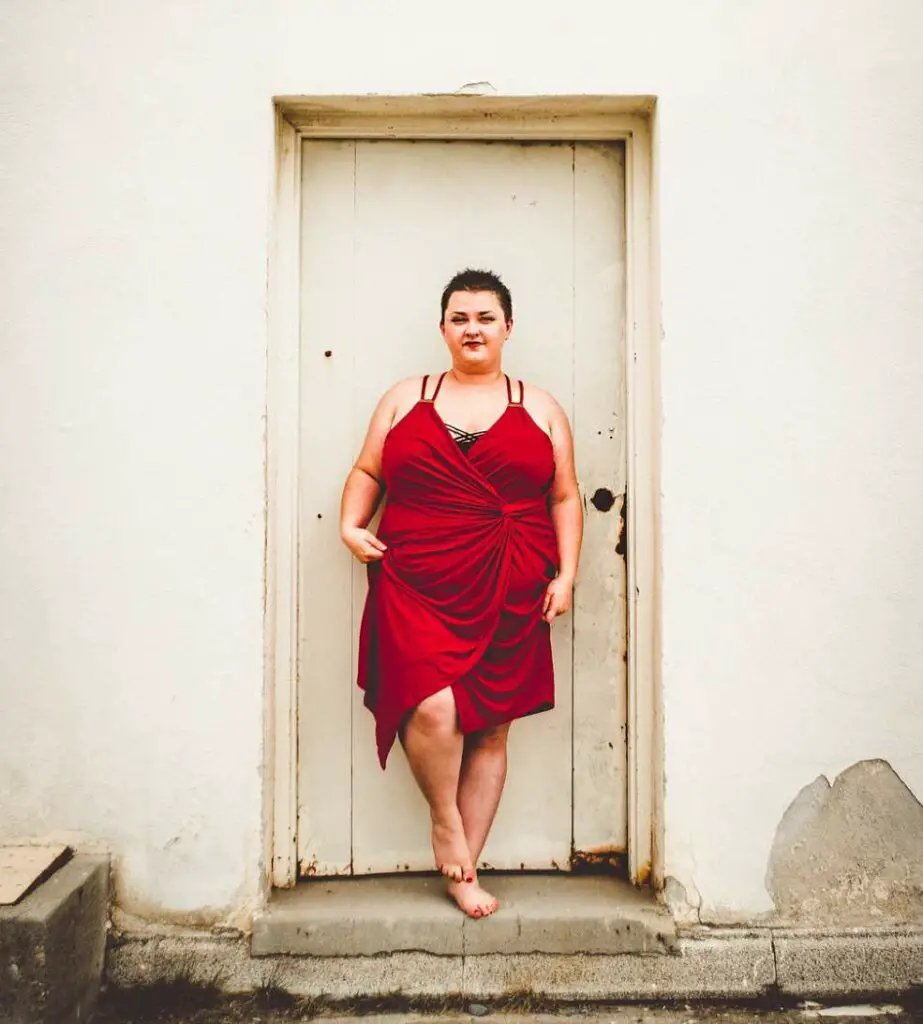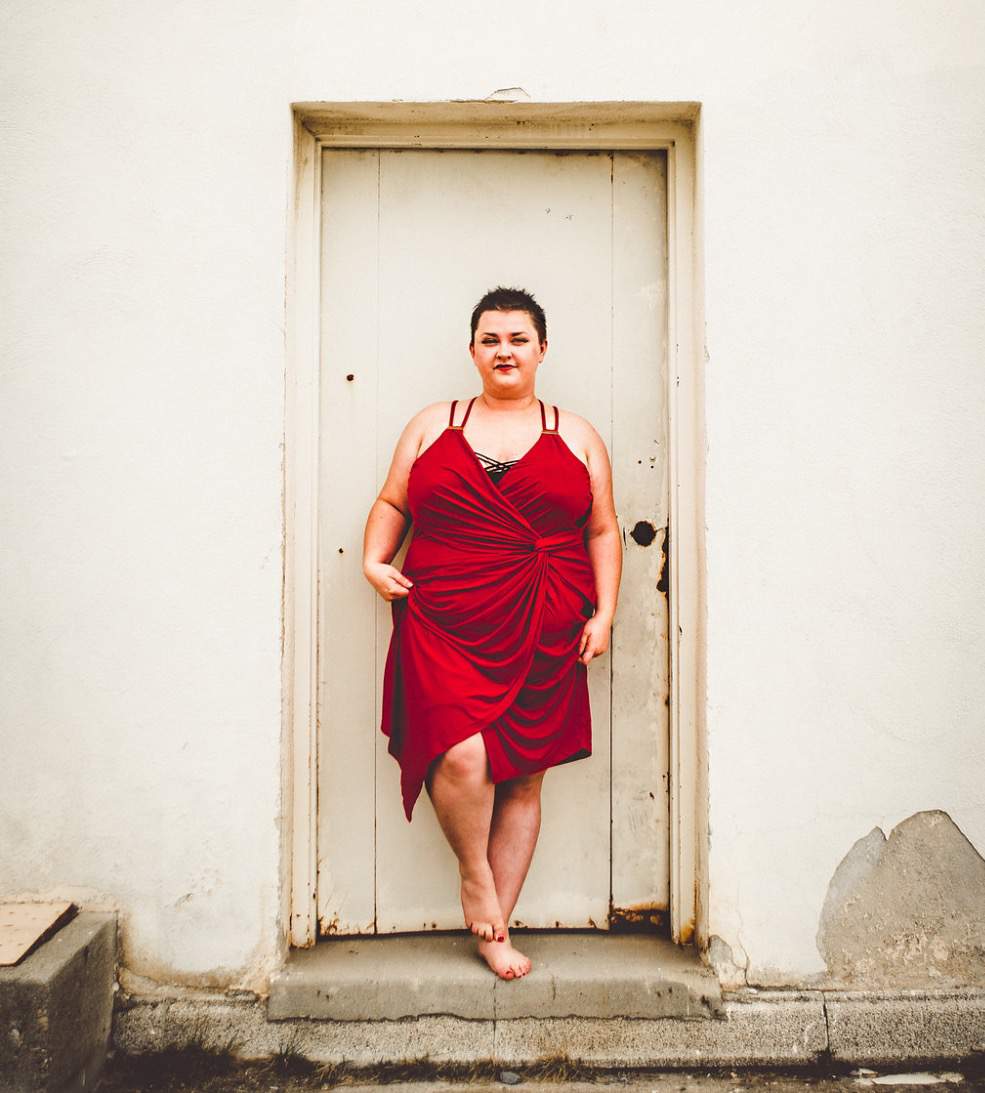 What are the challenges, if any, you face regarding being plus size?
Dating. I have PCOS (which I write about), and I've gained quite a bit of weight over the last 5 years. I struggle with feeling attractive and wanting to put myself out there. (Real talk!)
The Faves
What's your favorite thing about being plus size?
For sure, the plus size community. I have met lifelong friends and collaborators online, using plus size hashtags and Facebook groups.
What's your favorite thing about being a blogger?
Having an outlet for my opinions! Now, it's not just me getting jazzed up or ticked off about topics, I can share that with other people.
Describe your personal style.
Hard femme CEO Coven Supreme. I created a shoot called "Salt Goth," shot on the Utah Bonneville Salt Flats, that encapsulates my aesthetic (for my own wardrobe, not the clothes I create), perfectly.
Who/what are your favorite designers/brands?
I am a luxury/couture nerd. I secured a grant from Stanford to see the Savage Beauty exhibit at the V&A, and saved for months to buy all the prints and books I wanted at the gift shop. That exhibit changed my life. I also love Vivienne Westwood, who is also a hell raiser, and, of course, Maria Grazia Chiuri's work at Dior. Her first collection blew my mind and had all my creative synapses firing.
Also, Christian Siriano – because his clothing is beautiful and he makes impactful political statements by who he dresses. I could talk about favorite designers/brands all day, lol.
For plus size fashion, I am obsessed with JIBRI. I think the approach to fashion (being fashion forward and trying new fabrics and styles) that Eloquii takes is awesome. I'm also a ride-or-die for Premme.
Interestingly enough, when Premme first dropped I wasn't super into it. It took me time to realize that plus size people don't have to only accept recycled trends (usually 3 months after they've hit mass market straight sizes) from the runway. We can set the trends. Once that switch flipped, I became all about it. My fave thing is when a straight sized person asks me where I got a Premme piece, because they get a little taste of what I feel almost daily looking at brands.
Which bloggers inspire you? Plus or straight size!
Oh god, almost all my friends are bloggers, so I can't pick only a few people.
I am incredibly inspired by the aesthetic choices Suma Jane Dark makes, and I'm excited to have them shoot my editorial for my first collection. Suma is such an incredible person to collaborate with, and they're just lovely.
I appreciate how Corissa, of Fat Girl Flow, shows her full body (and tummy) without apology. This is what inspired my TomboyX photoshoot (shot by Suma, interestingly enough!). Corissa often says, "Plus size people can be aspirational, not just inspirational" and that's turned into my mantra.
I'm going to stop answering this question now, but I will be doing a series on my blog, spotlighting and thanking the people who have inspired me on my way! Shine theory ftw. <3
What do you think about where plus size fashion is today versus a few years back?
Well, the main difference is mainstream acceptance (no pun intended). A few years ago, our options were much more limited. In 2018, for me, it's about supporting brands who support and showcase true diversity – who, on their website, have more than a size 14 "hourglass" models.
I'm also excited to see luxury brands partnering with companies like 11Honoré to FINALLY expand their sizing.
Now, versus a few years ago, we're really grappling with the politics of plus size fashion. Companies need to know, and understand, that by serving a market that has been ignored and, frankly, bullied, they're going to have to step it up and realize that "body positivity" isn't only a cute hashtag on Instagram. It's a fucking political movement. Dressing plus size and fat bodies is political.
What do you think or hear from readers, is one of the biggest myths about plus size fashion?
Fashion rules. We inherited them Stacy and Clinton on "What Not to Wear," the idea that you can't wear stripes or that everything has to be slimming.
Newsflash: Fashion does not have to be flattering. Fashion is used to communicate, to inspire, or create an emotional response. It's hard to do that if you're trying to hide how big your thighs are, instead of living a beautiful and fashion forward life.
Are you working on anything or have anything to share?
Oh god, what am I *not* working on? I'm working on my first collection, which will be sizes 6 to 26. I'm getting ready to launch the first of many online courses on So You Wanna Blog, "Get the K" for small biz owners and bloggers trying to figure out how to get to 10,000 followers. Aaaand, I'm consulting for a few startup products/companies that will launch later this year.
Anything else you want The Curvy Fashionista's readers to know?
I hope if you're reading this, thinking about how you want to start a blog or share OOTD pictures on Instagram, just fucking do it. Put yourself out there. It's scary and it's exhilarating. Stop putting it off, just do the damn thing! THIS IS YOUR SIGN.
Whatever your dream or desire is, imagine how much further you'd be along if you had started when you first thought, "I want to do (fill in the blank)!" Start now, and a year from now you'll be thankful you did.
Lastly, what does Curvy.Confident.Chic mean to you?
This means that I am a plus size or curvy babe, who isn't afraid to own it. And "Chic" is more than style to me. It's how you treat other people, with grace and compassion – but also taking no shit.
Check out Brianne's blog at TheHuntswoman.com!!!
What do you think of her style and her thoughts? Is her blog one you read? Let's discuss!
Are you a blogger? Want to be featured?
Make sure you fill out your deets here, so that we can feature you!
Looking for more style inspiration? Check out all of the plus size blogger spotlights here!