Happy pride to all of our readers! I cannot stress enough the importance of following and supporting plus size LGBTQIA+ content creators, models and activists. Supporting their work means furthering representation and visibility for plus size LGBTQIA+ people everywhere, as well as educating straight and cisgender people about LGBTQIA+ issues.
The LGBTQIA+ community contains multitudes, and our experiences are broader than the straight-size, cisgender, white-washed version the media often perpetuates.
Below is a brief but important list of plus size LGBTQIA+ couples that work as content creators, educators, activists and models (just to list a few of their accomplishments) that are doing the work celebrating the LGBTQIA+ community as well as educating and calling out transphobia and homophobia in their day-to-day.
For resources about gender identity and sexuality, please see the links at the very end of the article!
Support and Follow these Plus Size LGBTQIA+ couples!
1. Alysse (she/her) & Giovonni (he/him)
Alysse and Giovanni are a dynamic power couple who both work tirelessly to center and support the LGBTQIA+ community. Giovanni is a veteran and founder of META Center – a non-profit organization created to provide programming for transgender and gender-non-conforming youth, and his wife, Alysse, is a plus size model and LGBTQIA+ travel blogger and advocate!
Follow Alysse on Instagram here!
2. Chaya (she/her) & JodyAnn (she/her)
Chaya is an incredible automotive educator, journalist, and creator of the iconic Mechanic Shop Femme website. She and her wife JodyAnn proudly had the largest virtual queer wedding during the pandemic, and regularly share what it means to be a plus size queer couple in the midwest. JodyAnn creates amazing candles and homegoods as well as shares beautiful and delicious recipes with her followers!
Follow Chaya on Instagram here! // Follow JodyAnn on Instagram here!
3. Ericka (she/they) & Ebony (he/him)
Ericka is a Racial/Social/Gender Justice Disruptor, writer, breast cancer survivor and plus size model who, along with their partner and speaking engagement manager Ebony, regularly share fat-positive resources as well as call out anti-Black violence and systemic racism. You can support Ericka's work by signing up for her educational webinars here, and support both Ebony and Ericka's time and energy by donating to them via Paypal and Cashapp (highlighted on Ericka's Instagram page under "Support Us")
Follow Ericka on Instagram here!
Subscribe to Ericka and Ebony's podcast here!
4. Da'Shaun (they/them) & Jax (no pronouns)
Da'Shaun and Jax are an incredible couple that regularly uplift Black trans people and call out fatphobia in the trans community. Da'Shaun and Jax work tirelessly to educate and correct the transphobic comments both are subjected to online. They are also couple goals, and speak often about what it means to be in a fat-positive relationship as two Black, transgender people. You can support Jax and Da'Shaun by following them on Instagram and Twitter, as well as pre-ordering Da'Shaun's book "Belly of The Beast", which are all linked below!
Follow Jax on Twitter or Instagram // Follow Da'Shaun on Twitter or Instagram
Pre-Order Da'Shaun's book, 'Belly of the Beast' set to release in August 2021 here!
5. Phoebe (they/he) & Morgan (she/her)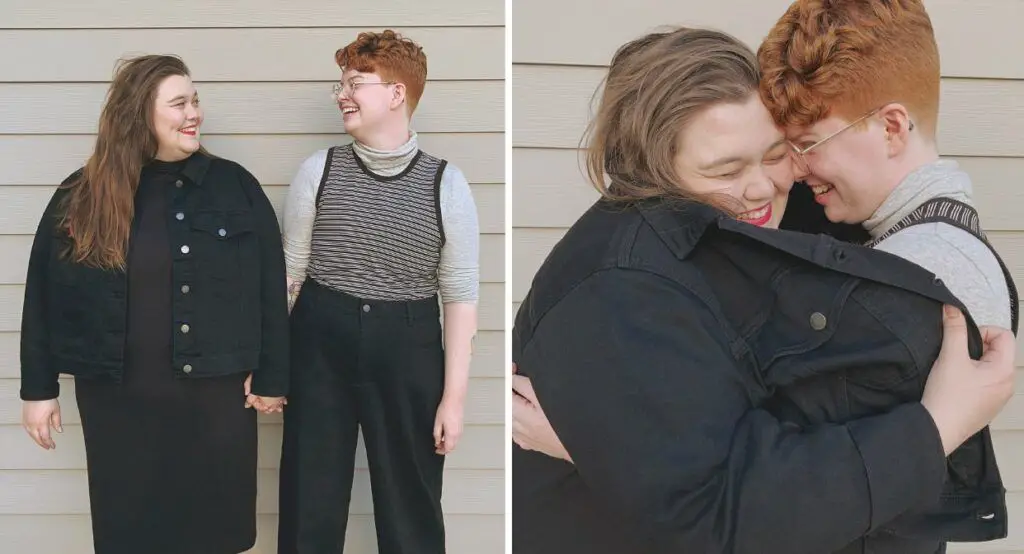 Phoebe and Morgan are two hilarious tiktok'ers (Phoebe's sound, "Gender? In this Economy?" went viral on TikTok during quarantine), who patiently answer people's questions about their lives and general LGBTQIA+ questions like "what are pronouns?" or "how are pronouns different from gender?". You can find ways to support Morgan and Phoebe, including their honeymoon fund and Patreon below!
Follow Phoebe and Morgan on Tik Tok here!
Support their Patreon here and support their honeymoon fund here!
Read "10 Amazing lGBTQIA+ -owned brands to Support for Pride" Here!
Resources
If you need mental health support, please contact Trans Lifeline, the first and only lifeline run by trans people for trans folks.
USA (877) 565-8860
Canada (877) 330-6366
Follow Liz on Twitter (@itsjuustliz) for more gender-non-conforming content and plus size positivity!