If you're in Facebook groups like The Curvy Fashionista Community, you've likely seen a post or two about AllGo, an app that helps plus size and fat people "get the information they need to enjoy visiting new places."
In short, AllGo is like Yelp! — but better.
I sat down with founders Rebecca Alexander and Michele Amar to talk more about the app (it's live on Kickstarter), its origins, and what it's like to be plus size person growing a startup.
AllGo Concept
BH: Entrepreneurs talk a lot about the "Aha!" moment they had when starting their business. When did you first think of AllGo?
Rebecca Alexander: Honestly, it goes back to when I was 18, and spending the day at SixFlags celebrating high school graduation with my class. Everywhere we went, from the rides to finding a table to eat lunch at, I was constantly worried about being able to fit into a space.
That feeling hasn't left me.
And, about 2 years ago, I noticed this behavior where I would scroll through ravioli photos, looking for photos of booths or chairs at a restaurant – so I could determine whether I could go. I'd do this for drinks at a new place for a friend's birthday, when researching new doctors, etc.
But, I didn't act on the "ravioli insight," until I read Hunger and We're Never Meeting in Real Life. Both authors both described similar behaviors, where they'd do a ton of research before going somewhere new.
It's almost like Russian Roulette, where you ask yourself, "Am I going to be able to go? Or am I going to walk the walk of shame?"
After meeting my co-founder Michelle, everything started falling into place.
AllGo was born as a way to help all of us to go somewhere.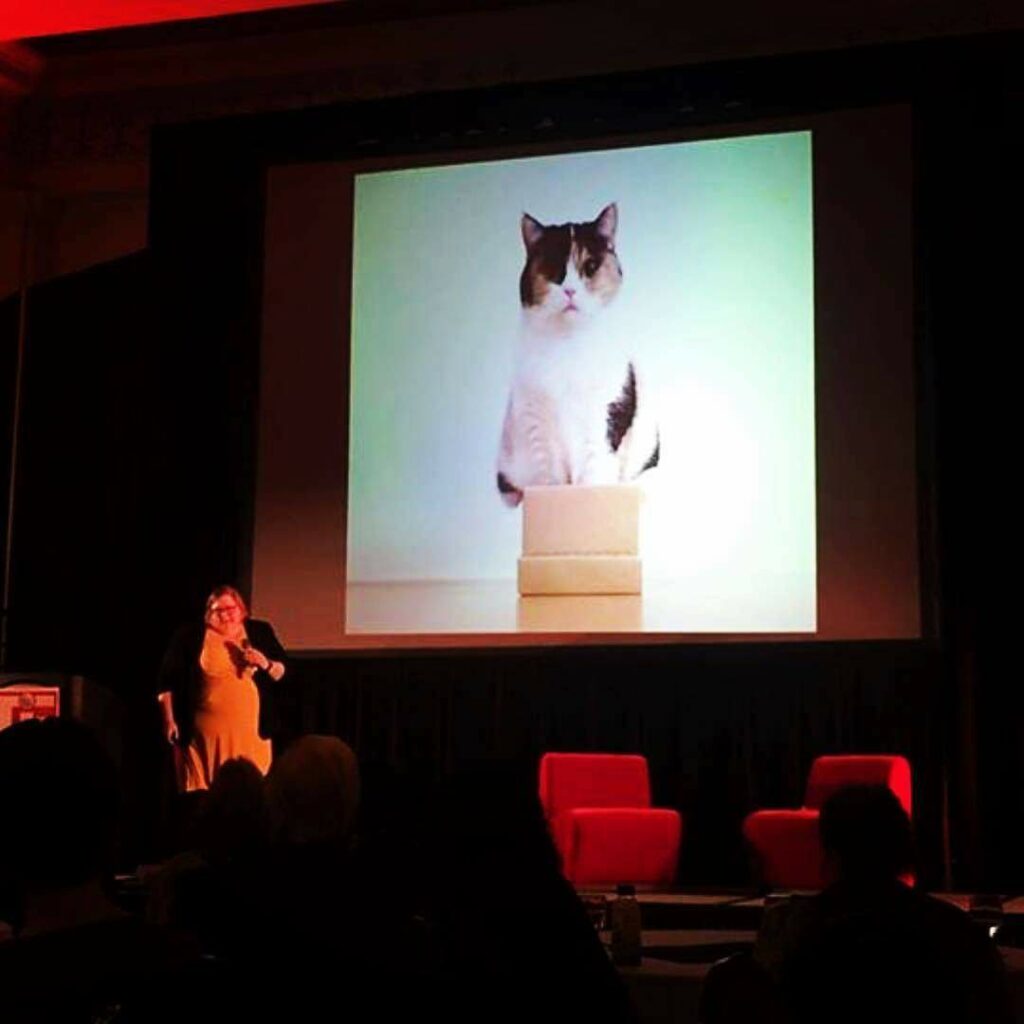 The Platform
BH: This sounds like kismet. How will the platform work?
RA: We're starting with a web platform, that will be optimized for mobile (so it works well on any device!). On AllGo, community members will be able to review things like accessibility, aisle width, seating, etc. They'll also answer questions like, "How accommodating was the host or hostess of your needs?" an important distinction from "How did the host or hostess do?"
We're really digging deep into what makes a space accessible.
BH: I'm nerding out! What tools or operations frameworks (agile, six sigma, etc) have you utilized to make AllGo possible?
RA: As a community platform and a community company, we are using an Agile process to build AllGo. We're going to start with a core product, get feedback, build a little more, get feedback, so on and so forth so we can ensure that we build something that people really want to use.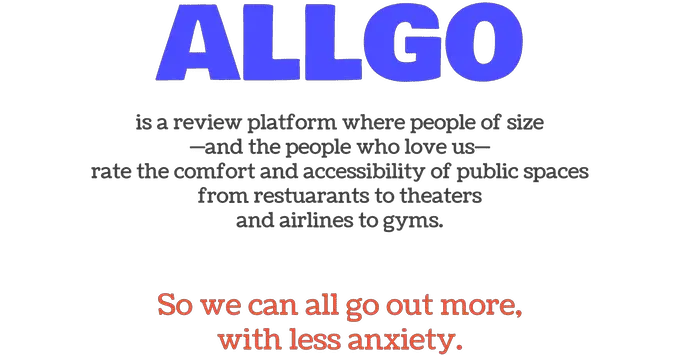 Features
BH: I love this concept. In the past, I have invited friends who were wheelchair users to non-accessible spaces, without even thinking about the position I was putting them in. Will you be adding features for differently abled people?
Michele Amar: Our first user group is people of size, but we recognize that fat and plus size people also have different mobility needs. We plan on building out the platform to encompass these reviews.
Boundaries
BH: On a related note, what about spaces that are welcoming or not welcoming of people of color? I've been to a few nightspots in Silicon Valley where my friends were treated poorly by staff, and met with slurs or hostile behavior. Where will the boundary on AllGo be with reviews?
MA: I totally appreciate these intersectional questions you're asking. Just like there are plus and fat people that are differently abled, there are also black and brown, trans and queer plus size and fat people.
As people share reviews on their individual experiences, we'll build out features to make searchability easier. As the beta is launched, we'll also conduct user research and focus groups to determine how the app can best be accessed and utilized by everyone.
Our goal is that we can truly create a tool people can use, so everyone can go.
The Reviews
BH: How will communication the other way work? Will businesses be able to reply back to reviews like they do on other platforms? What about when a business realizes they've been shit, and start to do the real work to be more welcoming and supportive? How will they communicate that?
RA: Right now, we honestly don't know! As reviews (both positive, negative and mixed bag) are submitted, we know business owners will want to reply.. Right now, we have half a dozen ideas on the form this may take, and it will come down to working with key businesses to see what works for their situation, and then scaling it
Development
BH: Good point! Michele, what has it been like to develop AllGo, as a non-plus size person? How have you established empathy with your users?
MA: It feels very natural for me to empathize with our users which is why I love that we are creating AllGo. It was crystal clear to me from the onset that the experience of not fitting in is real, frequent and painful for a lot of people. As we conducted more and more interviews, hearing statements like "I feel like I can't exist in that space" or "I've stopped going to new places" really disturbed and saddened me.
It wasn't a difficult choice to want to work towards making the world more inclusive. For example, when Rebecca and I go out together, I consider where she will be comfortable before I even suggest a place. I think it's safe to say that there are many other people just like me who want to go out with their loved ones who are fat/plus-size and know they will be comfortable.
Help by Listening
BH: I so appreciate that. Lack of accessibility impacts us all. What is important thing thin or straight sized people can do to support their fat/plus-size friends?
MA: It's funny that this question is for me (Michele), because I actually think the number one thing straight-sized people can do to support their plus-sized friends is to listen to them. And I mean really listen. And think about the what may be going unsaid between you and your plus-size loved one. If your friend declines an invitation somewhere, ask them if they'd like to do something or go somewhere else.
Also, I'd say you should sign up for AllGo. AllGo is designed with people of size in mind, but it is really for everyone–both plus-size people and straight-size people who have plus-size friends and family.
BH: Okay, I'm sold! How do we support AllGo?
RA: The #1 way to support us is to "back" us with money on Kickstarter. Second to that is help to get the word out! Kickstarter measures link clicks and buzz around a campaign, so help us get to the front page by sharing this article on your Twitter or Facebook!
A pretty cool concept, right?
Well, if you are intrigued, curious, or geeked and want to support, then you can go and support AllGo today! Their Kickstarter just launched and they need your help!
How cool is it that we have platforms and technology that stretches beyond fashion, bring all facets of the plus size community together, to make our lives better?!
What are your thoughts? Will you be using AllGo?