*Spoilers Ahead*
How exciting is it that Multi-Platinum Music Icon and Goddess Lizzo has teamed up with Amazon Studios to create a FFBF (That's For Fatties… By Fatties) reality dance competition? Pretty exciting and might I add… Dope AF? As a fat girl who dreamed of being a Fly Girl from In Living Color (Yes! I'm THAT old!), teenage Audrey who loved to dance is hyped!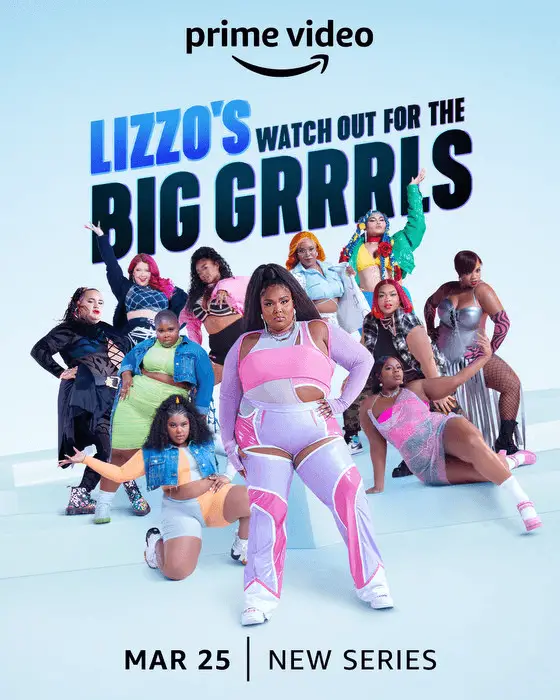 Lizzo's on the lookout for a killer ensemble of BIG GRRRLS dancers, to accompany her on her upcoming 2022 tour (That was the sound of me instantly transferring money to my savings so I can get my ticket!), and has invited 13 big and beautiful hopefuls to Hollywood to take their shot. This show is not only an exciting opportunity for some worthy dancers, but I truly feel that it is also an important moment towards positive Plus Size representation. Fat people are lazy? Oh yeah? Well, just watch as they sweat, train and hustle to get this golden chance for success. A chance, that wouldn't be possible otherwise, if we can keep it 100!
If they impress with their performance? They'll be sharing the stage with Lizzo while she does her phenomenal thing at the Bonnaroo Music & Arts Festival and beyond. No pressure, there! Just a once and a lifetime, make or break moment. No biggie!
So of course, when I was given the opportunity to check out Watch Out for the BIG GRRRLS, I jumped at the opportunity to watch and share my thoughts on the first few episodes.
Lizzo's Watch Out for the BIG GRRRLS Episode 1 Recap: Becoming 100% That Bitch
" We come with the energy, the stamina, the flexibility. Big girls are DOIN' IT, honey….." – Lizzo
Every epic story has to start somewhere. For the dancers of Watch Out for the BIG GRRRLS, their tale begins with a powerful word from Lizzo on the judgemental comments she receives about her shows and how difficult it has been to find plus size dancers through agencies (because the representation is simply put… not there!).
Because Lizzo is a Queen of course she does Queen things, which prompted her to sound the alarm via social media that she was on the lookout for plus size dancers to join her troupe. Her message went viral quite effortlessly and from hundreds of thousands of video submissions, and from that wide array of dancers from across the globe, 13 were chosen to begin their journeys towards Big GRRRL badassery! But there will be some heartache, as only 10 spots are available inside the luxuriously fabulous BIG GRRRL Mansion.
Simply watching the moments leading to the hopeful's surprise first interaction with Lizzo was nerve-wracking. I cannot fathom what the Wanna Be Big Grrrls themselves were going through! These one-on-one auditions gave us the viewers an opportunity to get the first impressions on the team of participants we'll be rooting for all season, but it also gave Lizzo an opportunity to determine if the dancers could rise to the challenge presented before them.
" I Wanna See You Do You… But Can You Do What We Do In The Crew?" – Lizzo
Each dancer was given one short week to create two 8-counts of freestyle dance, in addition to learning 40 seconds of BIG GRRL choreography. This is Lizzo's first challenge, designed to showcase not only each dancer's individual personalities, but to gauge their abilities to truly master the complex dance moves with grace, ease, and most importantly, with a bold and in-your-face degree of star power!
Lizzo expressed the importance of each of the dancers to utterly own their performances, even if there's a minor flub. Calling it "Strong and wrong", she went on to explain that the focus is that you keep going, even if you make a mistake. Am I the only one who wants a strong and wrong t-shirt now? Journal? Tote bag? Coffee Mug? Hands?
24 -year-old Houston, Texas native Crystal was the first of many standouts for me. Her performance was effortless, and it's because she's had quite a bit of experience. Crystal has performed in music videos for musicians including Megan Thee Stallion and toured with Nick Cannon as one of his Wild 'N Out girls. "The opportunity to be one of Lizzo's dancers means everything to me, " Crystal enthusiastically explained, "… with this, I feel like it's my time to showcase who I am!".
Another standout for me was fellow New Yorker, 24-year-old Moesha from The Bronx (Yerrrr!). Moesha's turquoise hair and swagger was a definitely eyecatcher. Considering she is an off-Broadway stylist, costume designer, dancer, dance instructor, dresser, costume supervisor, wig designer, singer and choreographer at such a young age… You know that she's going to bring the hustle in this competition.
The last hopeful that really got me excited was 33-year-old Jayla from Portland, Oregon (by way of Buffalo, NY). As a former gymnast, it was awe-inspiring to see the leaps and movements she does with her dance. When she's not dancing, Jayla works as a makeup artist and produces drag brunches and performances in the Portland area. Furthermore, she is passionate about making sure there is transgender representation in dance.
Her one-on-one with Lizzo just made me want to shake her. She made one little mistake, and she completely thought she was cut for her. Her posture, the language she used with Lizzo was giving concession, and I hated that for Jayla!
While these are just three of the contestants that I immediately made note of, I feel it important to say that each and every single one of these contestants are absolutely amazing. While I didn't get to see or learn much about them during this moment, I am so looking forward to watching them grow with this competition! I'm rooting for you!!
" Y'all Better Dance For Your Life…" – Lizzo
Once the one-on-one interviews with Lizzo herself were completed, it was time for the dancers to be given their next challenge, one that may very well earn them their spot in Big GRRRLS Mansion.
They will be separated into two groups and be taught choreography on the spot by Lizzo's Creative Director, Charm La'Donna. Each group will come up with their own group names, and will have to take part in a dance battle to secure their chance for the opportunity of a lifetime. Enter Lizzo's Big Secret and Big Body Benzes.
In addition to having to learn choreography to Cardi B's "Up", each team will have to create a unified freestyle dance to accompany the choreographed movements harmoniously. During their lessons, Charm reminded each dancer to do more than look at themselves in the mirror. She stressed the importance of looking at how your team looks as a unit, as that is what they will ultimately be judged for. Some of the dancers adapted to the new choreography with ease, while some stumbled a bit.
Surprisingly, Sydney fell into the latter category. The 24-year-old Curve model, dancer and social media influencer, who uses her platform to highlight body positivity and dance, admitted to not being accustomed to this type of choreography, which caused her to get inside her head. I hope that going forward, this self-proclaimed competitive perfectionist can overcome that. For the sake of the competition and for life, in general.
" It's The Battle Of The Big Grrrls" – Lizzo
The big dance battle was tremendous to watch. So much so, I stopped writing my notes because I was riveted. It was so satisfying to watch these big, beautiful dancers really put their hearts and souls into their performances. While it wasn't a flawless one, I genuinely felt so proud of each and every single one of the dancers, like I'm their family members watching from home. That's a tremendous feeling to have in the midst of watching the first episode. I'm curious if anyone else felt that way. too!
After their team battles, the dancers were surprised by a one on one battle. One last opportunity to catch the eyes of both Lizzo and Charm, and one last chance to prove their worthiness of entering The Big GRRRLS House. It was here when my neighbors in Bushwick, Brooklyn grew tired of me. Because when I say I was screaming and cheering… I was downright obnoxious. And in the words of Queen Bey herself, I ain't sorry.
After a careful and in depth discussion between both Lizzo and Charm, the 13 dancers were assembled to learn their fates. The 10 chosen ones were selected, and 2 dancers were told their journeys end there. Yes, you read that correctly. 2 dancers were sent home. The fate of the 3rd dancer? The twistiest of twists to ever pretzel in the history of reality programming. I screamed once again, annoying my neighbors and knew that I was in for a really enjoyable ride with Lizzo's Watch Out for the BIG GRRRLS.
" I'M LIZZO. I MAKE THE RULES AND I DO WHAT I WANT!" – Lizzo
And we're happy to get to watch you do exactly that, Sis!!!
Have you watched Episode 1 of Lizzo's Watch Out for the BIG GRRRLS yet? Which dancers stood out for you? Do you have any early predictions who you think will make the team? What about that surprise twist? Sound off in the comments & stay tuned for my Episode 2 Recap!!