Hey fashionistas, hey!! Today we're sharing a FABULOUS recap from the TCFStyle Brunch that took place this last weekend in Los Angeles on April 29th!
We're also going to share some insider details, tips and tricks for attending the NEXT brunch! (Be sure to sign up for our email list, HERE, to be the FIRST to know about future events!!)
Are you ready? Let's go!
Bringing Back Our Plus Size Community Events
Marie Denee (founder of The Curvy Fashionista), recently moved from Atlanta BACK to where she grew up — Southern California! As part of that move, Marie was super excited to connect with local plus brands in LA (there are a BUNCH!), as well as meet new and emerging brands.
And, most importantly, she was SO excited to connect with fans and readers!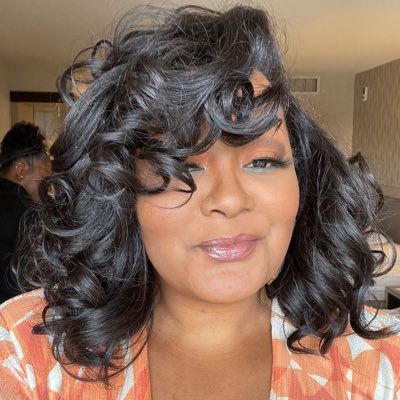 In this recap, we're going to go over:
Brunch Setup & Timeline (for you girlies and folks doing research on attending a future brunch)
Quotes from rad panelists
Info on where to connect with the AWESOME brand partners for this event
TCFStyle Brunch Setup & Timeline
Ok, can I just say besties — the food at the brunch was DELICIOUS. I had my doubts about a catered brunch (I'm judgmental and I'm not sorry!!), but OMG the food that Magen Grays (@SingleMomsCook) made for us was DELICIOUS. I was a such a fan of everything, and the potatoes and French toast were BIG HITS at my table, lol.
The space was BEAUTIFUL and Clayhouse Branding did such a great job with decor.
Timeline wise, this was the series of events:
12:00 – 12:15 || Welcome from Marie and The Plus Bus
12:30 – 1:30 || Getting brunch and listening to panelists
1:30 – 3:00 || Mingling and Shopping!
Seeing Old Friends & Making New Friends
Something I personally loved about the brunch was seeing friends and clients that I had only known online (and via Zoom, lol), IRL! I actually flew out to the brunch from Salt Lake City, Utah, and it was 50000% worth it!
I loved seeing old friends meet up, who hadn't seen each other in years (shoutout to the panera), and it was also so special and sweet to see people make new friends — complimenting each other's outfits and taking selfies in front of the step and repeat.
I know from talking 1:1 with folks that people were worried about coming and "not knowing anyone"! I totally hear that fear, and ALSO I just wanna say that the space was so welcoming and people got to know others at their tables and during the event.
This was such a great space to meet new people and make new friends!
We also had a surprise guest, all about planning a flash mob in LA! "The Big & Tall community represented by National Curves Day, Inc., actively took matters into their own hands by launching "The Bigger Picture, A Plus-size Male Campaign" accompanied by a flash mob fashion segment sponsored by Johnny Bigg."
Info & Quotes from Rad Panelists at the TCFStyle Brunch
We had SUCH a stellar line up of rad panelists!
Melissa Mercedes: Fashion designer and winner of the Eloquii 2021 Cultivate Award!
All of the panelists had such rad things to share, and here are a few things we loved learning from them:
We love Melissa! She wore a gorgeous green gown to the event (STUNNING) from Banana Republic, and she shared how meaningful it is to see her clients in pieces that make them feel GOOD.
She also gave a little sneak peek into her next collection, saying to expect sparkles and statement-making fashion!
Essie Golden: We love LOVE to see Essie Golden out in California (she recently moved, as well). Essie was wearing a GORGEOUS mesh dress from Kai Collective, and Essie shared outfit tips, and how she's really looking to find joy in her clothing — and that she's making an extra effort to support indie designers.
Essie also gave a heads up that she might possibly be working on a talk show (how cool is that?!) so stay tuned!
Daniel Franzese: I loved watching Danny on the panel, and I learned some super rad tidbits of info while he was up there! First, Danny pointed out the issues in plus size men's or big and tall clothing, sharing that he will actually buy MULTIPLE of a jacket that fits him well — and then send off the extra piece(s) to be customized!
He was wearing a pretty rad fringe jacket that he had custom-made on etsy! Danny also mentioned how he would love to restart his big and tall menswear company, love it! I'd personally LOVE to see Danny do a capsule collection with a menswear brand!
Finally, last but NEVER least in our hearts — we have Kat Eves! This red carpet stylist is so rad, and she was rocking a two piece suit and corset top from Wildfang (an LGBT-owned fashion brand).
Kat made sure to share a lot of great indie and sustainable brands with us, as well as talking about how IMPORTANT it is to work with a tailor (Danny also chimed in here).
Brand Partner Shoutout
Real talk, in-person community building is SO CRITICAL, especially for plus size babes, and we wouldn't be able to do that in-person work without the generous support from our sponsors.
The Plus Bus: Jen and Marcy turned this event into a PARTY! I especially love how Marcy made sure we all had fun, and kept us on schedule! She popped in with fun giveaways and prizes! The Plus Bus also had a booth (with a selection from Jen's brand, URTUMUCH), and it was so fun to see babes getting styled!
Also, Marcy's mom was at the event, and was honestly everyone's favorite (Hi, Gigi!) Check out The Plus Bus here! (Also, def follow them on TikTok, because their videos are SO GOOD!)
ELOQUII: Oh my gosh, y'all! Eloquii has been such a supporter of TCF for years, going back to Marie penning' a letter to get ELOQUII relaunched back in the day! Marie rocked her Melissa Mercedes x ELOQUII dress (with cute tennies, I loved it)!
We'll be writing more about Eloquii's spring SUIT DROP here in a bit, so stay tuned! Join ELOQUII here!
Big Fig Mattress: Fun fact, Marie is on the Big Fig website (!!) love that, and Big Fig gave away TWO mattresses at the event. Danny and Marie especially shared how much they love their Big Figs (Danny talked about getting one for his living room, as a sort of stand-in couch for his B&T besties).
Big Fig also had a step and repeat for their campaign HotFatSummer, which we loved! Check out Big Fig Mattress here!
byVINNIK: This new-to-me brand (in 2023) is so rad, and guests loved the opulence and GLAMOUR of the byVINNIK pieces. Founder, Suzanne Vinnik, showed attendees how to style her ethically clothing pieces, and the jewelry?! Stunning!
It was honestly very cool to see people gasp when looking at the byVINNIK area, asking things like, "This is for us?" I'm getting a little emotional typing this, but YES! This is for US! Check out byVINNIK here!
What Lo Wants: Ok, like everyone on social media, I've seen What Lo Wants TAKE OVER the internet! Real talk, founder Lauren, ("Lo") was so sweet and fun IRL. It was such a pleasure to see fat babes trying on her pieces IRL! People marched RIGHT IN to see What Lo Wants in-person, and it was so fun to see people fangirl over Lauren (in the best way)!!
The brand also sponsored part of the gift bags, so all attendees received a "What Lo Wants" tote!! (Love a tote!) Check out What Lo Wants here!
Chouette Designs: ERMAHGERD! I was so excited to see this size-inclusive jewelry brand (going up to a size 15 in rings) at the event! This company is LGBT-owned, and I loved seeing people purchase jewelry pieces throughout the event.
By the end, it felt like everyone was rocking Chouette! We have a piece coming out soon all about designing your own custom plus size engagement ring with Chouette – so stay tuned! Check out Chouette Designs here!
BAACAL: Last on the list, but NEVER in our hearts — we have BAACAL! The brand had multiple folks in their pieces at the event, and it was rad to see so many different body types wearing their BAACAL pieces. (Joy Nash was wearing a BAACAL dress that was STUNNING!)
Cynthia also did a giveaway and shared she's working on expanding her size chart (stoked for that)! Also, aside — Cynthia Vincent was just so effortlessly COOL and CHIC! I loved meeting her in person. Check out BAACAL here!
Dang it! Sad You Missed The TCFStyle Brunch?!
Ok, real talk besties! I was doing BTS (behind the scenes) work for the brunch, and a BUNCH of people messaged TCF on Instagram the morning of trying to get tickets.
I felt so bad, but we couldn't sell tix the day of! Crey!! <333
If you want to get invited for future TCF events (and we want you there, for reals!), be sure to join our email list, HERE and join us on Instagram HERE! We want to meet ALLLLL the plus size and fat babes IRL!
And, if you're reading this from outside LA? You can "Pull a Brianne" and fly in! Seriously! I did it! Had a blast! 10/10 recommend!
Did you love the TCF brunch?! Sound off below in the comments! Want to sponsor a future brunch? Contact us here!