We hope you enjoyed learning more about TCFStyle Squad member Farrah of the Estrella Fashion Report. If you missed last week's post, you can catch up with Farrah here. Today, we are bringing you another amazing TCFStyle Squad member, Amber of Style Plus Curves!
Blogging for over seven years, Amber has seen the progression of plus size fashion first hand. Her heartwarming smile and positive vibe make for an inviting blog, and her flirty, feminine style will give you inspo for days! Style Plus Curves is a plus size fashion blogger YOU NEED TO KNOW!!
Meet Plus Size Fashion Blogger- Amber of Style Plus Curves!!!
Blog: stylepluscurves.com
Age: 38
Height: 5'9″
Location: Chicago, IL
How long have you been blogging? Just over 7 years!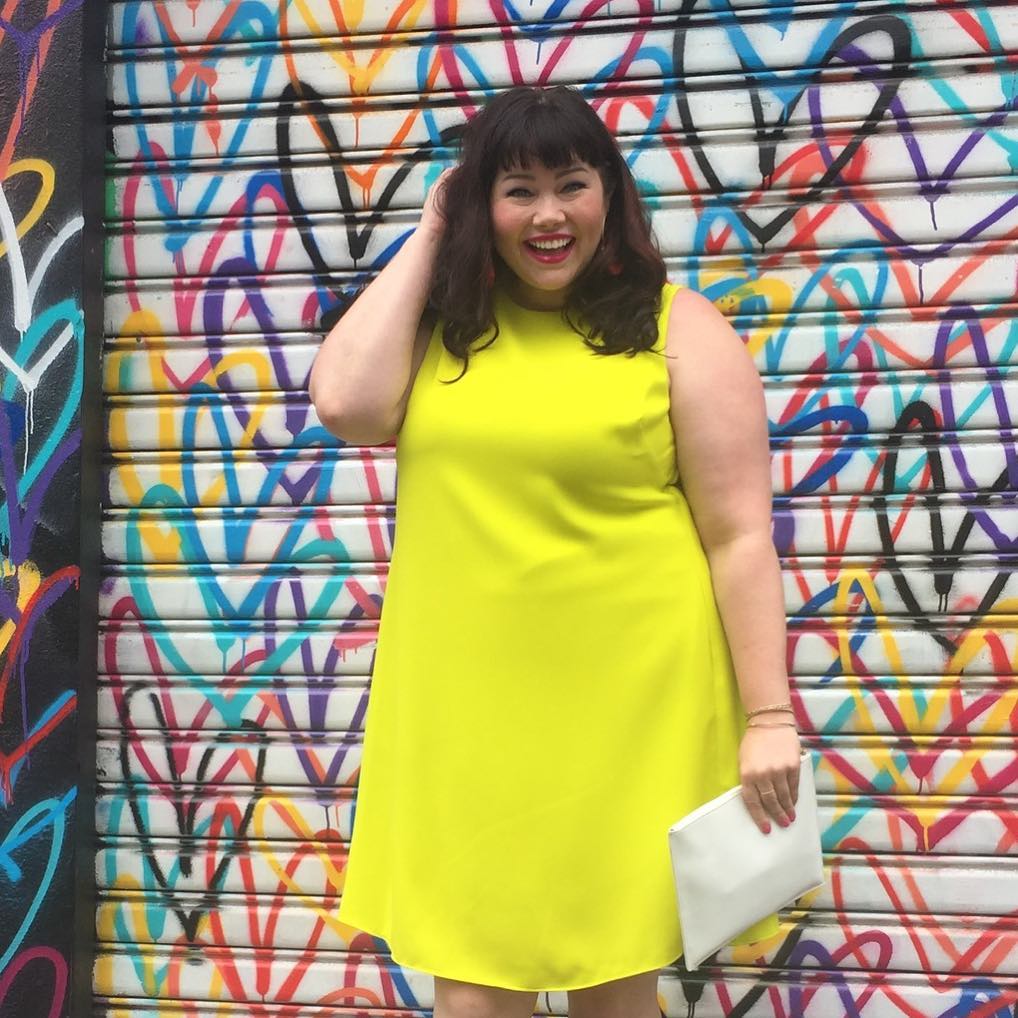 What or who inspired you to become a fashion blogger? What led you to it?
I started my blog during the dark ages of plus size fashion. There were so few retailers with plus size options, and it was very difficult to find pieces that worked on a larger body. This was before Instagram, and before Facebook business pages or Pinterest. So even finding style inspiration or information about plus size options was very difficult.
I worked very hard to cobble together stylish outfits from the depths of department store plus size sections, and everywhere I went, women would stop and ask me about what I was wearing. Soon, people would follow their questions up with a suggestion to start a blog. After about a year, I decided to go for it, and stylepluscurves.com was born! Seven years later, I'm still at it.
Do you blog full-time, for fun, as a hobby? Share your evolution!
When I started my blog, it was just a fun hobby! As my audience grew, opportunities came knocking, and I was forced to look at it more as a business. Over the years, I've considered turning the blog into my full time job, but I haven't made the jump yet. Instead, I decided to start my own marketing communications company and keep the blog as a side hustle.
What is your favorite asset? Your legs, arms, waist? How do you play that up?
My favorite assets are my legs! I love wearing shorter hemlines and flirty silhouettes that cinch my waist and show off my legs.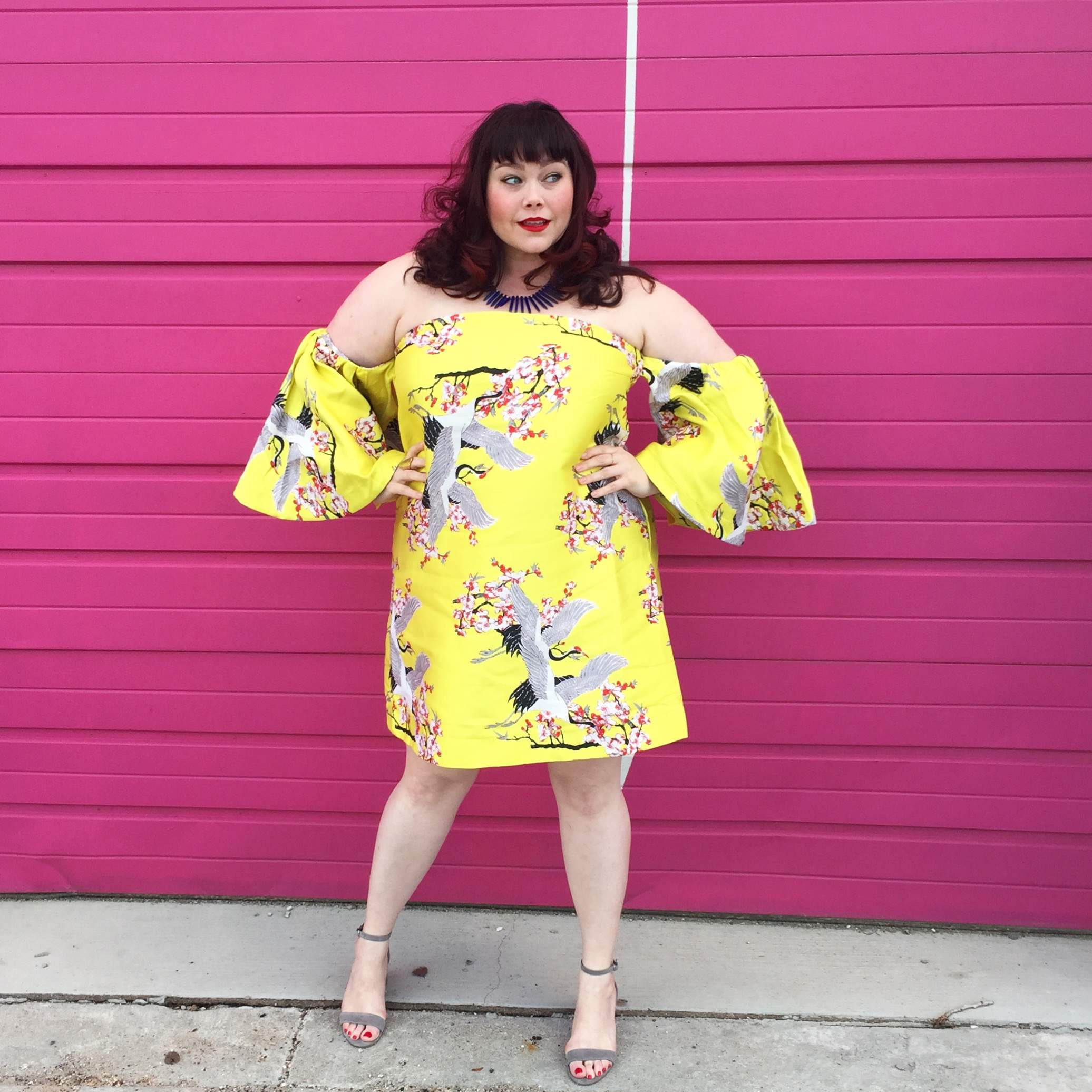 What are the challenges, if any, you face regarding being plus size?
I think the biggest challenge I face as a plus size woman is society's expectation that because I'm fat, my number one priority in life should be to lose weight. It's hard to convince people – even those closest to me – that losing weight is not my life's work and there are other personal, professional and health goals that I prefer to focus on.
Think of the things we could accomplish if we – as a society – redirected even half of the energy and time we spend obsessing over losing weight toward more important, global problems?
What's your favorite thing about being plus size?
My favorite thing about being plus size is that I'm no longer battling with my body. I stay active and I eat healthy, nourishing foods, but my main priority and goal in life is NOT losing weight or dieting. When I finally stopped viewing my body as a war zone and stopped obsessing about what I should look like, I experienced so much freedom.
Now I spend my time and energy focusing on building healthy, lasting relationships with those I love and becoming a better businesswoman. The joy and fulfillment that I've found by accepting my plus size body completely changed my life.
What's your favorite thing about being a blogger?
The absolute best thing about blogging is the people! The community of plus size bloggers is full of the best, smartest and bravest women in the world. I have made some my best friends through blogging, and every event I attend, I connect with another amazing woman.
In addition, being a blogger has not only allowed me to help other plus size women figure out their personal style and find the pieces that fit their taste, budget and their bodies, but it's also helped me take more risks in my own wardrobe. I'm always trying something new that pushes me out of my fashion comfort zone.
Who/what are your favorite designers/brands?
My go-to brands are City Chic, Eloquii, Asos Curve, Simply Be, Kiyonna and Universal Standard, and I have a long history of spending my lunch breaks at Nordstrom and Macy's! I'm also a huge fan of Lane Bryant, Avenue, and Forever 21 – and the plus size pieces from the Who What Wear Collection at Target are killin' it lately!
Describe your personal style.
Classic, Feminine, Bold and Colorful. Usually found in a dress!
Which bloggers inspire you? Plus or straight size! Any bloggers currently on your radar?
There are so many amazing bloggers that are inspiring me daily! I love Nikki from NikkiFreeSTYLE, Sandra of La Pecosa Preciosa, Liz from With Wonder and Whimsy and @original_mangu – just to name a few.
And during the TCFStyle Expo in Atlanta recently, I fell in love with Lisa from Mustang Sally Two, Megan from Curves, Curls, & Clothes, and Sierra from Eclectic Kurves. They each have their own unique style and I light up when I see their posts!
What do you think about where plus size fashion is today versus a few years back?
The plus size industry is in a totally different place than it was a few years ago. The number of plus size retailer and designer options has grown exponentially! And finally – finally! – #visablyplus models are being used in advertising campaigns. Our big and tall guys are finally getting the attention they deserve as well. It's been amazing to see the revolution, and I'm honored to have been even a small part of it!
Are you working on anything or have anything to share?
I have a few exciting projects in the works that are launching this fall, so be sure to follow me on Facebook and Instagram if you want to hear the news!
Anything else you want The Curvy Fashionista's readers to know?
I just want to say how honored and grateful I am to be part of such an amazing community of plus size women. The support and love that I have felt over the past 7 years has empowered me to work toward my goals and become the woman that I am. I want TCF readers to know that I appreciate you, and I'm here for you if you ever need anything!
Lastly, what does Curvy.Confident.Chic mean to you?
It means fully owning who you are and your place in this world. It means accepting the whole package — your face, your fears and your feelings. It means that you don't let other people's expectations dictate what you do and how you view yourself. If you get to that curvy, confident, chic place, you will be a force to be reckoned with!
Do you dig her style? Which look is your fave? Let's talk about it below!!
Want to be featured?
Make sure you fill out your deets here,
so that we can feature you!
Looking for more plus size blogger style inspiration?
Make sure you check out all of the other plus size blogger spotlights!