Highlighters are having their moment this summer and giving us just the right touch to the minimal makeup looks. From the most subtle glow using sticks and balms to the outright sparkle of a compact, there's sure to be a highlight to suit you.
Highlighters have come a long way in recent years, now there are color options and formulas for all skin tones and tastes. Liquid drops give a "your skin but better" glow, giving light enough coverage that won't overwhelm your makeup. The most popular formula is the compact powder highlighter. These are the most pigmented and can be worn alone, under or over your makeup.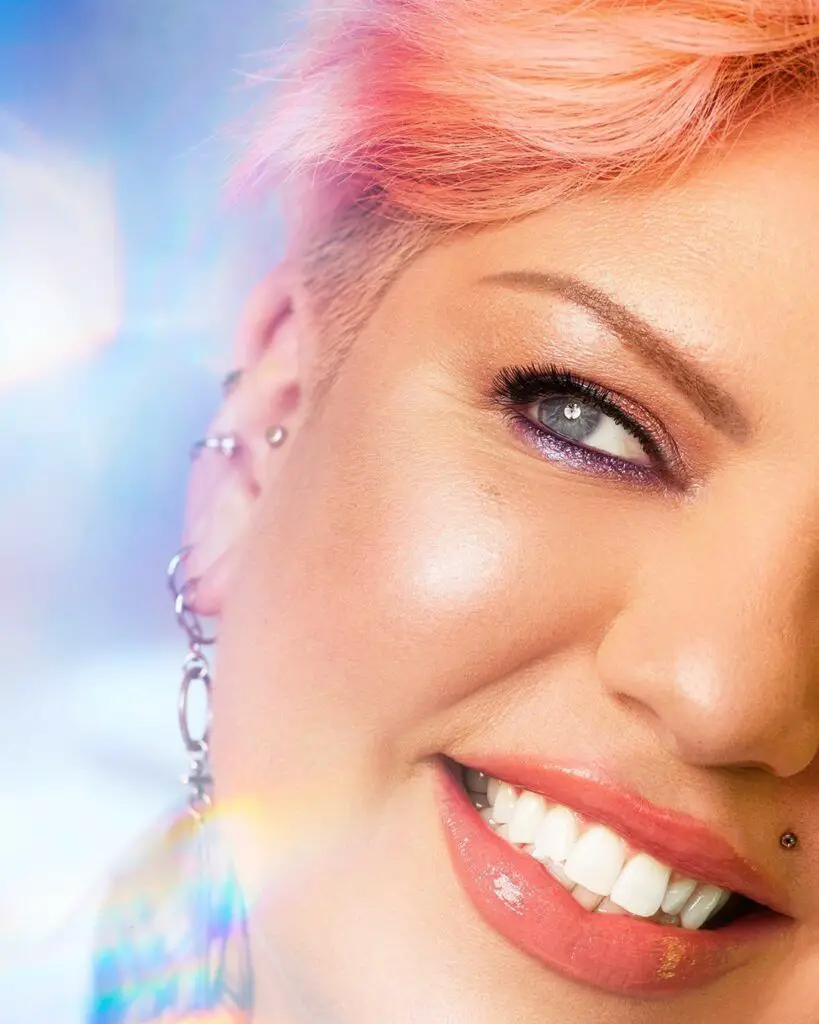 Unlike contour which adds shadows, highlighting adds dimension on the high points of your face giving a subtle, sculpted effect.
How do you pick the right highlighter for you? Balms and cream sticks have a more skin like finish and are easy to apply. The baked, compact powder formulas that can be applied head to toe and can be built up for an intense glow.
Also, consider the color choices when picking out your perfect highlight. For warmer skin tones, rose gold, peaches, and shades of gold are most flattering. If you have fair skin, soft pinks, champagne, and pearly whites. Highlighters are not a one size fit all, so explore different finishes and formulas.
How to apply your highlighter.
Highlighter is used to bring light to the high points of your face. Apply it right above your cheekbone, the bridge of your nose and brow bone.
When you're using a stick or balm, blend the highlighter using your fingers for the best effect.
With a powder formula, using a brush will help you control the amount of product you apply.
Going overboard with the highlighter can give you disco ball effects, so start with a small amount and build up as you go.
8 Must-Have Highlighters for Your Summer Glow
Here are 8 highlighters that we think you'll absolutely love. You can shop these picks at your local drugstore or high end cosmetics store, we have something for every budget.
Photo Credit: www.nyxcosmetics.com
Creamy and blend-able, the metallic shades in this duo are meant to complement each other and you. Each shade gives a strobing effect with one sparkling shade and one reflective pearl shade. These retail for $12.00 on the NYX website
Photo Credit: www.milanicosmetics.com
This award winning highlighter gives pigment and intensity. With 4 shades to choose from, the micro fine powder infused highlighter has coverage that can be built up for maximum intensity or used for a subtle glow.This retails for 10.99
Rare Beauty gave us a beautiful liquid highlighter with their Positive Light line. This is a lightweight formula that blends easily into the skin for an all-day glow. This comes in 8 Shades and the doe foot applicator makes applying this a breeze. This retails on Sephora's website for $29
Photo Credit: www.maccosmetics.com
MAC Cosmetics is a classic brand that keeps delivering quality products. This Glow Palette has 3 different highlighter shades which include, peach, champagne and rich golden bronze. MAC's highlighter formula is legendary and this palette is sure to become a staple in your collection. This retails for $39.50
Photo Credit: www.maybelline.com
The Maybelline Masterchrome is probably one of the best, most awarded drugstore highlighters. It not only gives you a glow, but each shade has a metallic finish that gives a major bling effect. This comes in 4 Shades and retails for $9.99
Photo Credit: fentybeauty.com
Rihanna and team know exactly what they're doing when it comes to highlighters. With the release of the Fenty Diamond Bomb, they took the bling to the next level. This highlighter gives off a 3-D glow from every angle and can be used on face and body. This retails for $39 and comes in 4 shades.
Photo Credit: www.wetnwildbeauty.com
Wet N Wild MegaGlo Highlighters combine the best of both worlds with affordability and quality.
These retail for only $5.99 but wear like the most expensive products on the market. The MegaGlo is a baked, powder soft formula that makes for easy blending and all day wear. These come in 7 shades and can be found on the Wet N Wild website.
Photo Credit: www.ulta.com
BECCA's pressed powder highlighters have become a cult classic over the years. THe Liquified Liquid Highlighter is great for face and body and gives an all over pearlized glow. This highlighter is infused with Vitamin E and sunflower oil for added moisture. This also has an invigorating scent of pineapple, coconut and orange oil, perfect fragrances for the summer. This retails for $38 and can be purchased at Ulta
We hope this round up of highlighters will inspire you to glow all summer long. Let us know in the comments if you've tried any of these highlighters or what your favorites are.