If you have been following the blog, I had shared with you that I was hosting a Fall Preview at the Nordstrom at South Coast Plaza! Well, this past Saturday, in the midst of the Anniversary Sale, we did it!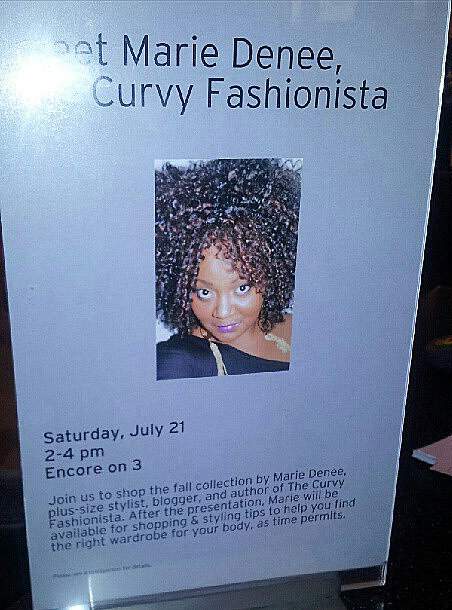 Before I go on, I have to thank Plus Model Magazine and Nordstrom for helping me bring my vision into reality!  Many moons ago, I thought why haven't we, as plus size women, had some of the really fun and cool fashion events in store?  Then I thought of one of the brands whose commitment to the plus size woman has been unwavering! Enter in Nordstrom. Then I thought, what is a shopping experience if not at South Coast Plaza in the heart of Orange County?
So on Saturday, we played dress up, played in a photo booth, sipped and nibbled on delights, all while shopping to the season's best deals on the trends coming for fall!
I presented 15 looks on three models (size 16 and 18) in which I had the chance to put together myself!  Geeked!
I was really excited to see a few familiar faces in attendance from Jen Wilder of Cult of Cali, Ashley from Ashley Nell Tipton, Chenese from Plus Model Radio, Marcy from Marie Claire's Hello Style: Big Girl in a Skinny World, and bloggers Ivory from Ivory Jinelle and Alison from Curvy Girl Chic!  The LA Times was there?  WORD!
In addition to some familiar faces, I was also excited to see a few readers and followers of the blog! THANK YOU SOOO much for coming out!
After the show, I answered a few questions from some of the attendees, gave out tons of hugs, and thanked my fam bam who trekked all the way from Riverside to see and support me!
You can view all the images from the show in The Curvy Fashionista Facebook Album! Stay tuned today as I share my picks used in the show that are part of the Nordstrom Anniversary Sale!
THIS, has only fueled me! Where would you like to see a Encore Fashion Preview next? I asked this on Facebook and got quite a few fun replies!